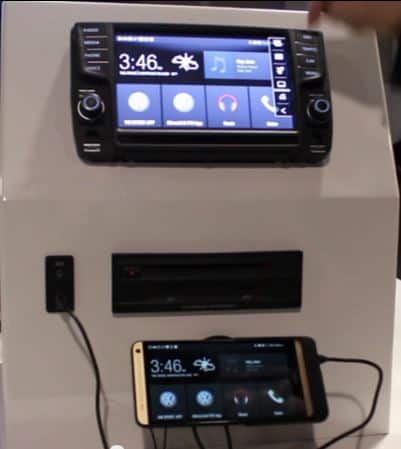 Car Connectivity Consortium (CCC) announced that the HTC One (M8) is now compatible  MirrorLink. MirrorLink  compatibility will arrive via a software upgrade to current HTC One (M8). More HTC devices will be compatible in the future.
MirrorLink is car-smartphone mirroring with a simple interface that works with many operating systems.  MirrorLink will be distributed to millions via this partnership.
MirroLink offers seamless connectivity between a smartphone and the car infotainment system. Drivers  connect the phone with a cable and immediately gain access to phone applications via the car's navigation screen and dashboard/steering-wheel buttons.
MirrorLink use standard Internet technologies for compatibility. It also uses technologies already common in the car, such as Bluetooth and USB, and such as Wi-Fi as well.  Universal Plug and Play (UPn) facilitates controlled access to applications. Virtual Network Computing (VNC) replicates the phone's display on the navigation screen and communicates user prompts back to the phone. In addition to Bluetooth, MirrorLink™ streams audio with Real-Time Protocol (RTP).
Factory installed MirrorLink  was showcased for Volkswagen, Honda and Toyota at Mobile World Congress in February. PSA Peugeo Citroen showed MirrorLink enabled cars at the Geneva Auto Show. AUPEO! announced its infotainment streaming radio service will be available for Volkswagen and Audi cars via MirrorLink.
Windows Phones may connect to infotainment systems using MirrorLink.  The Car Connectivity Consortium announced two new endeavors a fast track developer program and new PSA Peugeot Citroën  and Volkswagen cars.
We expect to MirrorLink at Telematics West Coast in San Diego October 30-31. The CCC offers standardized MirrorLink certification so that only approved applications are accessible while driving.