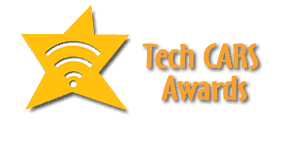 AUTO Connected Car News' Tech CARS (Technology of Connected Autos Rated Superior) Awards where launched in the fall of 2014. Nominations are announced in December and voting takes place until late January.
It is the only industry award based on verified popular votes. The categories may change over the years, however, the quality of the winners remains absolutely stellar.
2014 AUTO Connected Car News' Tech CARS Award Winners
Overall Best Implementation of Any New Car Tech to Make Lives Easier or Better – GM for OnStar's 4G LTE with Wi-Fi hotspots.
Best Implementation of Connected Car Tech with Smartphones – Ford SYNC AppLink developer apps.
Best Electric Car Feature in 2014 (Co-Sponsored by Electric Car Insider) – AWD Tesla S for Dual Motor All Wheel Drive.
Edsel Yugo Award for Biggest Snafu in Connected Car Technology 2014 – Apple's Bluetooth issues with iOS Updates 8-8.1 iPhone 6/6+ with in-car systems which garnered over 3/4 of the votes.
Best Deployment of ADAS Features in 2014 – Volvo City Safety with auto-braking.
Best CarPlay Deployment in 2014 – Pioneer NEX Systems. Including
Best OBDII Port Connected Device in 2014 – Mojio.
Best  Anti-Texting App – OTTER App tied with AT&T DriveMode. .
The Best Car Tech Connected Car Trade Show, Exhibition or Symposium – Connected Car Expo at the LA Auto Show.
2015 AUTO Connected Car News' Tech CARS Award Winners:
2016 AUTO Connected Car News' Tech CARS Award Winners
2017 Winners:
Tech CARS Winners Best Autonomous Philosophy, EV Batteries, CyberSecurity and LiDAR.
Tech CARS Winners EV, Luxury EV, Best All Around, Celebrity/Leader, Trade Show, App, New Sales Service and Edsel Yugo Award.
If you are winner or nominee please be sure to read our Rules and Permissions policy for rights/usage.
Companies presented news releases in the past as winners were  Cars.com, Strategy Analytics, Zubie, Kahn Media and TU-Detroit.
To receive notification of winners you must sign up for the ACN Tech CARS Award Newsletter: