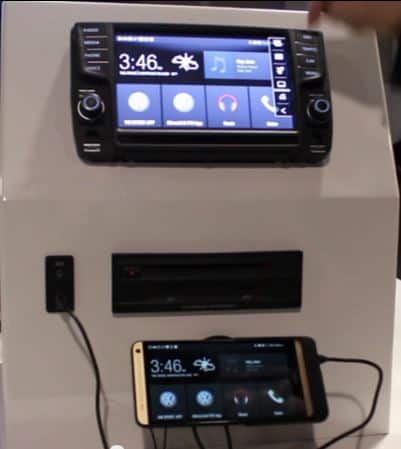 The Car Connectivity Consortium announced two new endeavors a fast track developer program and new PSA Peugeot Citroën  and Volkswagen cars with MirrorLink head unit infotainment systems. (A video appears below)
MirroLink claims to be the only OS- and OEM-agnostic standard for car-smartphone connectivity. It enables the head unit to mirror what is on the iPhone, iPad or Android device.
MirrorLink Developer Fast Track is a new program that enables developers to achieve MirrorLink-certification for their apps.
Glympse, Coyote and Parkopedia will be the first developers in the MirrorLink program.
MirrorLink development parnters get direct access to technical support, marketing program support, promotion ot members and possible reduction in testing costs.
At the Geneva Auto Show there will be two new PSA Peugeot Citroën with MirrorLink technolgy.
Also at the Geneva Motor Show, Volkswagen reportedly will show the new e-Golf, Scirocco and Polo models.
In the Volkswagen models, MirrorLink will be available through a modular infotainment system (MIB). These systems are like the systems in other Golf models. Some models will offer Bluetooth audio streaming , a proximity sensor so that a menu shows when a finger is near the screen and two-finger  zooming or connecting  the mobile phone to the cars external editor.
All Polo systems enable proprietary smartphone apps via the touchscreen and MirrorLink.
At Mobile World Congress, MirrorLink is hosting the second annual MirrorLink DevCon.
CCC is dedicated to MirrorLink global standards and solutions for smartphone and in-vehicle connectivity. It has more 100 members represent more than 80 percent of the world's auto market including many manufacturers and aftermarket consumer electronics vendors.