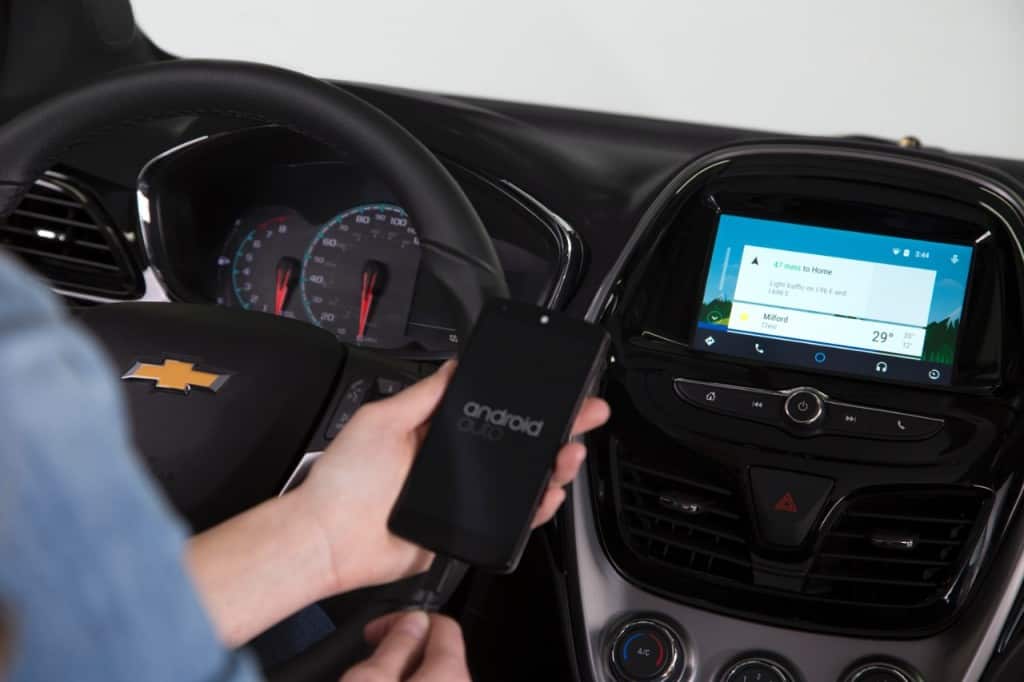 GM CEO Mary Barra announced at the Code conference in California that GM will be offering Apple CarPlay and Android Auto on fourteen 2016 Chevy Models. The move makes GM the first major U.S. automaker to offer the smartphone compatible systems across mainstream cars.
The fourteen Chevrolet models include the new 2016 Chevy Cruze compact car, that will arrive June 24. It is about one year, after GM was first the automaker to deploy OnStar 4G LTE across many models and the 2015 Chevy Cruze.
"It's been a partnership of working together with the aim of creating a system where the driver is not distracted," Barra said.
Time to talk about how tech is transforming the auto industry – @waltmossberg interviewing @GM CEO @mtbarra #CodeCon pic.twitter.com/RXcUowJjYp

— Re/code Events (@RecodeEvents) May 27, 2015
The seven-inch screen MyLink infotainment systems on the Spark, Cruze, Malibu, Camaro and Silverado, will at first be compatible with CarPlay and Android Auto. The eight-inch version of MyLink will be compatible only with Apple CarPlay at the beginning of the 2016 model year. Android Auto which is still in testing may be available on eight-inch versions of MyLink later in the 2016 model year.
"We made the smartphone experience relative to the car. We're taking buttons and making them larger. We're integrating a lot of use of voice in the applications. We're making sure that whatever happens int he car passes our distracted driving guidelines," said Phil Abram chief infotainment officer at GM.
Models with eight-inch screens include Cruze, Malibu, Impala, Volt, Camaro, Corvette, Colorodo, Silverado, Tahoe and Suburban. CarPlay and Android Auto will not replace the existing Chevy MyLink systems but are a part of the system. For both CarPlay and Android Auto, many features can be controlled via voice commands by a button on the steering wheel.
An icon on the MyLink changes to show that either CarPlay or Android Auto when a compatible smartphone is connected via the USB port. Android Auto requires a phone running  Android Lollipop 5.0, while Apple CarPlay requires an iPhone 5 or later with iOS 8.
Apple CarPlay is compatible with about 82% of iPhones and allows for voice calls, sending/receiving messages and music listening from the iPhone from the touchscreen or by holding the steering wheel button and asking Siri. 
Current CarPlay apps listed include Podcasts, Beats Music, iHeart Radio, At Bat, Spotify, Stitcher, CBS Radio, Rdio and Audiobooks.com. Apple Maps gives turn-by-turn directions, traffic conditions and estimated travel times. It suggests address from your contacts and calendars.
Android Auto allows for use of an Android smartphone with Google Maps, Google Now, messaging, phone calling and Google Play Music. There are some compatibility issues with Android Lollipop 5.0 models on certain carriers.
Android Auto's first car deployment is through a software update at dealers for Hyundai Sonatas with the navigation package. Chevrolet Brazil, Mexico and Canada car owners will also have access CarPlay and Android Auto in the future.
"We'll see more change in the last five to 10 years than we saw in the last 50," said Barra.
Hello #AndroidAuto & Apple #CarPlay, welcome to the 2016 #Cruze at #CodeCon. #FindNewRoads http://t.co/ZCGpDopKq8 pic.twitter.com/wI4a5vvbV3

— Chevrolet (@chevrolet) May 27, 2015
Also at the conference was Apple Senior VP Jeff Williams who said "The car is the ultimate mobile device…We're exploring a lot of different markets."
There will be no software updates for Android Auto and Apple CarPlay for pre-2016 Chevy models.
IHS Automotive forecasts for the three primary systems for 2015 and will be MirrorLink, Android Auto and Apple CarPlay. By 2020, there are expected to be 31 million cars with Android Auto.