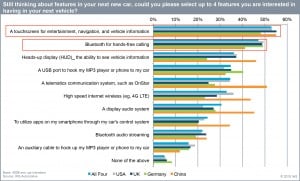 IHS Automotive has published a new report, Apps in the Car 2015, that shows how car buyers want their smartphones to work with their cars, car buying intentions, Apple CarPlay/AndroidAuto/MirrorLink research, apps, navigation and music. The study shows that car owners are willing to pay for apps in their cars.
IHS Automotive forecasts for the three primary systems for 2015 and will be  MirrorLink, Android Auto and Apple CarPlay.
IHS Automotive forecast for screen projection mode features – annual sales units
Brand
2015 Forecast*
2020 Forecast*
Android Auto
643K
31 million
Apple CarPlay
861K
37 million
MirrorLink
1.1 million
17 million
*Figures are rounded
Source: IHS Auto Tech Software, Apps & Services Forecast, (March, 2015).
Favorite Apps in Vehicles
The top five categories that consumers identified as a favorite for use in their vehicles are, in order:
Navigation (53%).
Weather (40%).
Music (38%).
News (33%).
Social networking (29%).
The least likely to be mentioned as favorites for use in the vehicle include apps for points of interest/local, books, health and fitness, business/productivity, education and podcasts, with less than 15 percent use rates among respondents.
Nearly 45 percent of respondents agree that they would use in-vehicle apps if they helped enhance the driving experience, with 35 percent of them reporting they'd be most willing to use them if they were similar to those on their smartphone.
Nearly 75 percent of respondents across the regions indicated they would also be willing to pay for updates to an app, paving the way for continued growth.
What Do People Really Want with Infotainment
iHS shows a long list of most wanted entertainment features that varied by country, see chart above.
A touchscreen for entertainment, navigation and vehicle info.
Blueooth for hands-free calling.
Heads-up display.
USB port to connect MP3 player.
Telematics service such as OnStar.
High speed Internet service.
Display audio system.
Smartphone apps to use on car's control system.
Bluetooth audio streaming.
Aux cable connection.
The majority of responders (93 percent) indicated they had downloaded apps to their device, and 53 percent reported having paid for apps in the past. Price points for apps varied by region, with most respondents having spent an average of $12 to $22 USD on their most expensive app. These findings represent the ongoing need and demand for continued development and identify significant revenue opportunity for developers and automakers in the future.
The full comprehensive report is available for purchase from iHS.
Continental's recent study found that U.S. consumers, even teens still want to own cars. They also want to blend their personal technology with car technology.
Another recent study by Accenture shows what car buyers want digitally from auto buying websites with a high percentage wanting Wi-Fi hotspots and the ability to purchase car totally online.