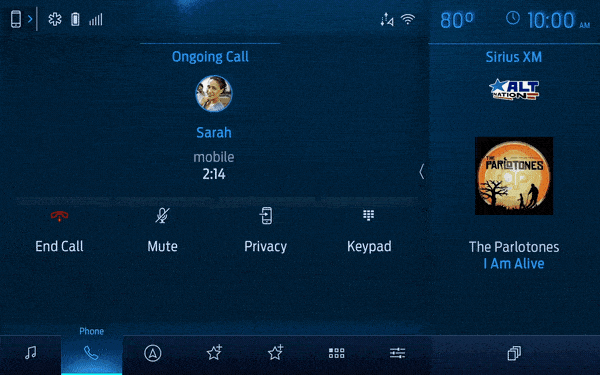 Ford previewed Ford Sync 4—it has twice the computing power of SYNC 3 with cloud connectivity, voice recognition, larger screens, multi-tasking and wireless Apple CarPlay/Android Auto. Touchscreens will be as large as 15.5 inches with machine learning that learns preferences. Software will be updated over-the-air.
Cloud-based optional navigation to keep up with the latest traffic information and the ability to quickly browse digital owner's manuals
New Ford vehicles comes with optional FordPass Connect with a 4G LTE Wi-Fi Hotspot, cloud connectivity comes standard to SYNC 4.
In 2020, Ford will begin equipping most redesigned vehicles in the U.S. with advanced over-the-air update (OTA) technology, making it easy to wirelessly upgrade vehicles with quality, capability and convenience updates that can help improve vehicles over time and reduce dealer trips. Ford quickly becomes a leader in launching bumper-to-bumper OTAs for nearly all vehicle computer modules, including in conventional gas-engine vehicles.
Ford expects to deliver its first updates about six months after launching the first vehicles with the capability in 2020. Other updates could add new features to your vehicle, just as when Ford added Apple CarPlay and Android Auto compatibility to SYNC 3 through USB and WiFi updates several years ago.
Customers can select a regular time they are not using the vehicle – such as the middle of the night for many – to schedule updates their vehicle is off, meaning they may not even notice the installation occurred once they start their car. Most other updates can be activated in under two minutes, while any updates that may require the vehicle to be parked can be scheduled to take place when customers find it most convenient.
Customers can receive notifications detailing the software updates when they are available and can even opt in to have the updates applied automatically over Wi-Fi or cellular connections. In-vehicle alerts will then tell customers what updates were installed when they start the vehicle the next time
Navigation is fully connected to and informed by the internet with maps that are frequently refreshed with the latest available traffic and construction information, ensuring customers are getting the most up-to-date info for their routes. Ford also equipped SYNC 4 with optional navigation with the ability to share parking space availability and prices.
By taking advantage of state-of-the-art, cloud-based voice processing, SYNC 4 can understand conversational requests, such as "Find me the best Thai restaurant," and offer data-based suggestions to drivers. Staying in contact with friends and family also becomes easier, with natural speech recognition enabling communication via SMS and email.
And while SYNC 4 will rely heavily on the cloud, it will still retain on-board processing power to minimize performance issues in dead zones – meaning your road trip is in good hands even when you go off the beaten path.
Available machine learning capability also means SYNC 4 can automatically learn your preferences and make helpful suggestions at the right time based on previous usage. SYNC 4 will make destination suggestions based on your previous navigation behavior and can even prompt you to make phone calls to people that you frequently speak to.
To aid the development of the new interfaces seen in next-generation SYNC, a dedicated Ford team dove into a process that helped them identify meaningful ways to improve the way people interact with their vehicles. The team developed several "customer journeys" – such as someone getting ready for a night on the town or a family preparing for a road trip – as a way to put themselves in the shoes of customers and to determine the most useful improvements.
As part of this research, which included interviewing consumers and gathering their reactions to different features, Ford gained valuable insight into customer preferences around screen size and interface design, as well as the ways in which people want their vehicles to get to know them.
The new SYNC 4 system will be available on select Ford vehicles starting in 2020.
With large 15.5-inch screens, SYNC 4 features the addition of Adaptive Dash Cards. Instead of having to navigate menus every time you want to launch an app, recently used or popular features are listed horizontally underneath the main portion of the screen in individual dash cards. These cards display helpful information such as the next step on your route, but they are interactive as well. You can pause or skip songs directly through the card instead of having to bring up your music player, and similarly you can view your phone status or hang up calls through the card as well.
SYNC 4 customers also will be able to take full advantage of SiriusXM with 360L to offer a more personalized experience for every driver.
Customers who take advantage of SiriusXM with 360L can choose from thousands of hours of on demand shows, performances and interviews, available for the first time ever in your car, so you never have to miss a moment of your favorites. People can also get personalized recommendations of channels curated just "for you" based on your listening history and favorites.