Leaf owners, are reporting receiving a voluntary recall to replace the bonding plates and mounting bolts to make sure that the plates do not corrode and create problems on most Nissan LEAF models.
The notice from Nissan calls it a voluntary service campaign to replace the lithium-ion battery bonding plates and mounting bolts.
I called two local Nissan dealers, one did not have all the details of the recall. One service tech told me that the parts are more like brackets and fairly easy to replace in less than two hours. Because the corrosion issue is not a major issue in Southern California where we have little salt corrosion, it is probably not big issue for now. However since corrosion typically worsens with time–it is not something to ignore the older your Nissan LEAF is.
LEAF batteries are enclosed in giant metal case as you can see by the photo on the left.
We Consumer Affairs and was told that the issue affects all first generation Nissan LEAFS either with 24 KW or 30 KW battery packs and all of the first generation models. However according to service bulletin it notes that  certain 2011-2019 LEAF models are affected.
It has also been reported that recall notices have been received in Canada and the UK for LEAFs. AUTO Connected Car News obtained a copy of the recall which you can see below.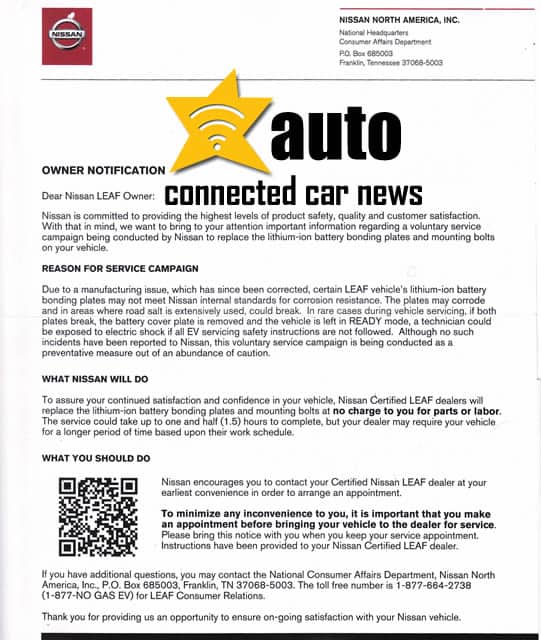 The risk comes from if the lithium-ion battery bonding plate corrode.  Plates in areas where road salt is used extensively could potentially break.  It the plates break problems can occur per the letter received by owners.
"Due to a manufacturing issue, which has since been corrected, certain LEAF vehicle's lithium-ion battery bonding plates may not meet Nissan internal standards for corrosion resistance. The plates may corrode and in areas where road salt is extensively used, could break.

ln rare cases during vehicle servicing, if both plates break, the battery cover plate is removed and the vehicle is left in READY mode, a technician could be exposed to electric shock if all EV servicing safety instructions are not followed. Although no such incidents have been reported to Nissan, this voluntary service campaign is being conducted as a preventative measure out of an abundance of caution."
The notice sates that Nissan Certified LEAF dealers will replace the lithium-ion battery bonding plates and mounting bolts at no charge for parts or labor. It should take one and half to two hours to fix depending on the dealer and the schedule of the service department.
The notice suggests owners contact a Certified Nissan LEAF dealer to make an appointment.
The notice suggest phone 877-664-2738 (1 -877-NO GAS EV) for LEAF Consumer Relations.
If you have had the plates replaced or have any questions, please let us know in the comments below. Since it is the end of the day in California we were not able to reason Nissan representatives. This definitely something you should not ever try at home because the batteries contain electricity and you may be shocked or injured.
According to Genuine Nissan Parts drawings we suspect the part number could be PLATE-BATTERY SUPPORT
295A9-3NF0A for 30KW battery packs. We have not been confirm the part number. If you know the part number please let us know in that way it may be easier to find a dealer who has the part in stock. We have found when dealing with any service bulletin to always call the dealer first to make sure they have the parts in stock or order the parts. When there was  previous recall for seat sensor—few Nissan service centers had the parts in stock when we first phoned in our local area of Southern California.