There were winners and announcements starting off yesterday at TU Automotive Detroit including award winners. More news was released today. Here's the news from Foresight, HARMAN, Inside Secure, Kanzi Rightware, Lear, Xevo and EXO Tech and Telenav.
Foresight
Foresight, an innovator in automotive vision systems, booth number A35 features the company's QuadSight™ four-camera vision system, demonstrating the technology's ability to detect any obstacle in darkness, fog, rain, and blinding glare. Featuring field-proven security technology developed over two decades and using highly advanced image-processing algorithms, QuadSight offers autonomous vehicles perception capabilities beyond those of human eyes and reduces the likelihood of accidents and injuries.
Foresight also announced today the opening of its innovative demonstration center to visitors.
The QuadSight™ demonstration center is located near Foresight's offices, giving customers, business partners and investors an opportunity to ride in a vehicle equipped with Foresight's automotive vision system. The advanced demonstration equipment, simulating rain, fog, glare and complete darkness, enables them to see, in real time, the QuadSight system's outstanding obstacle detection capabilities in extreme weather and lighting conditions.
HARMAN Debuts Dual-Mode V2X with DSRC & 5G
HARMAN International, a wholly-owned subsidiary of Samsung Electronics Co., Ltd., focused on connected technologies for automotive, consumer and enterprise markets, today unveiled a new Dual-Mode V2X system, aimed at enhancing automotive safety. The flexible telematics system features both software and hardware and taps into DSRC and cellular (5G) Vehicle-to-Everything (C-V2X) networks, removing the guesswork for numerous safety system setups.
V2X communication refers to the compatible transfer of data between a connected vehicle and its surroundings, including other vehicles on the roadway, infrastructure and even pedestrians. Currently, there are two standards that support this communication: DSRC, which is based on Wireless LAN-like technology, and C-V2X, which is part of the 5G mobile network standard. However, the availability of both DSRC and C-V2X varies by region and can cause significant guesswork for automakers looking to launch V2X features, such as improved blind spot warnings, adaptive cruise control and traffic sign recognition. With the development of HARMAN's Dual-Mode V2X system automakers can now leverage over-the-air commands to select which of the two standards will be implemented on each vehicle. As a result, this technology offers a cost effective solution for automakers by eliminating compliance guesswork while improving road safety and enhancing overall user experience.
"DSRC and C-V2X will be critical in transforming network connectivity. Launching our Dual-Mode V2X system continues our commitment to offering key solutions that can better meet the demands of automakers looking to seamlessly implement more connected safety features," said Ram Iyer, Senior Engineering Director for HARMAN's Telematics Business Unit. "By leveraging our relationship with Samsung for mobile technology, as well as our already potent Telematics Control Unit technology, our offering provides automakers with the true flexibility needed, in order to support both modes without having to have custom solutions for each standard."
HARMAN's Dual-Mode V2X system will be demoed at TU-Automotive Detroit 2019, booth 2D18, featuring exclusive software and hardware that can operate either with HARMAN's Telematics Control Units (TCU) or standalone for vehicles that utilize separate TCUs. This dual-mode capability will be available for 2021 model-year vehicles and will support a growing set of safety and efficiency use cases.
Inside Secure Intro Whitebox Designer
Inside Secure revealed Whitebox Designer, its new software security tool that arms vehicle app developers, IoT device developers and OEMs with new levels of protection, reduced time to market, and simplified creation of crypto architectures at TU-Automotive Detroit.
Reverse engineering and key extraction attacks can cause irreparable damage to reputations and sales. Developers know they must prioritize software security – but they often struggle with finding a proven and reliable security tool that meets their specific needs. Inside Secure Whitebox Designer allows them to easily design, build and customize their own secure crypto architecture, featuring:
Unmatched Simplicity

– Without the need to hire dedicated security experts, it's fast and easy to draw up your architecture to maximize performance.

Graphical representation of your architecture

– Clear visuals to translate complicated cryptographic concepts to understandable architecture.

Always-valid architectures

– With error validation, checks are in place to continually validate your architecture.
"Whitebox Designer is our latest innovation designed to simplify security for developers, including those focused on connected car apps and IoT devices, without the need to rely on dedicated security hardware," said Asaf Ashkenazi, Chief Strategy Officer at Inside Secure. "Whitebox Designer illustrates Inside Secure's commitment to bringing flexibility to our customers. Crypto algorithms can be combined within the architecture, embedded keys can be easily changed, and it takes days instead of months. This brings a new level of efficiency that competing solutions simply do not offer."
Whitebox Designer can run anywhere, as it is OS and middleware agnostic. It provides pre-generated whiteboxes as needed to streamline and fortify the architecture, taking the heavy lifting away from the software developer.
Kanzi Rightware for Google Android Automotive
Automotive HMI designers are getting a close-up look at the capabilities of an advanced cockpit graphics software program at the TU-Automotive Detroit.
Based on the Rightware Kanzi product portfolio, this approach to graphics and connectivity complements Google's Android™ Automotive platform to provide high-quality graphics that can be shared across all vehicle displays including the digital cluster, head-up display (HUD), in-vehicle infotainment (IVI) systems, and rear-seat displays.
According to Google, automakers representing 50 percent of global annual sales volume are adopting Android Automotive as the primary graphics system. This includes Google Assistant, Google Maps and Google Play Store, and other Google Automotive Services. The new Android Automotive will be available for the first time in vehicles arriving in the spring of 2020. Rightware first demonstrated its Kanzi for Android concept at the Consumer Electronics Show in January.
"Several automakers are already implementing the Kanzi for Android approach, using Kanzi UI and Kanzi Connect to implement Android Automotive in their next generation of vehicles," said Derek Sellin, Rightware vice president of marketing.
While it can't name which automakers are using Kanzi for Android Automotive implementation, Rightware works globally with leading automotive brands and suppliers.
Sellin says the Kanzi product family represents an efficient and agile HMI development toolset for automakers, Tier 1 suppliers, and design studios to create vehicle user interfaces. Among Kanzi advantages he lists:
A modern, designer-orientated tool requiring no coding or compilation to develop UIs from prototype all the way to series production
Rapid prototyping and iteration, allowing designers to achieve the best possible UX
A highly agile workflow with designers and engineers working in parallel, resulting in accelerated development and associated cost savings
Moreover, Sellin estimates that with Kanzi, an HMI which would have taken a team of 30 to 50 designers and engineers several years to develop with traditional tools and methods, requires a team less than half the size and take less than half the time.
Tero Koivu, Rightware chief operating officer and head of products and services, notes that Kanzi empowers designers working to implement Android Automotive "to lead the creative process and develop a rich digital user experience with their company's brand, which can be very compelling and exhilarating for the designer."
Kanzi Connect, as its name implies, ties together all of the vehicle screens under a single system.
Now available as a beta release, Kanzi Connect is a fully customizable connectivity platform that brings automotive electronics, consumer devices, and the Internet of Things under one single interface. It allows designers to use the same toolchain across all displays in the vehicle, including second- and third-row infotainment screens.
Another key enabler of autonomous driving use cases, Rightware's Kanzi Maps brings map design natively into the overall automotive UI workflow and map rendering into the same graphics engine. Looking ahead, Koivu says automakers will need easier ways to help the driver make sense of data from vehicle sensors, onboard systems, and connected services. Kanzi Maps "will help visualize next-generation location, sensor, and Adaptive Driver Assistance Systems (ADAS) information in a much more realistic and context-sensitive way compared with traditional navigation applications," he adds.
"The combination of Kanzi UI and Kanzi Connect brings a consistent visual identity across all displays in the vehicle, regardless of the underlying operating systems. Kanzi UI allows automakers to implement the desired look-and-feel on any display while Kanzi Connect allows data from apps or services to be easily rendered on any display across the cockpit. This approach to integrating embedded Android into the automotive UX really delivers the best of both worlds."
Karamba Security Hacking
Karamba Security is showing its "vehicle hack" demo!
Lear Synergizes iwth Xevo Market and EXO Tech
Lear Corporation  a global automotive technology leader in seating and electrical and electronic systems, is showcasing the synergies between Xevo Market and EXO Technology during the TU Automotive Conference.
Xevo Market, a merchant-to-driver platform, connects consumers with their favorite merchant brands and services by delivering highly-contextual engagement opportunities through the touchscreens of their vehicles and their vehicle-branded mobile apps. EXO Technology is a proprietary Global Navigation Satellite System (GNSS) solution that provides highly accurate, near-instant vehicle positioning, even in some of the most challenging weather and urban canyon environments. Uniting the two technologies offers the vehicle occupant more accurate localization and opportunities for enhanced customer service and convenience.
LeddarTech
Senior members from LeddarTech azre at the TU Automotive Conference . LeddarTech will exhibit as part of the Government of Canada pavilion. Visit booth #B113 to speak with our LiDAR specialists and discover our ADAS and AD solutions for automotive and mobility applications.
Telenav Intros VIVID Personal Infotainment System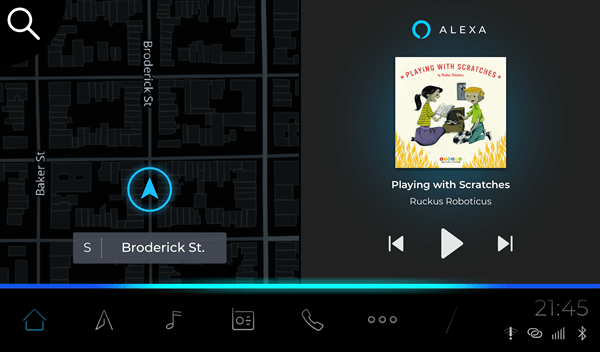 Telenav introduced VIVID™ (Versatile In-Vehicle Infotainment Design), a comprehensive embedded and cloud-connected, in-vehicle, personalized infotainment system. VIVID is specifically designed to effortlessly bring together the best online entertainment and information services with high-end hybrid navigation and integrated voice services, such as Amazon Alexa, to provide an easy-to-use, delightful user experience.
Unveiled at TU-Automotive Detroit, the world's largest conference and exhibition for future automotive technology, VIVID provides OEMs an easy to implement alternative to legacy in-vehicle infotainment systems.
Car owners can now enjoy a single seamless infotainment experience through VIVID's integration of four highly desired components: superior cloud entertainment services, a state-of-the-art cloud-first navigation system that works even when off-line, popular smart-assistant support, and full integration into the vehicle systems.
"VIVID is the transformative connected-car platform that both OEMs and drivers have been waiting for," remarked Eric Wood, Telenav VP of UX Auto and Design. "VIVID will save OEMs  development time and investment, as it is simpler, faster, and less expensive to implement and offers a great user experience."
Built from the ground up to natively integrate connected services, VIVID enables OEMs to maintain a single, unified customer experience inside the vehicle while providing users access to cloud services, they are familiar with.
"Car owners can now enjoy a state-of-the-art, in-car experience via a cloud-connected vehicle infotainment system," added Wood. "VIVID seamlessly integrates navigation, online music services, and virtual assistants into a delightful, hands-free experience that is cloud-connected and regularly enhanced via over-the-air updates."
Providing a significantly more modern looking user experience than current in-car systems, VIVID is replacing in-car cellular phone usage with a safe and intuitive infotainment system that blends vehicle controls – such as radio and climate control – with navigation, entertainment (i.e., top audio streaming services), and voice-control through Amazon Alexa, making it easy for drivers to take their cloud-connected life on the road.
"VIVID offers a solution capable of integrating with the widest range of third-party content and service providers, while enabling in-vehicle commerce," stated Roger Lanctot, Director, Strategy Analytics. "Car companies are looking for open, flexible platforms for enabling connected in-car experiences that preserve OEM branding, as well as for customer-engagement value propositions and opportunities. VIVID delivers on both."
VIVID will be regularly improved with over-the-air updates, providing drivers and OEMs with the latest new services, features, and security measures. The cloud-connected design also means OEMs will have numerous opportunities to capitalize on emerging technologies and business models that generate recurring revenue streams as the connected car industry becomes more adept at monetizing in-car offerings.
Stratio is bringing AI to vehicles by applying machine learning models that analyse millions of data points per vehicle and day. Stratio works with OEMs during the vehicle testing phase to launch more reliable vehicles to market faster, lower warranty claim fraud costs and expand aftersales revenues. Research will be discussed 6th of June by Stratio´s Head of R&D Rune Prytz, a former Volvo Trucks Research Engineer in AI and big data.
Connect to Garage Door
Chamberlain Group (CGI), a global leader in access control solutions with its Chamberlain and LiftMaster garage door opener brands and myQ® smart technology, announced today that its myQ Auto infotainment-based access solution will be featured in a concept vehicle retrofitted with a Mitsubishi Electric Android-based head unit at TU-Automotive Detroit