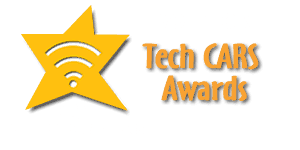 AUTO Connected Car News has tallied various social media sources, comments and our own database of most read articles to present the nominees for the 2015 Tech CARS Awards.
"This has been a groundbreaking year in connected car and car tech, we want to honor all those companies and people who have made it happen," said Lynn Walford, editor AUTO Connected Car News.
Each category will have a feature article with more information about the nominees available to help online voting that will start on Sunday, December 20 and continue until January 15, 2016 at 11:45 pm PST.
Overall Best Implementation of New Car Tech to Make Lives Better or Easier
GM's massive deployment of Android Auto and CarPlay across 47 models.
Tesla offers AutoPilot through software update.
Ford offers free Apple Siri Eyes-Free via SYNC software update.
Overall Best Implementation of Connected Car Tech with Smartphones
Android Auto
MirrorLink
Apple CarPlay
Best Deployment of ADAS Features in 2015
2017 Buick LaCrosse for most complete safety with Pedestrian/Front Auto-Braking, Auto Park/Lane Keeping Assist, ACC, Lane/Blind Alerts, Teen Monitoring & Safety Seat.
2016 Toyota RAV4 for Toyota Safety Sense (TSS) with Pre-Collison System (with Auto-Braking), FCW, Lane Alert & Dynamic Cruise Control.
2016 VW Touarage for adding FCW, Emergency Braking, ACC, Park/Lane Assist Systems.
Edsel Yugo Award for the Biggest Snafu in Car Technology
Volkswagen/Audi Diesel Test Spoofing Scandal
Takata Air Bags
Miller/Vallesek Hack of Jeep Cherokee
Overall Best Car Infotainment Software by Automaker
Chevy MyLink
Volkswagen MB II
Ford SYNC3
Volvo Sensus Connect
Vote for the Best Car Tech Connected Car Trade Show, Exhibition or Symposium
CES International, Las Vegas, Nevada.
Connected Car Detroit, by Automotive Megatrends.
Telematics West Coast, , San Diego, California.
Connected Car Expo at the LA Auto Show.
Best Self-Driving Autonomous Car of 2015
Delphi Cross Country Road Trip by Road Runner
Toyota AI from Research Institute
Google
Volvo Drive Me
Honda & Acura RLX testing @ Contra Costa Transportation Authority
Audi A7 Autonmous Drive to CES 2015
Mercedes-Benz Luxury in Motion
Most Anticipated New Aftermarket Product Expected in 2016
Best Backhaul Software or Development Platform for Automakers
QNX
Airbiquity
Covisint
OpenCar
Best Security Device or Software for Automotive Cybersecurity
Argus CyberSecurity
Security Innovation
HARMAN (RedBend) 5+1 Security Framework Solution
whiteCryption
Best Connected Car analyst, Advocate or Personality
Roger C. Lanctot, Strategy Analytics.
Andy Gryc, Connected Car Expo.
John Simpson, Consumer WatchDog.
Best Navigation Map Supplier App or Service
Waze
Apple Maps
Nokia HERE
TomTom
Other:
Best Connected Car PR Representative or Public Relation Firm for Project, Product or Service
Steve Johansson for Spireon's Kahu.
Ketchum for the Hyundai Virutal Guide App.
Jessica Swain for AT&T Connected Car.
Kahn Media for Cars Mechanical Institute @ Petersen Museum.
Best aftermarket Bluetooth, Aux or Speakerphone Device Under $100
JBL Trip – speakerphone with Bluetooth clips on visor, features noise cancellation. MSRP $99.99
iSimple BluStream – streams music & hands-free calling from car radio MSRP $59.95
Parrot MINIKIT Neo 2 HD – Bluetooth speakerphone with app MSRP $99.99
Other:
Best OBD-II Device with Software and Services
Vinli offers apps, data, roadside support and Wi-Fi data pay per use MSRP $199.
Hum by Verizon Wireless with roadside support and visor speakerphone (Free with Contract).
Zubie now with Wi-Fi Hotspots as Verizon add-on package MSRP $99.95.
Mojio now works with Alexa and developer apps MSRP $149.
Best Car Support App
Gas Buddy
Honk
Purple On-Demand Gas Delivery
Torque
Urgent.ly
We are currently working on getting the voting software working and having articles about each category available to help with the voting. If you represent any of the aforementioned companies please email a few paragraphs about yourself, product, project or service to editor[at]autoconnectedcar.com