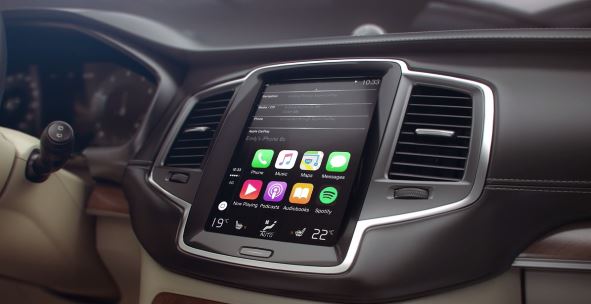 Volvo has made available updates to Apple CarPlay for the all Volvo XC90 currently being sold. Volvo Car Group announced in March that the all new 2016 Volvo XC90 will offer Apple CarPlay which they call the smarter, safer, more fun way to use iPhones in the car.
Update 12/2/2015 – Jim Nichols from Volvo stated in an email "Apple CarPlay is available to all retailers. All trim levels of the 2016 XC90 are eligible for an update and drivers can schedule a service appointment with their retailer for installation."
Volvo drivers connect their iPhone in the car with the Lightning connector and Volvo's on-board touch screen display allows them to intuitively access the iPhone apps they want to use in the car, such as Phone, Maps, Music and Messages, all seamlessly integrated and instantly available.
Volvo's Sensus Connnect has a large 9″ touchscreen in the center stack that allows for use with gloves.
"Volvo has deeply integrated Apple Car Play in a way that allows drivers to still use most of the vehicles' infotainment functions while benefiting from the Car Play environment. Applications can be accessed via Siri and drivers can choose to use either the car's navigation system or maps via Car Play. In addition to the Car Play update, a Pandora application is also available on the XC90, which will allow drivers to use that service directly on the car's large touchscreen," said Jim Nichols, technology and product communiation manager, Volvo North America.
CarPlay takes up the bottom half of the screen while the Sensus Connect controls remain available on the top. Siri voice control can be accessed through the voice button on the steering wheel.
Volvo Cars' infotainment system Sensus, received the 'Most Innovative HMI System' at the 2015 Car HMI Concept & Systems conference in Berlin.
Volvo Cars will offer an updated Volvo On Call smart app that can be controlled with an Apple Watch, Android Wear smartwatch, iPad or Windows Phone.
Volvo owners will automatically receive a 4-year subscription to Sirius Traffic and weather information with new Model Year 2015 Volvos with Sensus Connect.
AT&T and Volvo partnered for connected cars in the U.S. and Canada for wireless connectivity.
We have updated our Android Auto and Apple CarPlay chart to show the update from Volvo. Volvo, previously announced that Android Auto would be available, too. We will keep you posted as to when the update is available.
Recently, we were taken for a ride in a Volvo XC90, where, Jim Nichols, technology and product communications manager at Volvo showed how the system works while driving.