The year 2015 started off with a big autonomous bang, at CES. Mercedes-Benz on a stage in Las Vegas revealed their self-driving "Luxury in Motion" car that lets the driver face the passengers while Audi self-drove an Audi A7 from San Francisco to Las Vegas with reporters behind the wheel. By March, we had three big contenders for winning the autonomous car race, Delphi, Tesla and Mercedes-Benz but that was the first quarter of the year. What will win the autonomous vehicle race in the second quarter of 2015? Lets review all the companies that have made announcements or have been seen self-driving on roads. After seeing all the drivers in the industry, you should be up-to-speed on recent AV (Autonomous Vehicle) self-piloted news.

Delphi
Delphi made the first transcontinental autonomous drive (99% of the time) on highways. Following the trip, Delphi reps made many media appearances. The trip was accomplished during the day, only on fairly clear roads in temperate climates. According to Delphi engineer Kathy Winter, the vehicle named Roadrunner had to deal with rush hour traffic,  tumbleweeds and roads with faded lane lines. There was a massive amount of data collected for research.  By May, Delphi admitted that one of its vehicles when not in self-driving mode was in a car accident and was hit by another driver.
Delphi is a supplier to major automakers, in order to compete they have to lead the race for some features.
Daimler / Mercedes Benz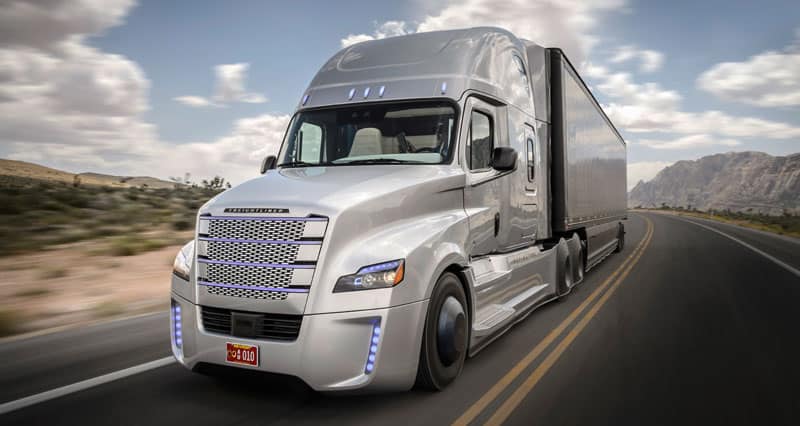 Dailmer out-Vegased itself, when it showed off its autonomous big rig tractor-trailer truck.  Basically, they turned the Hoover Damn into a ginormous drive-in theater screen and then drove the autonomous 'Freightliner Inspiration" truck across the damn. The spectacle was more than front-page news. However, the technology is closer to advanced cruise control, called Highway Pilot technology. The predictive technology that controls the vehicle speed uses GPS and digital 3D maps. It allows for platooning (caravan) of multiple trucks.
Daimler and Qualcomm, last week announced a technology partnership for 4G LTE and technology which is important for autonomous driving.
Diamler as a luxury automaker and sees autonomous features as a luxury selling point. We expect more spectacles on grand scales throughout the year from Mercedes-Benz and Daimler.
Tesla
Tesla frequently shows up in discussions of self-driving cars. Tesla S owners have been promised advanced features via a software update to 7.0 that were demonstrated in 2014. Telsa Model S software 6.2  includes automatic notification of nearby charging locations, trip planning, automatic emergency braking, blind spot warning and valet mode.
Bosch has taken two Tesla S cars and added wiring with technology to test its self-driving features.
When Elon Musk talks, everyone invests. There's a battery gigafactory in Nevada to make batteries and bring down the costs of electric cars. Tesla is also in the luxury business. Since Musk continually is in the limelight for innovation, we'll see more of him with each software update and new model car. Self-driving features may also differentiate models when the full line of Tesla vehicles is produced.
Google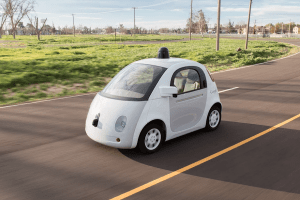 Google, made a big splash, in 2014 when it revealed its self driving Load Speed Vehicle (LSV). They have been working on new models and there was a recent demonstration in which the vehicle had trouble determining that a set of folding chairs was not another car. All accidents of self-driving cars in California must be reported to the DMV. Four accidents were reported. However, Google admitted to a total of 11 collisions at a slightly higher rate than human drivers. Google claims that no one was hurt and they were all caused by human error.
Google has patented technology that allows cars to stop for cows and call for help for suggested work-arounds.
The problem with Google winning the race for self driving vehicles is that their vehicles' top speed is 25 mph which means these cars will have to stay on surface streets. Human drivers surrounding these vehicles may want to intentionally run into them because they go so slow.
Google appears to want to work with automakers or sell its software. When Google uses conventional adapted Lexus SUVs in Silicon Valley, the cars have exterior of equipment that makes them obvious to other drivers. Since Google has the cash to do whatever it pleases, we will see more experimentation from Google.
Uber Rides Autonomous
The technology companies with a lot of money seem to like playing in the field of connected self-driving cars. There are rumors that the big cash Kahuna Apple is working on an electric car. The other big cash company is Uber, that could make more money if drivers were taken out of the profit equation. Uber raided Carnegie Mellon University for engineers and then partnered with the college.  A Uber mid-sized car with self-driving technology on board, most likely a Subaru was seen on the streets of Pittsburgh. A Uber spokeswoman, told media that the vehicle part research efforts for "mapping, safety and autonomy systems."  In other words, they're working on self-driving cars.
Advanced ADAS NVIDIA DRIVE PX with Luxury Automakers
The NVIDIA hardware and software development kit for self-driving, self-parking and sophisticated advanced driver assistance systems (ADAS) features for cars is shipping this month to Bentley, Aston Martin, Tesla and Rolls Royce. We give Tesla an extra point, because it already uses NVIDIA processors.
Audi's Self-Driving Attitude
At CES Shanghai Audi is demonstrating self-driving on city streets. Audi announced t will use Delphi as the future system supplier for the zFAS electronics board that is about the size of a tablet, is upgradeable and will eventually communicate with the cloud via 4G LTE.
An Audi was used for the cross-country American strip by Delphi. Audi presented a keynote including its self-driving technology at CES Shagahai. Audi will use Baidu's CarLife technology in cars sold in China and to develop a high-speed data module with Huawei. The Audi R8 e-tron piloted driving concept car is based on the multimaterial Space Frame of the new production R8.
Volvo
In 2014 Volvo opened AstaZero as a test site for traffic safety solutions. Volvo announced that its Drive Me autonomous car program will deploy 100  people in self-driving Volvos on some roads around in Gothenburg by 2017.
Honda's Self-Driving Odyssey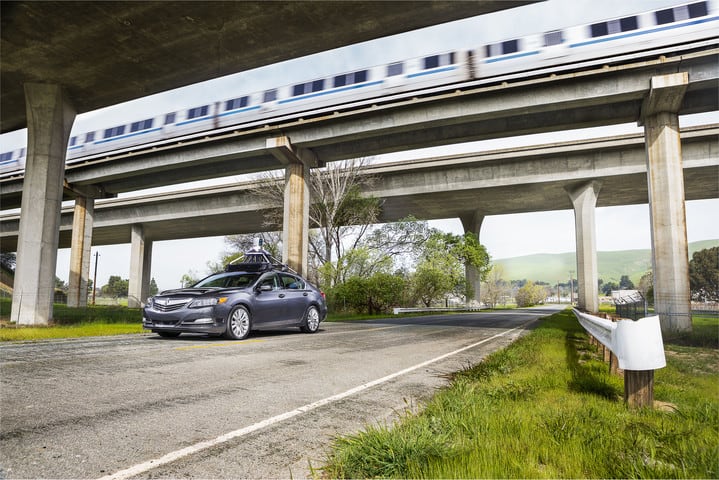 Honda reported that it is has begun testing its autonomous car features on an Acura RLX on the roads of the Concord Naval Weapons Station in the East Bay area, where Mercedes had tested self-driving cars there in the past.
Honda R&D Americas, Inc. President, Frank Paluch, shared Honda's timeline and vision for  that is  high-speed, low-carbon and zero-collision through  technology.
Hyundai One Day
Hyundai reps stated that they will offer partially-autonomous driving in 2015, highly automated driving in 2020 and fully autonomous cars by 2030 at a demonstration in Seoul, Korea.
Nissan
Carlos Ghosn, CEO of the Renault Nissan Alliance at Mobile World Congress. said in 2016, Renault-Nissan will bring to market car models with the ability to drive autonomously in traffic jams, with the driver able to take his or her hands off the wheel and eyes off the road.
The next level will be autonomous highway driving in 2018 and city autonomous driving by 2020.
GM Cadillac Super Cruises with V2V
The 2017 Cadillac will be the only vehicle on the road with V2V communications which is needed for the most advanced forms of autonomous driving. Super Cruise allows for hands-off lane following, braking and speed control in certain highway driving conditions.
GM was the first company to offer 4G LTE Wi-Fi hotspots in compact, midsize and luxury cars.  We suspect that the company will test high-end but time as features on its luxury cars and then bring it to lower end models.
Ford
Ford opened its Research and Innovation Center Palo Alto. Research from the center will quicken development of connected car tech, connectivity, mobility, autonomous vehicles.
Ford is supporting "Smart Mobility" at Ford European Research & Innovation Center, Aachen, Germany, that will support innovation in connectivity, mobility, autonomous vehicles, customer experience and big data.
Toyota
Toyota is big on the green car front. However, Bosch, Econolite, Ford, General Motors, Toyota and Xerox have joined the he University of Michigan's Mobility Transformation Center (MTC) as industry partners.
Toyota also supplied Google with cars for its self-driving car project and is tested self-driving cars in Japan.
Other Technology Contenders
TomTom claims they have the kinds of maps with location data needed for autonomous driving. TomTom technology If can update map data from vehicles on the road, which is then shared with other drivers which no other company offers.
Auto supplier Valeo and defense contractor Safran drove their self-driving Volkswagen CC around the National Army Museum in Paris.
Continental's international team from the IT and automotive industries will work on Intelligent Transportation Systems (ITS), called "Continental Intelligent Transportation Systems, LLC." Headquartered in the Silicon Valley and it guided by Seval Oz, an expert in vehicle networking and automation. In her previous role she worked on Google's self-driving car project.

As usual, the technology is moving at a very rapid pace, government can't keep up with the pace.
Hindrances
All self-driving car deployment to consumers will be dependent upon legislation. US DOT Secretary Foxx announced support for speeding up the process of new connected car technology. However, there will have to be major laws governing protocols and massive testing.  The added element of law adoption is dependent upon funding from a government at odds with itself. There are only a few states that have self-driving car laws.
A study found that self-driving cars may cause nausea. Any kind of accident that is public, scares away riders and buyers.
Predictions/Research
Topology, a division of TrendForce predicts that autonomous vehicles will enter mass production by 2020.
A Boston Consulting Group study showed that Americans are enthusiastic about autonomous vehicles, auto piloted and self-driving cars with many willing to pay $4,000 to $5,000 more for a car with autonomous features.
A Continental study found that many believed that automated driving can prevent serious accidents. While 52% of Americans don't believe "that it will ever function reliably" and 61% thought "Autonomous driving scares me."
A Carnegie Mellon study found, higher percentages of drivers aged 46 to 70 consider night driving, driving unfamiliar roads, navigating congested roads, merging traffic situations, and interstate travel safer with self-driving technology. Those under 35 think that self-driving cars will make daytime driving and taxis safer.
An IBM study found that 75% of all automotive executives surveyed expect non-traditional industry partnerships to have a key role in the automotive ecosystem by 2025.
If you scan the list of participants you can see all major automakers have a stake in self-driving car research. All the contenders may have to wait at the governmental starting line before they can sell self-driving cars to the public. In the meantime, we predict the luxury brands will be the first to support technology, including, Audi, Tesla, Mercedes-Benz and Volvo. BMW and Volkswagen should join the public race soon.
For sheer spectacle, the Daimler truck garnered the most attention. Audi seems to have announcements every month. Telsa wreaks of fast technology. However, the media is fickle when someone gets injured all the teams may be waylaid for the the law to catch up.
What do you think will win? Let us known in the comments below. You are welcome to sign-up for the Autonomous Self-Driving Newsletter, weekly
summary or get email notifications of everything.