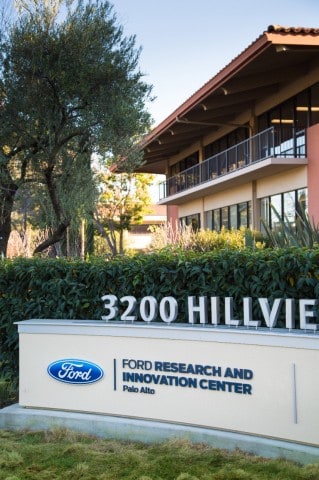 Ford opened its Research and Innovation Center Palo Alto. Research from the center will quicken development of connected car tech, connectivity, mobility, autonomous vehicles, customer experience and big data. Ford SYNC AppLink won the Tech CARS Award for best integration of smartphones. From the number of votes it looks like Ford has a very supportive developer community.
Ford CEO, Mark Fields said in a video that Ford plans to make new technology affordable like Henry Ford accomplished with the original Model T. New research may lead an affordable self-driving Ford, better software interaction through voice and the most comfy adjustable seat for driving.
Ford is partnering with Stanford and is giving a Fusion Hybrid Autonomous Research Vehicle to university engineers for next phase of testing.
Silicon Valley engineer Dragos Maciuca has left his position at Apple to serve as senior technical leader at Research and Innovation Center Palo Alto. Maciuca holds a Ph.D. in Mechanical Engineering from University of California, Berkeley and an MBA from its Haas School of Business. He has experience working with start-ups and universities.
In the future Ford expects to be of the largest automotive research teams in Silicon Valley. By the end of they 125 researchers, engineers and scientists will be located in Stanford Research Park.
Ford will be testing out some new projects with Ford Smart Mobility including:
Integration with Nest smart thermostats.
Carnegie Mellon University-Silicon Valley is working to develop improved embedded speech recognition that supports more natural language for Ford SYNC.
Remote driving of vehicles using real-time video and 4G LTE access.
Fusion Hybrid Autonomous Research Vehicle testing new path planning-and-prediction algorithms and use of virtual test environment based on gaming software.
Ford is researching the most intuitive and effective way to control with 10 adjustments and 11 inflatable air bladders in a seat.
Engineers are working to develop sensor kits based on Ford OpenXC that gather information from bicycles and other common forms of transportation in urban areas.