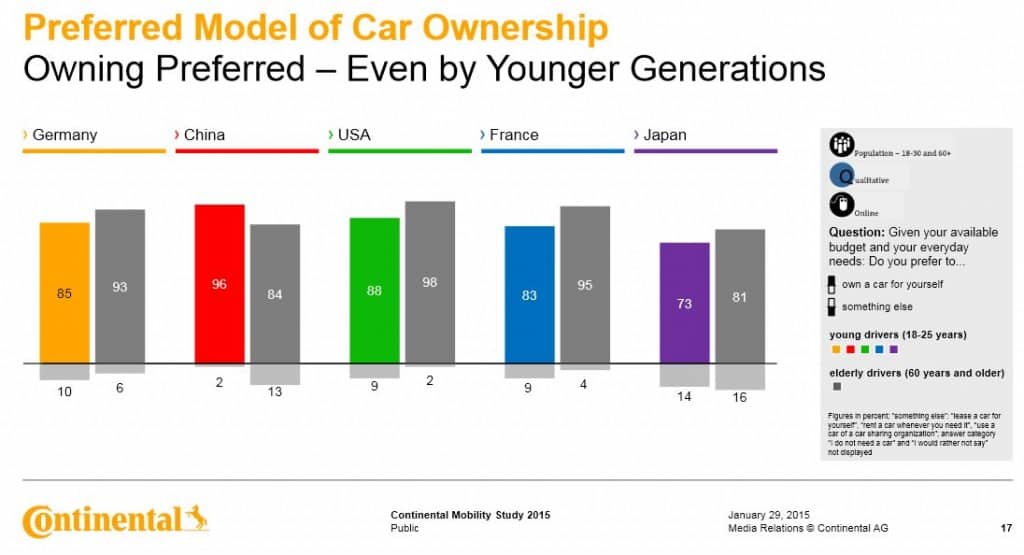 Continental's recent study found that U.S. consumers, even teens still want to own cars. They also want to blend their personal technology with car technology. Electric vehicles are not appealing to every one. Although people see the value of self-driving autonomous vehicles, they can be scary.
According to the Continental Mobility Study, 94% of respondents own their vehicles, while only 1 percent of respondents make use of car-sharing services. A vast majority still want to own their own cars.
The study debunks the commonly held perception that millennials are disinterested in driving. Continental's research found that 84% of survey respondents ages 16-25 believe driving is important, and 76% drive just about every day. 91% of 16- to 25-year-olds place a high importance on consumer electronic devices.
65 million millennials "Generation Smartphone" are expected to purchase vehicles in the next five years. As a result, the value placed on the blending of driving and consumer electronics will push autonomy and connectivity advancements in the near-future vehicles notes the report.
According to the mobility study, many drivers indicated an interest in intelligent vehicles and networked services when they provide recognizable value.
Wi-Fi Hotspots Wanted
65 % (73 %of respondents ages 16-25) stated they would be interested in owning a car that could provide connectivity Wi-Fi hotspots to allow mobile devices to use Internet-based services, such as music, video and other communication means.
Intelligence Also Wanted
59% of all respondents were interested in intelligent vehicle technology to improve traffic control and 57 percent desired cloud-based connectivity features. U.S. drivers expressed openness to new technologies, and many already use advanced driver assistance systems, such as adaptive cruise control and lane departure warning.
Self-Driving Autonomous Cars Popular but Frightful
Respondents preferred autonomous driving for stressful and monotonous driving situations. A majority thought that automated driving could relieve them of the driving task in monotonous or stressful driving situations. Many believed that automated driving can prevent serious accidents. While 52% of Americans don't believe "that it will ever function reliably" and 61% thought "Autonomous driving scares me."
No EVs 4 Me
Electric cars are not very appealing.A majority see fully electric-driven vehicles as environmentally friendly (72%) and sensible (67%), but the perception of image factors that play a key role in the purchase decision, such as driving pleasure (26%), attractive design (26%), and sportiness (23%), is low.
Continental commissioned the market and social research institute infas conduct a representative survey of 2,300 (non-)drivers in the U.S. and 1,800 in Germany, and a qualitative survey of 400 vehicle owners each  Read the study.
Another recent study by Accenture shows what car buyers want digitally from auto buying websites with a high percentage wanting Wi-Fi hotspots and the ability to purchase car totally online.