Volvo announced its new  XC90 coming to the US in April starting at $48,800.  Apple CarPlay and Android Auto support will follow its release.
Technically it's considered an SUV, the Volvo XC90 made on a scaleable architecture with a vertical touchscreen and many ADAS features. The pleasant interior is styled in leather and wood.
Volvo wants to prevent deaths and accidents with ADAS features.
In a run-off road is detected, the front safety belts are tightened to keep the occupants in position. To help prevent spine injuries, there is energy-absorbing between the seat and seat frame cushions fro vertical forces that when a car lands on the ground.
City Safety  automatically brakes if the driver turns in front of an oncoming car. It now covers vehicles, cyclists and pedestrians in front of the car, day and night.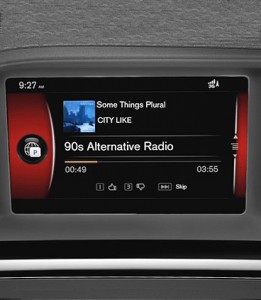 The XC90 connected car infotainment unit features Sensus Connect, Volvo On Call and Volvo On Call Smartphone App that will be in standard in all 2015 Volvo models.  The data connection however is 3G through AT&T but does offer Wi-Fi hotspots and tethering.
Other IoT (Internet of Things) features include Internet, phone, and text message access (with text-to-speech), in-car infotainment apps, 24/7 call center support with in-car roadside assistance,
Volvos have steering wheel controls and voice controls. Drivers and passengers can stream music, listen to Internet radio stations, Pandora, TuneIn, Rdio, Stitcher. Locations can be shared on Glympse. To help find restaurants, gas stations and places to go with Yelp and Wikilocation.
With the navigation upgrade offers 3D graphics with forever map upgrades. Volvo On Call offers roadside assistance, emergency service(crash/seat belt) stolen car tracking.
The Volvo On Call app for iOS, Android, and Windows Phone shows an overview of the Volvo with current location, the status of its windows and door locks, details on recent trips and gas level/average  mileage(MPG). Functions include remote engine start to heat or cool the car before arriving (based on last used settings), horn beeping, lights flashing,  roadside assistance, and send addresses directly to navigation.