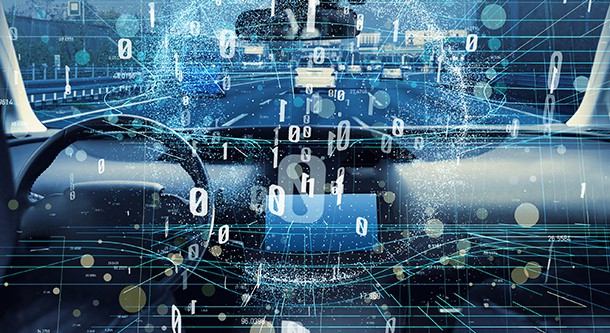 Some Advanced Driver Assistance Systems (ADAS) have been available for nearly 30 years, however, they have only become more commonplace in the last several years, like automatic emergency braking and lane keeping assistance. Since these features now come standard on many new vehicles, it is becoming increasingly important for consumers to have a solid understanding of their functionality. However, with the current variety of marketing names and lack of consensus by industry regulatory groups, it has been difficult for consumers to discern what features a vehicle has and how they actually work.
For example:
Adaptive Cruise Control–Adaptive Cruise Control , Smart Cruise Control, Intelligent Cruise Control, Adaptive Cruise Control with Queue Assist, Dynamic radar cruise control, Distronic Plus, Traffic-Aware Cruise Control.
Lane Keeping Assistance–Active Steering Assist, Audi Active Lane Assist, Intelligent Lane Intervention, Lane Departure Alert with Steering Assist, Lane Keep Assist, LaneSense Lane Departure Warning Plus.
Blind Spot Warning–Active Blind Spot Assist, Audi Side Assist, Blind Spot Information System, Blind Spot Intervention, Lane Change Alert with Side Blind Zone Alert, Lane Change Assistant (Side Assist), Smart Blind Spot DetectionSurround
Surround View Camera—Surround View System, 360⁰ View Monitor, Intelligent Around View Monitor, Multi-terrain Monitor, Bird's Eye View Camera, Surround Vision, Top View Camera System,Wide Front View & Side Monitor.
AAA set out to understand the growing prevalence of ADAS technology in new vehicles as well as examine the terminology currently used by regulatory organizations and manufacturers. Previous AAA research found that 40 percent of Americans expect partially automated driving systems with names like Autopilot, ProPILOT or Pilot Assist, to have the ability to drive the car by itself. This research highlights the need for standardization of terms and definitions for ADAS features.
Key Findings
Cost/Prevalence of ADAS Technology
AAA examined 2018 model year vehicles to identify the percentage of ADAS technology that comes standard and found the following three features are the most prevalent:
o   Automatic Emergency Braking – 30.6%
o   Lane Keeping Assistance – 13.9%
o   Adaptive Cruise Control – 11.8%
Multiple ADAS features are often sold as part of an optional technology bundle. On average, the cost of an ADAS bundle is approximately $1,950.
At least one ADAS feature is available in 92.7 percent of new vehicle models available in the United States as of May 2018.
Terminology Review
AAA's Automotive Engineering team examined 34 vehicle brands sold in the United States to identify the number of unique names manufacturers use to market ADAS. AAA found the following regarding the number of terms used to describe a single ADAS feature:
| | |
| --- | --- |
| ADAS Feature | Number of Unique Names |
| Automatic Emergency Braking | 40 |
| Adaptive Cruise Control | 20 |
| Surround View Camera | 20 |
| Lane Keeping Assistance | 19 |
| Blind Spot Warning | 19 |
| Automatic High Beams | 18 |
| Rear Cross Traffic Warning | 15 |
| Driver Monitoring | 13 |
| Semi-Automated Parking Assist | 12 |
| Forward Collision Warning | 8 |
| Night Vision and Pedestrian Detection | 5 |
AAA Proposed Terminology for ADAS
AAA is proposing terminology that is intended to be simple, specific and based on system functionality.
| | |
| --- | --- |
| AUTOMATED DRIVING TASKS | DEFINITION |
| Adaptive Cruise Control | Controls acceleration and/or braking to maintain a prescribed distance between it and a vehicle in front. May be able to come to a stop and continue. |
| Dynamic Driving Assistance | Controls vehicle acceleration, braking, and steering. SAE standard definition of L2 Autonomous systems outlines this functionality. |
| Lane Keeping Assistance | Controls steering to maintain vehicle within driving lane. May prevent vehicle from departing lane or continually center vehicle. |
| COLLISION ALERTS | DEFINITION |
| Blind Spot Warning | Detects vehicles to rear in adjacent lanes while driving and alerts driver to their presence. |
| Forward Collision Warning | Detects impending collision while traveling forward and alerts driver. |
| Lane Departure Warning | Monitors vehicle's position within driving lane and alerts driver as the vehicle approaches or crosses lane markers. |
| Parking Obstruction Warning | Detects obstructions in close proximity to vehicle during parking maneuvers. |
| Pedestrian Detection | Detects pedestrians in front of vehicle and alerts driver to their presence. |
| Rear Cross Traffic Warning | Detects vehicles approaching from side and rear of vehicles while traveling in reverse and alerts driver. |
| COLLISION MITIGATION | DEFINITION |
| Automatic Emergency Steering | Detects potential collision and automatically controls steering to avoid or lessen the severity of impact. |
| Forward Automatic Emergency Braking | Detects potential collisions while traveling forward and automatically applies brakes to avoid or lessen the severity of impact. |
| Reverse Automatic Emergency Braking | Detects potential collision while traveling in reverse and automatically applies brakes to avoid or lessen the severity of impact. |
| PARKING ASSISTANCE | DEFINITION |
| Fully-automated Parking Assistance | Controls acceleration, braking, steering, and shifting during parking. May be capable of parallel and / or perpendicular parking. |
| Remote Parking | System parks vehicle without driver being physically present inside the vehicle. Automatically controls acceleration, braking, steering, and shifting. |
| Semi-automated Parking Assistance | Controls steering during parking. Driver responsible for acceleration, braking, and gear position. May be capable of parallel and/or perpendicular parking. |
| Surround View Camera | Uses cameras located around vehicle to present view of surroundings. |
| Trailer Assistance | System that assists driver during backing maneuvers with a trailer attached. |
| MISC. DRIVING AIDS | DEFINITION |
| Automatic High Beams | Deactivates or orients headlamp beams automatically based on lighting, surroundings, and traffic. |
| Driver Monitoring | Monitors driver condition by various means to detect drowsiness or lack of attention. |
| Night Vision | A system that aids driver vision at night by projecting enhanced images on instrument cluster or heads-up display. |