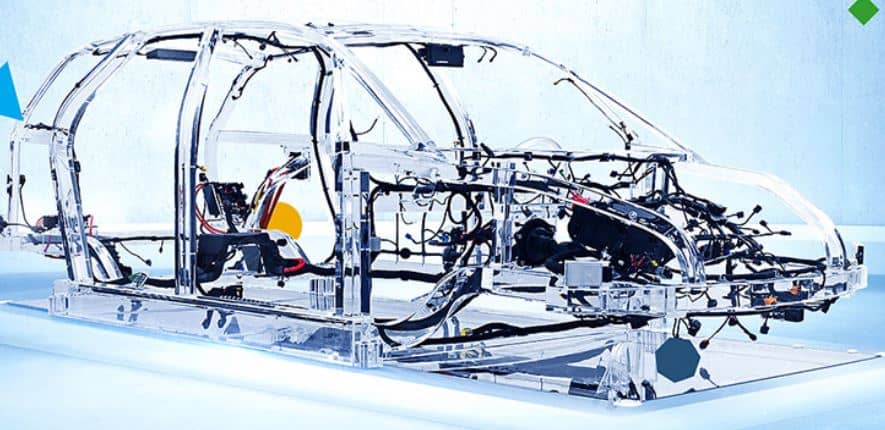 At this year's Frankfurt IAA technologies from Delphi Automotive are featured on numerous vehicles at the event including Audi, BMW, Hyundai, Jaguar, Kia, Porsche, Mercedes-Benz and Volkswagen. The company is also showcased mobility solutions such as their (CSLP) platform, satelite, infotainment and more.
Delphi Tech Highlights include:
Safe: Industry's first Multi Domain Controller: Audi mastermind for automated/ piloted driving
Delphi will enter the market with the industry's first Multi Domain Controller (MDC) in late 2017 with Audi zFAS, with a first introduction on the Audi A8. This technology enables the massive computing power needed for active safety and advanced driver assistance systems. At the automated level, multi-domain computing platforms are essential for fail safe, functional safety and functional performance – to achieve automotive grade. This powerful control center also reduces system complexity, cost and weight. It will be available on several Audi models as well as on the new Porsche Cayenne.
Safe: Safer and easier ways for drivers to communicate with their car
Delphi's integrated 3D gesture recognition is now also available on the new BMW X3. This system enables simple hand and arm gestures to control the infotainment system, essentially performing sign language to talk with your car.
Green: Low CO emissions and fuel consumption
The EU will limit CO emissions of the average new car to 95g/km on 95 percent of the new car fleet in 2020 and 100 percent beginning in 2021, compared to 130g/km in 2015. Demand for gasoline direct injection (GDi) technology is increasing and nearly half of all gasoline engines are expected to feature GDi technology worldwide in 2020. Delphi's GDi system significantly reduces CO2 emissions while offering an industry benchmark for low noise, which is a key consumer issue. It is featured on the new Citroën C3 Aircross.
Connected: USB connectivity
With increasing consumer demand for more entertainment and data exchange within the automobile, Delphi's expanding portfolio of cables, connectors and consumer ports allow communication of audio, video and navigation data within the vehicle. The new Jaguar E-PACE features Delphi's USB connectivity panel.
New vehicles featuring Delphi technologies include:
Audi A8: multi domain controller (zFAS), short range radar, front camera, driver state camera, connection systems including SRS (safety restraint systems) connectors, terminals.
BMW X2: short range radar, canister.
BMW X3: short range radar, roof module with gesture recognition.
Citroën C3 Aircross: wiring harness, valve train, ignition coils, GDi injectors and high pressure pump, body controller, alarm system, voltage stabilizer.
Dacia Duster: wiring harnesses.
Ferrari Portofino: infotainment system (with 10,2" touch screen display), complete wiring.
Hyundai i30 N: connection systems including SRS (safety restraint systems) connectors.
Jaguar E-PACE: immobiliser, interior motion sensor, siren (battery backed sounder), passive occupant detection system, gear shift paddles, USB connectivity panel, wiring harnesses, user interface panel (USB, HDMI, phone SIM panels), various connection systems including SRS (safety restraint systems) connectors, fuse box, carbon canister (gasoline).
Kia Sorento facelift: wiring harnesses, short range radar.
Mercedes-Benz S-Class Coupé and S-Class Cabriolet facelifts: various connectors, ultrasonic alarm, ambient light controller, passive occupant detection system, ignition.
Opel Grandland X: radio control module, integrated center panel, HVAC control module, body control module, body computers, ultrasonic sensor, valve train, ignition coils, GDI injectors, high pressure GDI pump.
Opel Insignia Country Tourer: radio, integrated center panel, complete wiring, air pressure and temperature sensor, engine control module.
Porsche Cayenne: Multi Domain Controller (zFAS), short range radar, front camera, driver state camera.
Renault Mégane R.S.: head unit.
Volkswagen Polo: wiring harnesses (engine), fuel delivery module (diesel).
Volkswagen T-Roc: ultrasonic sensor, alarm sounder, diesel common rail (injectors, pump and ECU, diesel engine), fuel delivery module (diesel engine), GDi system (injectors and pump, gasoline engine).
Delphi also is showing future mobility solutions for tomorrow enabling autonomous driving, connectivity, data analytics and advanced propulsion including:
Centralized Sensing, Localization and Planning (CSLP) platform: In partnership with Mobileye and Intel, CSLP is the first turnkey, fully integrated automated driving solution with an industry-leading perception system and computing platform. This year Delphi announced key partnerships with BMWand Transdev to help accelerate the development of commercially viable automated vehicle solutions. Delphi believes it has the right partners to deliver a CSLP automated driving platform by 2019.
The industry-first Delphi Next-Gen ADAS Satellite System: By moving existing ADAS sensors into a centralized domain controller, this future-proof architecture enables an up to 89 percent reduction in satellite sensor size. With RACam, the system combines radar and camera technology inside the vehicle to provide a wider field of view and improved cross sensing capability, increase system availability in adverse weather and deliver packaging/styling benefits.
Connected vehicle platforms require robust electrical architectures and central computing to transfer and process greater amounts of data at increasingly faster rates. Delphi continues to build and expand on decades of experience developing and integrating evolving vehicle architectures that increasingly must operate at higher speeds and temperatures without failure. Enabling self-driving technology requires a new vehicle architecture. Delphi's solution is its Smart Architecture.
Delphi's connected car ecosystem, unlocks significant value for OEMs through two strategic acquisitions of two start-ups, Control-Tec (Nov. 2015) and Movimento (Jan. 2017) as well as a strategic investments in otonomo (April 2017) and Valens (May 2017). The collection, interpretation, prioritization and packaging of this vehicle data helps to reduce recalls, improves the quality of launches, enables mobility-on-demand services, allows for software updates and fixes on the fly and has the potential to foster the growth of a nascent connected vehicle services industry.
Delphi's scalable infotainment Integrated Cockpit Controller (ICC) family that spans the entry to high vehicle segments delivering best-in-class graphics and user experience. This integrated architecture delivers estimated system cost savings of up to 12 percent while reducing mass by 33 percent.
Delphi's MLD® (Multi-Layer Display), the industry's first 3D cockpit experience, provides drivers with a personalized user experience and a premium feel, without requiring special glasses or causing headaches and other negative side effects.
Future propulsion is electrified. Delphi offers the bridge to an electric future with its 48-volt mild hybrid technology combined with Dynamic Skip Fire (DSF®) to provide increased efficiency and performance from traditional gasoline and diesel engines. At IAA, Delphi will show how synergies of various powertrain technologies can yield superior results and discuss solutions to further optimize the internal combustion engine.