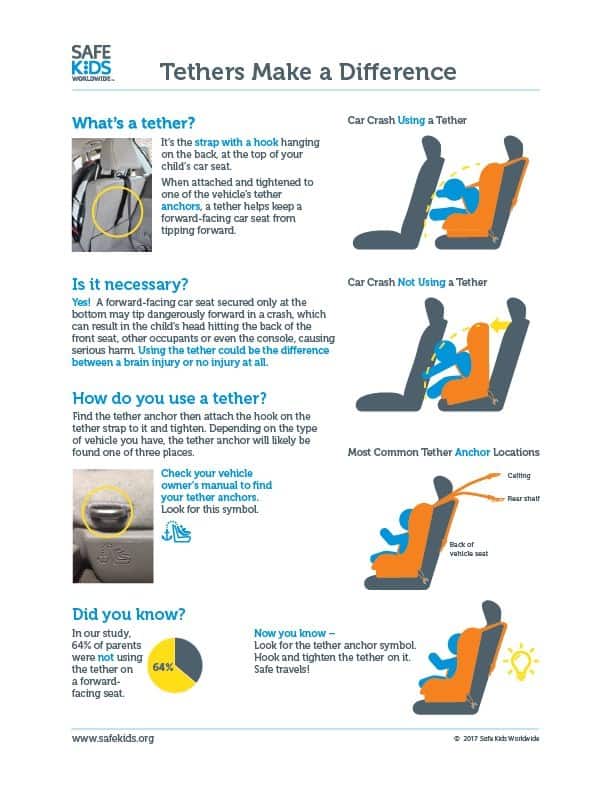 This week is Child Safety Week and good time for parents to make sure that their children are safe in their cars. New research shows that many child seats are not installed properly without the top tether connected. If you are not sure if your safety seats are installed correctedly you can check with your local police department or seatcheck.org. Target is offering a 20% discount when buying a news seat when you recycle an old one. A new study shows that driving around schools is very dangerous. Please be extra careful driving near schools.
Top Tether Top Concern
New research shows that more than half of forward-facing car seats are not used properly because of one misunderstood but essential step in installation: attaching the top tether. In fact, in a 2016 study of those who came to car seat checkup events, 64 percent of forward-facing car seats with harnesses were not attached using the tether.
This is a serious concern because the tether is an important safety device to protect children in cars.The tether is the strap on the back of a forward-facing car seat that secures the top of the car seat to a dedicated anchor in the car. All vehicles made after 2001 are required to have at least 3 tether anchors.
When attached and used correctly, the tether keeps a forward-facing car seat from pitching forward in a crash or sudden stop.
Without this protection, a child's head can move an additional 4-6 inches, which could cause serious harm if the child's head hits the back of the front seat, other occupants or even the center console.
Using the tether could mean the difference between a serious head injury and no injury at all.
"Our research shows many parents don't know about the tether, and don't realize that their child is not fully protected. We want to fix that," said Lorrie Walker, Child Passenger Safety Expert for Safe Kids Worldwide. "Parents: Join us in encouraging every person who drives your child to take time to tether."
The research also shows that lack of tether use is an historic problem. Over a ten-year span, tether use is consistently low and many families who use it don't use it correctly.
But the good news is education works. In 2016, parents and caregivers were shown the importance of using the tether at a Safe Kids car seat checkup event. At a follow-up event six weeks later with the same families, correct tether use increased by 37 percent.
"Chevrolet is committed to helping parents keep their children safe on the road," said Tricia Morrow, Chevrolet Safety Engineer. "Installing a car seat can be complicated and top tether use is often overlooked. To help encourage caregivers to use anchors, Chevy safety engineers and designers purposefully make tether anchors visible and easily accessible."
The Take Time to Tether campaign coincides with Child Passenger Safety Week, Sept. 17-23. The campaign invites families to Buckle Up car seat checkup events hosted by more than 200 Safe Kids Worldwide coalitions during September. Families who can't make it to a car seat event can get expert help with the online Ultimate Car Seat Guide, offering practical advice on how to choose and use a car seat, now available in both English and Spanish.
Today's announcement builds on Safe Kids Worldwide's enduring, 20-year partnership with Chevrolet and General Motors, dedicated to protecting children and teens in and around cars. Since its launch in 1997, the Buckle Up program has grown into the most comprehensive child passenger safety program in the nation. Over that time, there has been a 50 percent decline in child deaths for children 8 and under in car crashes.
Child Seat Checks at Lexus Dealers
Parents and caregivers want to know that they're doing everything they can to protect their family, especially on the road. This September, Britax Child Safety, Inc., the leader in child passenger safety technology and U.S. manufacturer of premium car seats, is excited to announce that they are joining Lexus to host events at dealerships in seven cities across the country during Child Passenger Safety Week (September 17-23, 2017). The goal of these events is to educate parents and caregivers on infant car seat safety and show support as they enter a new stage of life with a newborn.
The #TestDriveParenthood program is intended for growing families who are making several new purchases as they prepare to bring baby home, which include a reliable infant car seat and a family-friendly vehicle. Offering parents a combination of premium quality, safety and style, Britax and Lexus want to provide new families peace of mind that their children are protected on the road. Brand representatives will be on hand at the select dealerships to walk attendees and media through proper car seat installations, discuss key car seat and vehicle features and provide helpful child passenger safety tips.
#TestDriveParenthood Event Locations
Tuesday, September 19

@

11 A.M. – 2 P.M.

New York Metro: Lexus of Mt Kisco
Chicago, IL: Woodfield Lexus

Wednesday, September 20

@

11 A.M. – 2 P.M.

Dallas, TX: Park Place Lexus Grapevine
Cincinnati, OH: Performance Lexus RiverCenter
Philadelphia, PA: Thompson Lexus Willow Grove
Orange County, CA: Newport Lexus

Thursday, September 21

@

11 A.M. – 2 P.M.

Los Angeles, CA: South Bay Lexus
Warning When Driving or Walking Around Schools
Parents should also be concerned about safe driving around schools. — Zendrive, the world's largest and fastest-growing mobile driver analytics platform, today announced the results of its School Safety Snapshot, which measured phone use and aggressive driving around 75,000 U.S. schools. The study found that driving near Victory Christian School in Jackson County, North Carolina, was the safest while driving near Trinity Downtown Lutheran Church and School in Harris County, Texas, was the most dangerous driving. Based on anonymized data of 3.8 million drivers taking 320 million trips, the Zendrive School Safety Study also ranked the safest and most dangerous driving around schools in 2,222 counties throughout the United States.
Among the studies key findings:
California

was the state with the most dangerous driving near schools;

Vermont

was the safest

New York County

, which covers the island of

Manhattan

, was the county with the most dangerous driving;

La Salle County, Texas

, was the safest
The most dangerous time for driving around schools is the critical pick-up time between

4 to 5 p.m.

Michigan

was worst state for "distracted phone use" and "aggressive acceleration" near schools (

Florida

and

California

ranked #2 on each list, respectively)

California

was the worst state for "hard braking" near schools, with

Michigan

in the #2 spot.
Schools with the most dangerous driving are in urban areas with large populations, such as counties that contain major cities (e.g.,

New York County, NY

;

Dallas County, TX

, and

San Francisco County, CA

).
With about one out of every 11 U.S. public school within 500 feet of heavily trafficked roads, some 4.4 million students are in greater risk. Zendrive's distracted driver behavior study released in April 2017 found that Americans use their phones 88 percent of the time they get behind the wheel. From 2015 to 2016, there was a 14 percent rise in traffic deaths – the biggest increase in 50 years – with distracted driving being a major contributor, according to experts. Motor vehicle crashes are the leading cause of death for U.S. teens.
For the study, Zendrive aggregated and anonymized 3,826,675 individual drivers, 2,222 counties, and 75,000 schools in every state in the United States for the month of April 2017. The study was based on the following driving behaviors: Phone use (handheld, hands-free; texting/emailing; and simply fiddling with a phone while vehicle is moving), rapid acceleration, and hard braking.
CHP Checks
Ensuring that children are properly buckled in a vehicle is one of the most important steps a parent or caregiver can take to protect their safety. During Child Passenger Safety Week, September 17-23, the California Highway Patrol (CHP) will work with other safety partners to make sure all children are riding safely.
Vehicle collisions are a leading cause of death for children. In 2015, more than one-third of children under age 13 who died nationwide in collisions were not properly buckled. When safety seats are used correctly, they decrease the risk of fatal injury by 71 percent for infants and 54 percent for toddlers, the National Highway Traffic Safety Administration reports.
"A child's life depends on a car seat, and the CHP wants to ensure it is used properly," CHP Acting Commissioner Warren Stanley said. "Adults must also set a good example by always using their own seat belts."
As of January 1, 2017, California law requires that all children under age two ride in a rear-facing safety seat. The law also requires that all children under the age of eight ride in the back seat in an age-appropriate safety seat. Safety experts recommend that all children ride in the back seat until 13 years of age.
At child safety seat events held statewide September 17-23, CHP Child Passenger Safety (CPS) technicians will provide safety seat inspections, education, and hands-on training for parents and caregivers. The week concludes with National Seat Check Saturday on September 23. Free inspections by CPS technicians are also available year-round, by appointment at any Area CHP office.
To find a safety seat check event in your area, visit seatcheck.org.