During the week and the Geneva Motor Show there were embedded chips and connected car news tips from Bosch, Microchip, Continental and Luxoft.
IoT Devs- Bosch Wants You
Bosch plans to recruit some 14,000 university graduates worldwide this year, especially  increasing numbers of software specialists will find jobs at the global supplier of technology and services.
"Connectivity through the internet of things is changing Bosch's business – and consequently our personnel requirements – more than ever before," says Christoph Kübel, member of the board of management and director of industrial relations of Robert Bosch GmbH. "Bosch is now a popular employer for specialists from the software and IT industries," he adds.
Almost every second vacancy at Bosch is related to IT or software. In particular, the need for software engineers for IT systems (e.g. web applications) and for embedded systems (e.g. sensor systems) is growing. A large number of Bosch associates are developing solutions for a connected world.
New Test Dummies to Act as Pedestrians
In order to support the development of the scenarios that are used for testing vehicle systems that prevent collisions with pedestrians, the European Automobile Manufacturers' Association (ACEA) has joined forces with the European Association of Automotive Suppliers (CLEPA) and test equipment providers to develop an articulated pedestrian dummy which can better simulate a pedestrian crossing the street.
Microchip Dev Kit for 2D/3D
Microchip Technology Inc.  announced the industry's first development kit for integrated 2D projective capacitive touch (PCAP) and 3D gesture recognition on displays – the 2D/3D Touch and Gesture Development Kit (DV102014). The kit will provide designers easy access to Microchip's patented 2D and 3D GestIC sensing technology, allowing them to easily integrate 2D multi-touch and 3D hand gesture recognition into their display applications. The use of electric-field based technology enables hand and finger gestures to now be tracked both on the display surface as well as above at a distance of up to 20 cm. In addition, the development kit provides an easy-to-use, "out-of-the-box" experience that requires no code development.  Parameterization, diagnostics and optional settings are done through Aurea 2.0, a free downloadable graphical user interface (GUI). 
Continental Buys LIDAR
Continental announced in its Media Webcast for fiscal year 2015 the acquisition of the Hi-Res 3D Flash LIDAR business from Advanced Scientific Concepts, Inc. (ASC) based in Santa Barbara, California. This innovative technology will further enhance the company's Advanced Driver Assistance Systems product portfolio with a future-orientated solution to add to the group of surrounding sensors needed to achieve highly and fully automated driving.
One significant advantage of the Hi-Res 3D Flash LIDAR sensor technology is that it provides both real-time machine vision as well as environmental mapping functions. This technology will help to enable a significantly more detailed and accurate field of vision around the entire vehicle, independent of day or night time and robust in adverse weather conditions.
Embbed Software Summit Discount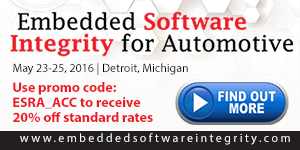 Automotive and embedded software experts with intimate knowledge of the industry's challenges will discuss how to properly develop and test embedded software at the Embedded Software Integrity for Automotive Summit this May 23-25 in Detroit. Leaders from companies such as Delphi, Bosch, GE, Kia, Continental, and more, will work to mitigate the unintended behaviors and failure rates from automotive software and hardware bugs. Use promo/coupon code ESRA_ACC to receive 20% off standard rates.
Luxoft Payment Tech
Luxoft Holding, l announced the launch of the first industry solution integrating financial services software, a peer-to-peer payment technology, into the connected car. The functionality of the Paymit platform from SIX Payment Services will be demonstrated with the Rinspeed "Σtos" concept car at the Geneva Motor Show in Geneva, Switzerland.