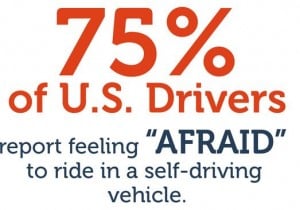 Although self-driving cars such as the Google robotic can and Delphi's self driving car in the news and the road —76% of American drivers report feeling "afraid" to ride in a self-driving car, reports  AAA  especially women and those ages 55 and older.
While those who have own vehicles equipped with semi-autonomous features are, on average, 75% more likely to trust the technology than those that do not own it.
AAA's shows why many Americans stay away from advanced vehicle technology and why the want it. Among those who do not want semi-autonomous features on their next vehicle, drivers say the top reasons are:
84% -Trusting their driving skills more than the technology.
60% Feeling the technology is too new and unproven.
57% Not wanting to pay extra for it.
50% Not knowing enough about the technology.
45% Finding it annoying.
"With the rapid advancement towards autonomous vehicles, American drivers may be hesitant to give up full control," said John Nielsen, AAA's managing director of Automotive Engineering and Repair.
The survey showed demand for semi-autonomous vehicle technology is high. 61% of American drivers report wanting at least one of these safety features
Automatic emergency braking.
Adaptive cruise control.
Self-parking technology.
Lane-keeping assist.
Among drivers who want these features on their next vehicle, the reasons they want it are
Safety 84%
Convenience 64%
Reducing stress 46%
Wanting the latest technology 30%.
Baby Boomers are more likely to cite safety as a reason they want semi-autonomous features on their next vehicle (89%) than Millennials (78 %).
Millennials are more likely to cite convenience (75%) and wanting the latest technology (36%) compared to older generations.
Women are more likely to cite reducing stress as a reason for wanting the technology (50% than men (42%).Millennials (63%) and Gen-Xers (62%) are more likely to cite not wanting to pay extra for semi-autonomous technology, compared to Baby Boomers (49 %).
One-in-four female drivers (23%) cite feeling the technology is too complicated to use as a reason for not wanting the technology in their next vehicle, compared to 12% of male drivers.
Neilsen says that it is clear that education is the key to addressing consumer hesitation towards these features
AAA's on-going effort to evaluate vehicle technologies, highlighting both the benefits and limitations, is designed to help drivers make informed choices.