The second day of Telematics West Coast in San Diego offered more insight to the challenges car makers face with in-vehicle infotainment systems, selling cars, training dealers/customers and legal responsibilities.
Volkswagen Car-Net Case Study in Value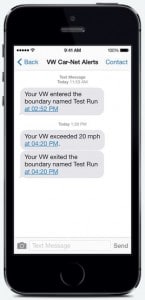 Henri LaFrance, Technical Program Manager, Connected Vehicle, Volkswagen Group of America offered insight to what he learned launching Car-Net world-wide for Volkswagen. The first problem that arose that China and the U.S. couldn't use international phone numbers and systems had to be re-programmed. Car-Net has four tiers of offerings. The Safe and Secure features, offers Automatic Crash Notification, Roadside Assistance and Manual Emergency Call.
Family Guardian enables boundary alerts and speed alerts so that parents know how and where their teens are driving. Remote Vehicle Access allows remote access and status of car doors, horn/lights, location, destination upload and the status of features Vehicle Diagnostics and Maintenance offers insight into diagnostics and maintenance via a web portal and email. The dealers also get notifications of needed maintenance and vehicle history report
The Family Guardian feature has been adopted as a fleet management service to tell how fleet drivers are driving The goal for Car-Net was to seamlessly integrate car into the life of the customers and to create an experience engages customers throughout life cycle of car.
The vehicle health report tells them what lights mean and what it is supposed to do, allows customer and dealer to talk with the same amount of understanding. If something is wrong, it tells them what they need. Tracking of emails sent to customers show how highly valuable health reports are. Customers actually read it. It's like their s their car talking to them.'
The data from the health reports then can predict parts and service needed at the dealers.
As to Apple CarPlay, Volkswagen is  looking at it.  Audi is more prone to go in that direction. There is a lot of shake out where it makes sense to give up control.  The problem with Android Auto and CarPlay is that we don't advertising in our cars.  Start talking about car play, Advantage cut engineering cost down. Decisions will come soon from the company will come soon can't tell where end up.
How Car Dealers are Dealing with Car Tech
SBD analyst  Andrew Hart noted that early car manuals were twenty pages long which have increased to 460 pages. By 2020 owner manuals will be as lengthy as the Bible. Dealer training is now the equivalent of going to  medical school. There are high turn over rates for car sales people. Car systems are too complicated, he suggested that car makers offer in-car infotainment that gives a choice a simple dummy mode and advanced techie mode. Car dealers say they don't have enough time to learn the systems as well as teach the systems to car buyers.
The Car Dealers Dilemma
A panel of experts including car dealers discussed their frustration with car technology. If the buyer can't get Pandora connected it sours relationship. After about twenty minutes when a car seller shows the buyer a car, the customers eyes glaze over and they can't handle any more. On top of that, every time a new phone comes out dealers  grapple with connectivity issues. Sometimes a car owner comes back to buy another car and the dealers sees, he's still using a garage door opener when the car already has HomeLink garage door opener built into the vehicle.  The most popular features requested are  keyless entry, Bluetooth and  Lane Assist.
More Discussion Some Consensus
Trends discussed from speakers that followed included software, updates and safety. Scott Burrel from Form noted that consumers don't care what operating system the car system uses, they just care if it works. There was a split on whether the smartphone or the car should be center of the drivers connected universe. Many agreed that Over-the-Air (OTA) updates will be the wave of the future for vehicles. However, drivers don't want software updates while they are traveling some where and have to stop for the update. It is very important that car makers will not allow apps unless they are safe and each app adapted for connected cars.
Wejo Mojo for Insurance Fraud Abatement
Richard Smith, CEO, Wejo showed how Wejo is on journey to track how people drive, through smartphone, profile how driver behaves. Wejo offers incentives for insurers using smartphone data to profile the driver. The driver is offered incentives to sign-up for the program such as coupons and rewards. By using telematics from smartphones insurance fraud can be reduced. Wejo will launch next year. Currently, in the United States the cost of fraud is an additional $200 per driver per year.
Nissan Has Safety Assured
Toshiro Muramatsu, Director, Vehicle Information Technology Division Silicon Valley, Nissan showed how there are many safeguards for security in the Nissan Leaf. Nissan has a secure network with authentication with  secure protocols with privacy maintained.
 The Law Hasn't Caught up with Connected Cars
The last speaker at Telematics West Coast was Gail Gottehrer, Partner, Axinn Veltrop & Harkrider LLP who warned about the dangers of data and responsibilities of the car makers. Car and phone location data is often used as evidence in divorce, child custody cases and in cases involving drug deal.  In the case of class action suits, litigants frequently sue the entity with the most money and the deepest pockets.
It is important that car companies show transparency in how data is being used and annonymize data as much as possible (remove the identity of the user from the data set).
Laws have not caught up with technology in the automotive space. Car makers should also be aware of laws governing the data they are collecting. For example, geo-location data, could reveal information that is protected by a law, such as data showing that a person is driving to medical clinic could lead to information that may be protected  by HIPPA.
In cases that are very technical judges don't necessarily understand what entity is at fault.  Sometimes only lengthy court decisions will decide liability of car related technology.
When asked by this AUTO Connected Car News reporter, "Apple has a patent for a geo-fencing around cars that will allow an iPhone to open the car doors or trunk when within a certain radius. If car makers allow the Apple to use the system and it gets activated while a car is going 70 mph and an accident occurs, who is liable?"
"In that case the courts will have to decide," Gottehrer replied.
After the event one of the speakers commented after Gottehrer's response "That's why we have to be very careful on what we allow to work in our cars."