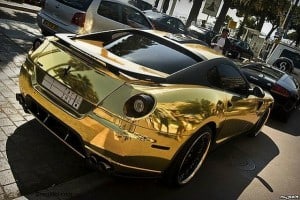 In 2018, 420 million automobiles will be connected to the tune of over $11Billion (US Dollars).
The growth rate is a 57% Compound Annual Growth Rate from the 45 million connected vehicles in 2013 reports IDATE, noting that driving the connected car ecosystem are profits and safety issues.
IDATE defines a 'connected car' is one equipped with access to the Internet (the network of networks) whereby it can communicate with the outside world.
The 3 Major Connected Car Systems Are:
Head unite embedded module system (in the car itself) is the most technically advantageous system because it has a dedicated system for connected services.
Use of the smartphone for connectivity tethering.
Combination of the first two other models (use of embedded system for telematics and smartphone tethering for entertainment (mobile Internet-like services).
The author notes a shift from from capital expenditure model to a more optional expenditure model with a new focus on car-based products and services.
Carriers can profit from car-related applications in driver assistance but as the car systems as an additional cellular device, with a potential high-consumption service profile from mobile Internet, entertainment on demand and mobile hotspot features.
The prime business model is a traditional wholesale relationship such as the case with Audi even though AT&T unveiled a retail data plan for Audi A3  owners can pay $99.99 for 5GB for a six month period or pay $499 for 30GB over a period thirty months.  An add-on to AT&T share plan pricing has not been announced.
Apples vs Googles
Apple and Google are taking two different approached to the connected car connection
Apple is introducing technology to interface with its products, Google is promoting the embedding of its technology into the car as a regular device. Google also wants to collect data to provide contextual  advertising, and based mainly on location.
Embedded head unit systems will lead the market with 222 million units by 2018. Connected cars mean big bucks. In 2018, the connectivity revenue for connected cars will exceed 8 billion EUR or $11.147 Billion (US). The figure includes direct connectivity through embedded systems but also the indirect revenue related to smartphone usage.
The major issues to adoption are the willingness of the user to pay for services. To encourage users to subscribe, telcos and manufacturers are already contemplating different revenue models including share plans. However, adoption is likely to remain limited over the next five years.