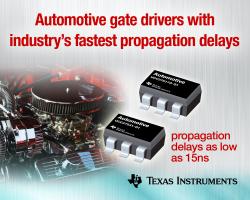 Texas Instruments recently announced AEC-Q100-qualified gate drivers and SimpleLink Bluetooth low energy CC2541-Q1.
SimpleLink Bluetooth low energy CC2541-Q1, a highly-integrated wireless microcontroller (MCU) that delivers low power, low cost, and simplified automotive connectivity to emerging smartphone-controlled and wire-replacement applications. 
The CC2541-Q1 is targeted at an emerging market of new automotive features aimed at using Bluetooth Smart technology to make it easier for consumers to get information and control automotive systems. These new features include:
Smartphone-controlled applications:

Keyless entry.
Lighting controls.
Diagnostic information.
Services with iBeacon and in-car Bluetooth Smart technology.

Wire replacement, which reduces weight and cost, and in turn increases fuel economy in:

Wireless infotainment controls in the steering wheel.
Low data rate systems for control, personalization settings and alerts via smartphone.
Bluetooth Smart remotes for rear seat entertainment systems.
The CC2541-Q1 is a complete solution with TI's BLE-Stack software and sample applications including over-the-air download support for in-field updates.
TI offers six, AEC-Q100-qualified gate drivers withdelays of less than 15 nanoseconds. The UCC275xx-Q1 family of single- and dual-channel gate drivers provides  power efficiency, reliability and flexibility compared to existing solutions for automotive applications, such as powertrain, bi-directional converters (12- to 48-V and 12- to 400-V input), onboard charging, traction inverters, advanced driver assistance systems (ADAS), safety, headlamps and instrumentation clusters.
Features of UCC275xx-Q1 gate drivers:
Integrated solution saves space and enables highest efficiency.
Wide temperature range of -40 to 140 degrees Celsius.
Supports 4.5 V to 35 V to drive wide bandgap switches