In very small print below the phone number box on LendingTree "Compare your rates" is consent that for credit information accessed by lenders.
I made big mistake that I would like to warn readers about, it was being interested in loan rate information. I discovered that LendingTree uses deceptive advertising practices to get phone numbers, contact information and credit score to sell it to loan companies.
It starts off with some kind of web ad that will show you the latest 15-year low mortgage rates. The form request for loan amounts and the value of your home and zip code.  The further you click the more consent and bothersome it gets.
Here are the mistakes I made.
1. I clicked on the ad.
2. I entered my name.
3. I entered by phone number!! This is where they get you in the very fine print below most browser viewing areas. Once I entered my phone number, phone calls from lenders started, immediately.
4. I entered my email address. Within a minute, I received an email offer.
5. I entered the last four digits of my social security number.
What I did right:
Every lender call I received, I told the sales rep that I was not interested in a loan and to remove my name.
After the account was created, I called LendingTree to have my name permanently removed.  I was read a disclosure that stated it could take 10 days for my information to removed.
I spoke to the manager who sent me the above screen shots, that show the in very small non-contrasting print what was really going on.
I decided to write this article to prevent others from the same problem.
We have blocked Adsense LendingTree advertisements from AUTO Connected Car news and reported them to Google. When you see a LendingTree ad try to block or it report it from to Google.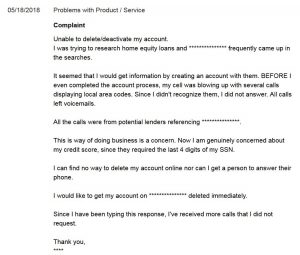 The amount of complaints about LendingTree is huge.  There are 225 complaints about advertising/sales issues at the Better Business Bureau. There are also complaints about Lending Tree spelled incorrectly. Because LendingTree responds to its complaints frequently the company still gets an "A-" rating.
Consumers are very dissatisfied, ConsumerAffairs.com shows hundreds of complaints about LendingTree with excerpts that appear below. However Consumer Affairs is just a rating site and has legal authority–by the time consumers get to Consumer Affairs it's too late.
Most of the review state problems with phone calls and credit scores.
"This could totally ruin your credit. Now I spoke to a supervisor and was informed that all these hard pulls would be deleted except for one if I did not shop around for a car loan in 14 days – hopefully this manager is right. This is just wrong and totally unacceptable."
"Nothing that was made clear or easily accessible. Over the next few days, I was repeatedly called and texted by folks – sometimes not even able to pick up before they'd hang up. A lot of these numbers were also hidden or marked as 'Scam likely'."
"I'm very disappointed in the idea your business thinks it's ok to e-mail loan approval and then there isn't one and the whole time the process keeps dinging the credit score!!"
"Very poor communication! Multiple hard inquiries on my credit! They do not stand behind their offers – so don't waste your time."
"Do not think that because you don't provide your SSN that your credit report will not be pulled. Called to complain to customer service and they'll just tell you unapologetically that you agreed to this when you clicked the submit button. Yes, buried deep in their terms of service they got me. How is this legal?? I am writing this so it does not happen to others. Stay far far away from this company."
In regards to a car loan "Go directly to a bank, credit union or whatever and do the work yourself. You'll save your credit score reduction by at least 15 points. ..Literally dozens and dozens of b-list loan brokers each called me 3-5x per day and to boot, I'd say 3-5 calls per hour from 8 am-8 pm. The countless emails were more intense… For example, my auto loan refinance ended up at 11% (with a 700+ credit score) not 3% as originally offered with the bogus 'pre-approval'. The business loan was officially "approved" at, are you ready? At 39%. not 3.9% but thirty nine percent! "
"I reached out to LendingTree and began filling out an application online awhile back, and regret that moment forever. Ever since, I have been inundated with at least 6 phone calls per day, from various numbers that model my number to disguise who they are. Each person is EXTREMELY RUDE and avoids trying to tell me their company name. I've asked hundreds of times to stop calling and it only gets worse. This is HARASSMENT and I will take legal action should it continue. DO NOT USE THEM!!! THEY ARE A FRAUD!"
"I explained to them what was going on and they proceeded to call me everyday at least once to twice a day. "
"After filling out their required application, to find out the percentage rate, I changed my mind and X-out of the application without giving my social security number. and subsequently I have received 9 annoying telephone calls from different lenders… all because I wanted to check Interest Rates. Lending Tree is a terrible company and their telephone inquiries are very deceitful. DO NOT DO BUSINESS WITH LENDING TREE. That is how they get paid, by giving out your info to mortgage companies."
"Log on to inquire about rates and get non-stop emails, phone calls and text all wanting to get me to apply right then and there. Very unprofessional, no telling how many times my credit was run."
On June 27 GCI Liberty, Inc. bought LendingTree Inc.. We hope that the new company stops deceptive consent practices.
If you had a problem that you were able to resolve with LendingTree or can offer advice, please post your comments below.