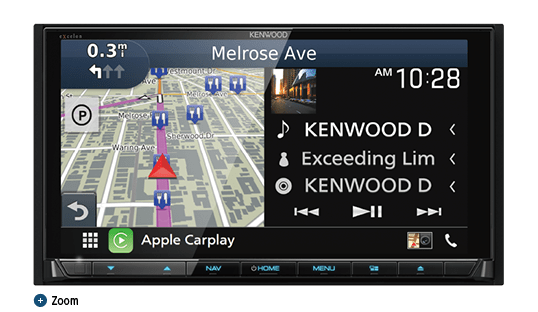 In April, KENWOOD USA announced the wireless Android Auto feature built into its 2018 flagship multimedia receivers was active and compatible with select Android-based smartphones. The KENWOOD eXcelon Reference Series DNX995S and DDX9905S, as well as the KENWOOD eXcelon DMX905S and KENWOOD DNX875S and DDX9705S, allow the driver to leave the phone in a pocket or bag and still get the benefit of its powerful and useful feature set. Today, the company acknowledged the current smartphone compatibility list is small but growing.
Android Auto is the popular innovation from Google that lets drivers access certain apps and features on their smartphones—navigation, messaging, Google Assistant and more—from the ease and safety of the car radio's multimedia touch screen. Until now, the function required a cable connection between the radio and smartphone. With the implementation of the wireless feature, the smartphone no longer requires a cable for Android Auto to function.
"From our standpoint, wireless Android Auto is fully functional," said Rick Noetzli, general manager for KENWOOD product research and development, car electronics sector. "Our radios can communicate with any smartphone that has the right protocols. It's just that, as of now, there are only a handful of phones that do, and these are currently all Google devices. But we fully expect more smartphone makers to enable the functionality in their devices, and when they do, our receivers will be ready."
The only devices that currently support wireless Android Auto are four versions of the Google Pixel—the first-generation Pixel and Pixel XL and the second-generation Pixel 2 and Pixel 2 XL—and the legacy Nexus 5X and Nexus 6P. They must be upgraded to Android OS 8.0 or higher (via an over-the-air upgrade). For other device manufacturers, wireless Android Auto will be implemented with the adoption of Android OS 9.0 or higher.
After Kenwood announced taht future smartphones would require Android 9.0 OS to be compatible with KENWOOD multimedia receivers that feature Wireless Android Auto™. Google has informed them that, in addition to 9.0 devices, the company is working with several smartphone manufacturers to bring wireless compatibility to devices with Android 8.0 OS. According to Google, this compatibility will be available on select non-Google smartphones soon.
To shop for wireless Android receivers click these links
All KENWOOD multimedia receivers that support wireless Android Auto offer full compatibility and smartphone charging through a wired connection.
Most smartphone manufacturers will announce when software updates are available and when newer devices ship with the upgraded software. In addition, Google will maintain a compatibility list on its support page at https://support.google.com/androidauto. Under "Get started with Android Auto," the current list of compatible smartphones is displayed under "Android Auto on your car (wireless)."