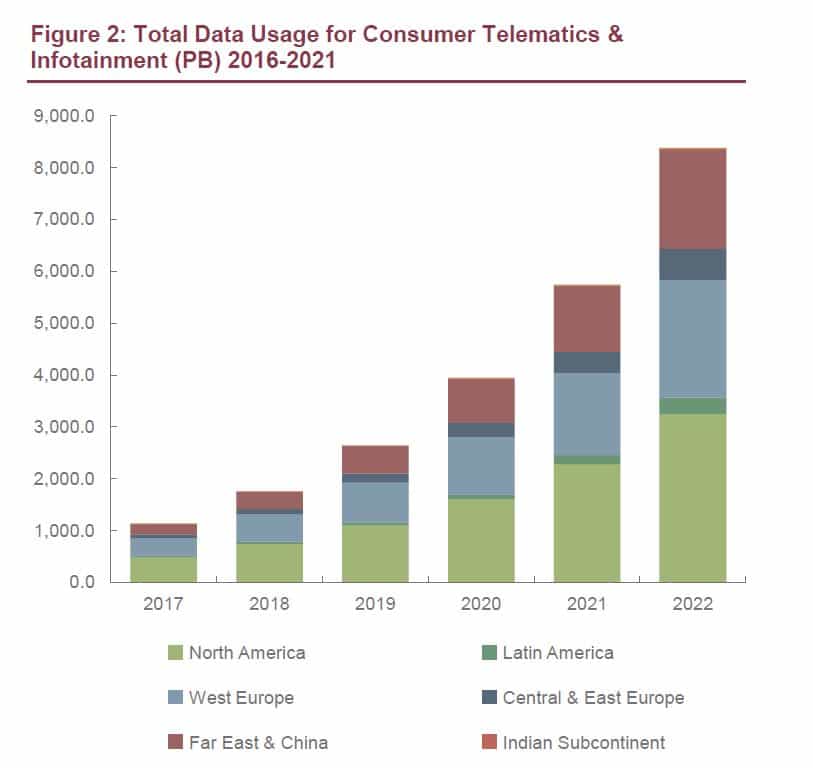 A new report from Juniper Research reports that by 2022, 50% of new vehicles will be shipped with V2V (Vehicle-to-Vehicle) hardware to enable real-time short-range communication between vehicles.
The new research, Consumer Connected Cars: Applications, Telematics & V2V 2017-2022 found that the total number of V2V-enabled consumer vehicles on the road will reach 35 million by 2022, up from less than 150,000 vehicles in 2017. This strong growth rate (376% CAGR) reflects the early stages of roll-out for V2V, but will still only represent 2.7% off all vehicles.
The technology, launched by Mercedes-Benz and Cadillac, will play an important role in the advance of autonomous vehicles, as the annual production of self-driving cars approaches 15 million by 2025. The research found that, alongside GPS, LiDAR (Light-Detection and Ranging) and road mapping, V2V one of the critical technologies in delivering autonomous driving systems.
In order for V2V to be successful, the research found that OEMs must include cellular connectivity to provide OTA (Over-The-Air) firmware updates. It recommended that OEMs implement 5G technology at the earliest opportunity to benefit from these newly enabled services.
5G will play a pivotal role in the future of the V2X (Vehicle-to-Everything) communications. Low latency, high bandwidth and wide coverage will be the key enabler of new services such as in-vehicle audio streaming and V2I (Vehicle-to-Infrastructure) services, such as safety and weather warnings for drivers. As the complexity of these services increases, Juniper estimates that future automotive technologies, including autonomous systems, could each consume up to 1 terabyte of data per day.
Research author Sam Barker added: "For V2X to meet future expectations, development must continue on the premise that 5G will be the underlying connection. This will be underpinned by increasing cross-industry collaborations such as the 5G Automotive Association".
The whitepaper, What Vehicle-to-Vehicle will Actually Mean for OEMs examines the role OEMs will play in future launches of the technology, including the connectivity that will underpin V2V connectivity. In addition, the authors examine the technology's role in the V2X ecosystem and what it will mean for network operators.