Due to Mobile World Congress there are many embedded chips and connected car news tips from ATS, Rightware, IBM, VOXX, TowerSec, TomTom and Metromile.

 OTA a Plus at MWC
ATS Advanced Telematic Systems, a software technology company from Berlin, is demoing its newly developed, open-standards-based software solution OTA Plus at the Mobile World Congress in Barcelona.
In order to carry out planned software updates-or unplanned critical bug fixes-over-the-air updates (SOTA) are becoming a mandatory feature for connected cars. In addition, consumers expect smartphone-like mobile entertainment features in their dashboard. Furthermore, the head unit of connected cars will soon become a direct marketing channel for OEMs. OTA software updates make all of that possible.
OTA Plus, its newly developed, open-standards-based software solution for over-the-air updates in connected vehicles at the Mobile World Congress in Barcelona.
OTA Plus is a complete suite for data transfer, data management, secure transmission, validation, and deployment of software updates remotely to a fleet of vehicles. OTA Plus is based on the open source solution GENIVI SOTA, which was commissioned by GENIVI and developed by ATS. GENIVI is a non-profit industry alliance of leading automotive OEMs and suppliers. Among the members are the car makers BMW and Jaguar Land Rover. The OTA Plus suite is compliant with GENIVI's standards and can integrate easily and efficiently with existing or new software platforms.
Rightware Partners with Kanzi
Rightware, announced its collaboration with Renesas Electronics Corporation (TSE: 6723), a premier supplier of advanced semiconductor solutions, on a demonstration showcasing the capabilities of Renesas' R-Car H3 System-on-a-Chip (SoC) and Rightware Kanzi. The demo presents a high-fidelity configurable digital cluster with infotainment and ADAS (Advanced Driver Assistance Systems) features and showcases the powerful graphics capabilities of the R-Car H3 system-on-chip (SoC) and Imagination Technology's PowerVR™ GX6650 GPU.
Renesas and Rightware have already secured several automotive design wins for series production, where Rightware's Kanzi software is being used for developing Human-Machine Interfaces (HMI) that run on the Renesas R-Car platform.
Renesas has joined Rightware's Kanzi Partner Program as a founding member. The program is a global ecosystem of companies working together to develop and define the future of digital HMIs utilizing Kanzi.
IBM Quarks Open Source Open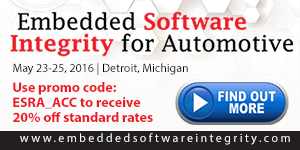 IBM announced Quarks, a breakthrough technology now available to the open source community that embeds streaming analytics onto Internet of Things (IoT) devices. Analyzing data at the edge continuously, can help companies generate insights more quickly and reduce network communication costs. IBM has submitted a proposal to Apache Software Foundation to request incubation of Quarks.
Developers and data scientists can use the open source code in Quarks to build new apps that can handle massive amounts of IoT data streaming from sensors, smart meters, mobile communications and other connected devices. Businesses across industries –from automotive and healthcare to telecommunications and manufacturing –can reduce communication costs and decrease time to insight with Quark's ability to deliver real-time analytics, boost application intelligence, and improve cognitive systems.
VOXX Smart Antenna
VOXX International  announced the availability of a smart antenna from its wholly-owned subsidiary, Hirschmann Car Communication GmbH, which offers technology that intelligently combines a transceiver, tuner and antenna in a single unit. The smart antenna fulfills the requirements of new system architectures, linking a range of services including radio, GPS, mobile communication, eCall, TV and Car-to-X in one central point, outside of the head unit.
The smart antenna consists of a standard roof antenna and a control device, which contains the tuner and the transceiver and is responsible for demodulating and decoding from various radio services. The design reduces the in-car distances traveled by the analogue HF signals between the antenna and the receiver, which improves the signal quality for passengers making telephone calls, listening to the radio, using the navigation function or watching television. The direct signal processing and position on the vehicle roof are also ideal for receiving GHz signals for WLAN and Bluetooth connections, for example in Car-to-X communication. In addition, the bundling of functions at a central point does away with the need for coaxial cables and unnecessary interfaces in the car. If it is not possible for the control device and antenna to both be mounted on the roof in the same place (e.g. as is the case on convertibles), the components can be decoupled and positioned at different points.
Transfer of services from the head unit
The smart antenna also performs the functions that were previously integrated in the head unit. Updating the radio standard no longer requires the entire head unit to be replaced. Thanks to its scalability, the smart antenna can be connected to a range of head unit variants. Furthermore, fewer country-specific head unit variants are required, which significantly reduces development costs.
TowerSec Wins Frost & Sullivan Award
Based on its recent analysis of the automotive software cybersecurity market, Frost & Sullivan recognized TowerSec with the 2016 North America Frost & Sullivan Award for New Product Innovation. TowerSec, a leading global automotive software cybersecurity service provider, specializes in delivering onboard cybersecurity technology to vehicle original equipment manufacturers (OEMs), suppliers and telematics vendors.
To support connected services in automobiles, vehicle data needs to be safe and secure. TowerSec addresses this cybersecurity issue in vehicles with two products, ECUSHIELD and TCUSHIELD.
"The TowerSec ECUSHIELD has been recognized and used by global automakers and suppliers to protect vehicle mission critical communication from external hackers, as well as secure personal data and lives," said Frost & Sullivan Senior Consultant Sriram Venkatraman. "TowerSec's ECUSHIELD solution is a cloud-independent, standalone application that can be easily integrated virtually with any Electronic Control Unit (ECU) inside the vehicle platforms. Independent, standalone systems, can retrieve reliable results very rapidly."
TomTom Wins Too
Based on its recent analysis of the fleet telematics market, Frost & Sullivan recognized TomTom Telematics with the 2016 European Frost & Sullivan Fleet Telematics Company of the Year Award. TomTom Telematics has strongly positioned itself in the European fleet telematics market on the strength of its expertise in developing diversified solutions that ensure optimum driver efficiency and operational cost savings for customers. The company's advanced software-as-a-service (SaaS) fleet management platform, WEBFLEET, addresses fleet owners' need to manage time and resources for clients during a fleet operation, ensure driver efficiency, track vehicles in real time, and facilitate workforce management.
More Investment in MetroMile
Metromile, a pioneer in pay-per-mile car insurance in the United States, announced that Intact Financial Corporation  has made a strategic investment in Metromile. IFC is the largest provider of property and casualty insurance in Canada. The venture is in line with IFC's long-term strategy to invest and partner with emerging and innovative businesses.