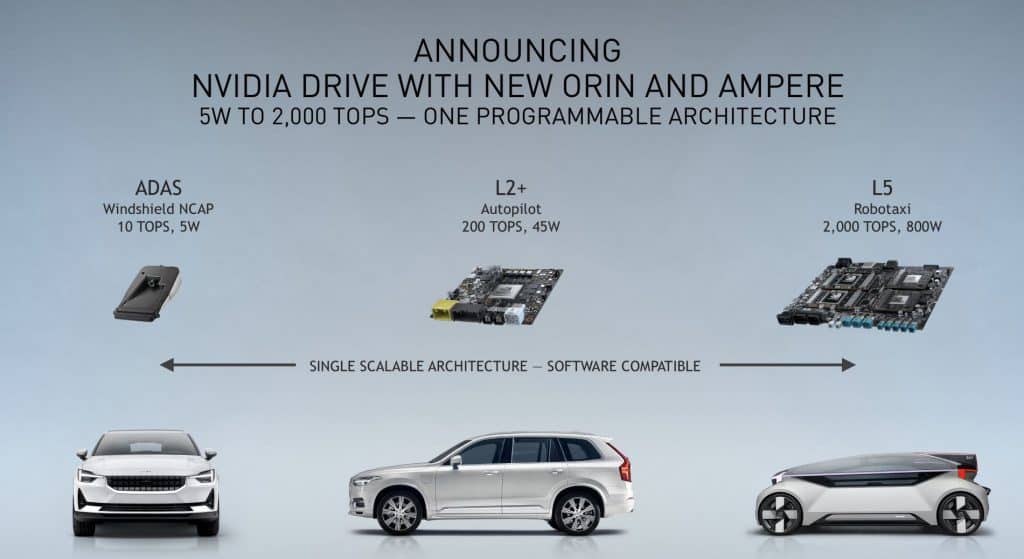 NVIDIA's Ampere GPUs and our upcoming Orin SoCs, new DRIVE systems will boost performance by 6X and increase performance/watt by 4X compared to the previous generation.
NVIDIA DRIVE AGX Orin™, a highly advanced software-defined platform for autonomous vehicles and robots.
The platform is powered by a new system-on-a-chip (SoC) called Orin, which consists of 17 billion transistors and is the result of four years of R&D investment. The Orin SoC integrates NVIDIA's next-generation GPU architecture and Arm Hercules CPU cores, as well as new deep learning and computer vision accelerators that, in aggregate, deliver 200 trillion operations per second—nearly 7x the performance of NVIDIA's previous generation Xavier SoC.
Orin is designed to handle the large number of applications and deep neural networks that run simultaneously in autonomous vehicles and robots, while achieving systematic safety standards such as ISO 26262 ASIL-D.
Built as a software-defined platform, DRIVE AGX Orin is developed to enable architecturally compatible platforms that scale from a Level 2 to full self-driving Level 5 vehicle, enabling OEMs to develop large-scale and complex families of software products. Since both Orin and Xavier are programmable through open CUDA and TensorRT APIs and libraries, developers can leverage their investments across multiple product generations.
NVIDIA Intros Entry-Level Chip
In addition, based on customer requests, NVIDIA introduce a new entry-level ADAS solution running at just 5 watts. Now with a single programmable architecture, customers can scale from L5 robotaxis (2,000 TOPS) down to entry-level ADAS (10 TOPS).
With this announcement, the company is delivering a complete top-to-bottom offering so that any automaker can deliver AI automated and autonomous capabilities in every vehicle they make. And, since the platform is software-defined and updateable, vehicles will get smarter and smarter throughout their lifetime.
AV Testing During the Coronavirus Pandemic
NVIDIA demonstrated how NVIDIA DRIVE technology is currently being developed and tested in simulation. While on road testing is on hold due to shelter-in-place orders, the cloud-based NVIDIA DRIVE Constellation platform makes it possible to continue development in the virtual world.
BMW Selects NVIDIA for AI Factory Logistics
BMW Group is enhancing its automotive factories utilizing logistics robots built on advanced AI computing and visualization technologies from NVIDIA
BMW Group has selected the new NVIDIA Isaac™ robotics platform to enhance its automotive factories — utilizing logistics robots built on advanced AI computing and visualization technologies, the companies announced today.
The collaboration centers on implementing an end-to-end system based on NVIDIA technologies — from training and testing through to deployment — with robots developed using one software architecture, running on NVIDIA's open Isaac robotics platform. BMW Group's objective is to enhance logistics factory flow to produce custom-configured cars more rapidly and efficiently. Once developed, the system will be deployed to BMW Group factories worldwide.
"BMW Group's use of NVIDIA's Isaac robotics platform to reimagine their factory is revolutionary," said Jensen Huang, founder and CEO of NVIDIA. "BMW Group is leading the way to the era of robotic factories, harnessing breakthroughs in AI and robotics technologies to create the next level of highly customizable, just-in-time, just-in-sequence manufacturing."
"BMW is committed to the Power of Choice for our customers — customization of diverse features across diverse vehicles for diverse customers," said Jürgen Maidl, senior vice president of Logistics for the BMW Group. "Manufacturing high-quality, highly customized cars, on multiple models, with higher volume, on one factory line requires advanced computing solutions from end-to-end. Our collaboration with NVIDIA allows us to develop the future of factory logistics today and to ultimately delight BMW Group customers worldwide."
The collaboration uses NVIDIA DGX™ AI systems and Isaac simulation technology to train and test the robots; NVIDIA Quadro® ray-tracing GPUs to render synthetic machine parts to enhance the training; and a new lineup of multiple AI-enabled robots built on the Isaac software development kit, powered by high-performance NVIDIA Jetson™ and EGX™ edge computers.
BMW Group's supply chain takes millions of parts flowing into a factory from more than 4,500 supplier sites, involving 230,000 unique part numbers, and in growing volumes as BMW Group's car sales have doubled over the past 10 years to 2.5 million vehicles. Moreover,
To optimize the enormous complexity of this material flow, autonomous AI-powered logistics robots now assist the current production process in order to assemble highly customized vehicles on the same production line.
"Ultimately, the sheer volume of possible configurations became a challenge to BMW Group production in three fundamental areas – computing, logistics planning, and data analysis," Maidl said.
BMW Group's response is to use NVIDIA's Isaac robotics platform to develop five AI-enabled robots to improve their logistics workflow, powered by a variety of NVIDIA Jetson AGX Xavier™ and EGX edge computers. These include both navigation robots to transport material autonomously, as well as manipulation robots to select and organize parts.
Developed on the NVIDIA Isaac SDK, the robots utilize a number of powerful deep neural networks, addressing perception, segmentation, pose estimation and human pose estimation to perceive their environment, detect objects, navigate autonomously and move objects. These robots are trained both on real and synthetic data using NVIDIA GPUs to render ray-traced machine parts in a variety of lighting and occlusion conditions to augment real data.
The real and synthetic data are then used to train deep neural networks on NVIDIA DGX systems. The robots are then continuously tested in NVIDIA's Isaac Simulators for both navigation and manipulation, operating on NVIDIA's Omniverse platform, where multiple BMW Group personnel in different geographies can all work in one simulated environment.
More Companies Use AGX
During GTC Digital, electric and autonomous vehicle startups Pony.ai, Canoo and Faraday Future announced they are developing vehicles using the NVIDIA DRIVE AGX compute platform. The high-performance, energy-efficient platform enables automated and autonomous driving across all levels for robust, software-defined vehicle development.
These companies are joining a wide, international ecosystem of automakers, tier 1 suppliers, truck makers, sensor suppliers, robotaxi companies and software startups developing on NVIDIA DRIVE.
By selecting an open and scalable platform, the DRIVE ecosystem is developing autonomous vehicles that are always improving, with over-the-air update capabilities, for a safer, more efficient transportation future.
By augmenting the human driver with AI, autonomous driving technology promises to significantly improve everyday mobility and logistics.
Pony.ai, an autonomous driving technology company, is developing its upcoming robotaxi fleet on NVIDIA DRIVE AGX Pegasus. The company has been operating autonomous ride-hailing test vehicles since 2018, in California and China.
In April, Pony.ai began providing autonomous delivery services in Irvine, Calif., to help those in the area sheltering in place due to COVID-19.