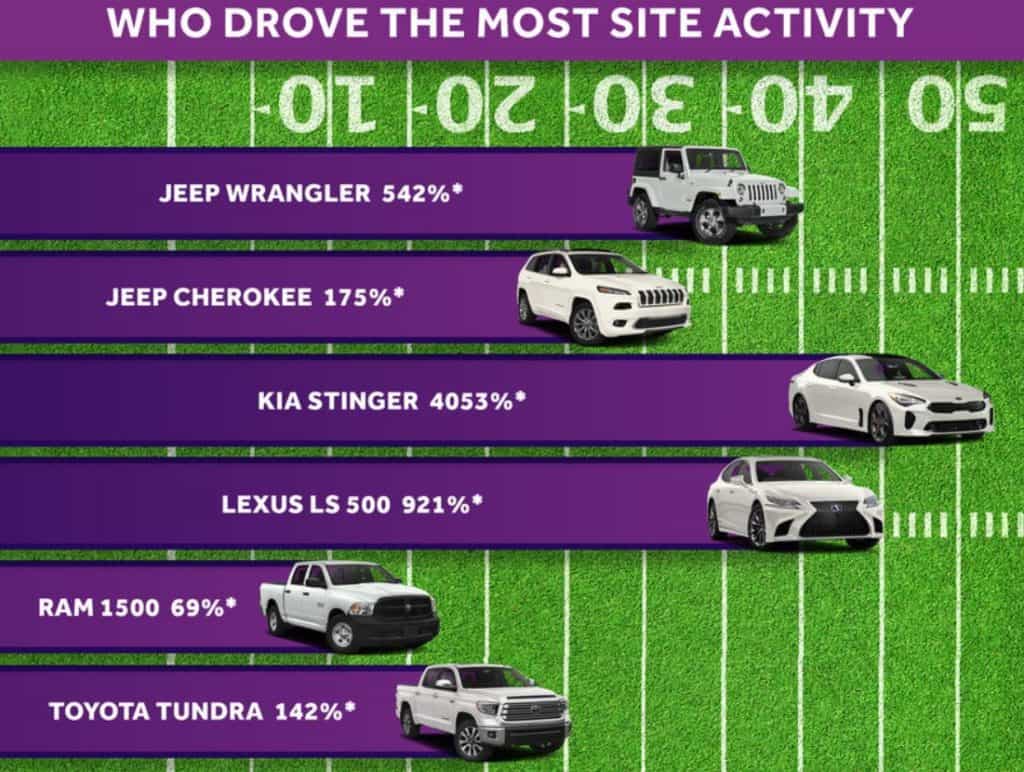 Cars.com data shows how successful Super Bowl automotive TV ads were during the game in Sunday.
The company explored the response to the ads from six automakers who ran a combined 11 commercials during the game on Sunday.
A red Kia Stinger was featured in the Kia spot. Within eight minutes of its airing, visits to the advertised model's page on Cars.com saw a 4,053 percent increase in comparison to the same time period prior to the airing of the spot.
The Lexus LS pages saw an overall spike in traffic, too—generating a 921 percent lift of visits.
Other top performing brands and car models included: Jeep Wrangler with a 542 percent increase, Jeep Cherokee with a 175 percent increase, Toyota Tundra with a 142 percent increase, and RAM 1500 with a 69 percent increase.
As people tuned in all across the country, some of the top vehicles that caught consumers' eyes in major cities based on Cars.com visits included:
New York

: Jeep Wrangler

Los Angeles

: Jeep Wrangler

Chicago

: Jeep Wrangler

Philadelphia

: Jeep Wrangler

Dallas

: Ford F-150

San Francisco

: Jeep Wrangler

Washington, D.C.

: Jeep Wrangler

Houston

: Ford F-150

Boston

: Jeep Wrangler

Atlanta

: Jeep Wrangler
"This year's game saw the fewest number of car manufacturers advertising since before 2010. Despite this, Cars.com still saw a significant spike in site engagement during the game," said David Greene, Cars.com data strategy manager. "The themes of diversity and humanity were pervasive in all of the ads that aired, with only two ads overall featuring famous figures. Humor and animals were most notably missing from ads this year."
Mobile visits continue to grow in popularity throughout Game Day, with 71 percent of visits coming from a mobile device during the game, up from 67 percent before the game started.
Data was collected in real-time by comparing Cars.com site visits on Game Day to averages of the four prior Sundays.
From FCA:
Sixty-second "Jeep Jurassic" video stars

Jeff Goldblum

and the all-new 2018 Jeep Wrangler.
Thirty-second "Anti-Manifesto" puts spotlight iconic all-new 2018 Jeep Wrangler capability.
Thirty-second "The Road" video features the new 2019 Jeep Cherokee.
Sixty-second Ram Truck brand "Built to Serve" spot features narration from Dr.

Martin Luther King Jr.

from

February 4, 1968

, speech.
Sixty-second "Icelandic Vikings" spot utilizes the all-new 2019 Ram 1500 to humorously pay tribute to the setting of this year's big game.