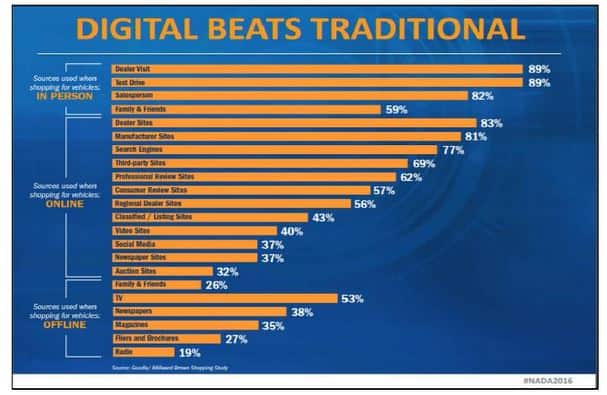 Car buyers want to not bother with car dealers and buy cars online.
As consumers demand greater transparency, influence, and efficiency from the auto purchasing process, most also wish to minimize time spent at a dealership. In its new smart mobility report, ABI Research finds recent, rapid gains in vehicle technology will soon infiltrate the mainstream automotive market and disrupt traditional business models and consumer experiences.
"Automotive is one of the few major U.S. industries still ripe for disruption," says Susan Beardslee, Senior Analyst at ABI Research. "The rise of electric vehicles, Over the Air updates, and prognostics are reducing the need for service visits to dealerships, as well as challenging the dealers' margins, time to close sales, and required training. Emerging smart mobility trends, such as autonomy and ride sharing, will create opportunities for new market players to drastically shake up the current landscape in the near future."
While disruptive business models have succeeded in other industries, like online giants Amazon and Netflix, state-by-state franchise laws now complicate matters as they continue to impact innovation in sales of new car brands like Tesla.
In the last three years, evolving used car sales models in the U.S. grew rapidly and received increased attention and funding, accruing more than $2 billion for Beepi (merged into Fair), Carvana (backed by DriveTime), and Vroom. U.S. online new car sales are expected to cross over to at least 10% of yearly sales by as early as late 2019.
Additional online car sale disruptors include Carlypso, Car Saver (with an upcoming pilot in select Walmart stores), MakeMyDeal (a Cox Automotive company), Roadster, and TRUECar. Well-known market players include AutoNation (America's largest auto retailer), Costco, and Edmunds.
"Emerging digital business models, some that have yet to be designed or deployed, will disrupt the entire auto industry," concludes Beardslee. "Profits, personnel, and control within and outside the traditional automotive industry will permanently change. However, significant data that dealerships already possess could be mined for additional profit pools, as well as the generation of new preferences and experiences, such as virtual showroom experiences."
These findings are from ABI Research's The Future of Dealerships in the Digital Automotive Era.
Whenever we talk to car buyer they don't like having to negotiate the price of a car which is why TrueCar, Edmunds.com Cars.com and other sale websites are doing so well. Our readers voted Cars.com as the best mobile web or app experience.
In the meantime,  Autotrader, claims the most traffic among its competitor third-party car shopping sites for the nineteenth consecutive month, according to comScore Media Metrix February 2017 ratings. Autrader sends business to car dealers.