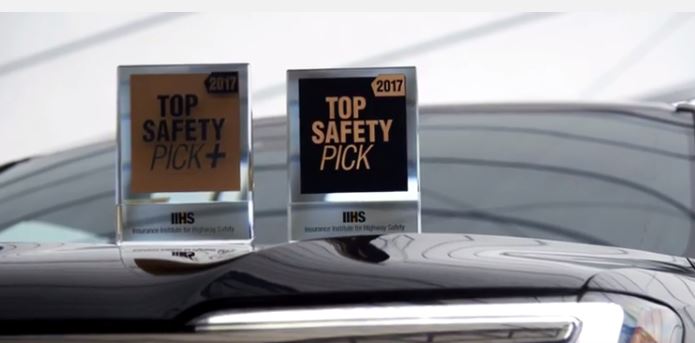 Consumers who choose a 2017 Top Safety Pick+ award winner shouldn't have trouble seeing the road on nighttime drives. Good or acceptable ratings in the Institute's new headlight evaluations set the latest crop of qualifiers apart. Thirty-eight models earn the "plus" accolade, and 44 earn Top Safety Pick.
IIHS toughened the criteria for Top Safety Pick+ to reflect new headlight evaluations launched in 2016. The recognition program is meant to encourage manufacturers to offer state-of-the-art protection for people in crashes, along with features that help drivers avoid crashes in the first place. In addition to good or acceptable headlights, the latter includes automatic braking technology, which has been part of the criteria since 2015.
"The field of contenders is smaller this year because so few vehicles have headlights that do their job well, but it's not as small as we expected when we decided to raise the bar for the awards," says Adrian Lund, IIHS president. "Manufacturers are focusing on improving this basic safety equipment, and we're confident that the winners' list will grow as the year progresses."
For both awards, models must earn good ratings in the small overlap front, moderate overlap front, side, roof strength and head restraint tests, as well as an advanced or superior rating for front crash prevention with standard or optional autobrake. Headlights are factored in only for the top award.
Toyota/Lexus leads manufacturers with nine 2017 Top Safety Pick+ winners, including the updated Toyota Corolla, while Honda and its Acura division pick up five Top Safety Pick+ awards.
Among 2017 models, only seven are available with good-rated headlights. They are the Chevrolet Volt small car, Honda Ridgeline pickup, Hyundai Elantra small car, Hyundai Santa Fe midsize SUV, Subaru Legacy midsize car, Toyota Prius v midsize car and Volvo XC60 midsize luxury SUV.
IIHS launched headlight ratings in the spring after finding that government standards based on laboratory tests allow for huge variation in the amount of illumination headlights provide in on-road driving. Nighttime visibility is critical to highway safety because about half of traffic deaths occur either in the dark or at dawn or dusk.
In the Institute's evaluations, engineers measure how far light is projected from a vehicle's low beams and high beams as the vehicle travels straight and on curves. Glare from low beams for oncoming drivers also is measured. Vehicles equipped with high-beam assist, which automatically switches between high beams and low beams depending on the presence of other vehicles, can get extra credit.
IIHS evaluations show that a vehicle's price tag doesn't correspond to the quality of headlights. More modern lighting types, including high-intensity discharge (HID) and LED lamps, and curve-adaptive systems, which swivel in the direction of steering, also are no guarantee of good performance.
Several manufacturers improved headlights to earn Top Safety Pick+. Subaru upgraded the headlights on the 2017 Forester to earn an acceptable rating, compared with the 2016 model's poor rating. Mitsubishi and Toyota also made design improvements. The Mitsubishi Outlander improves to acceptable from marginal, while the Toyota Prius improves to acceptable from poor.
Bundles omit top-rated features
The Infiniti Q70 and Hyundai Tucson just missed qualifying for Top Safety Pick+ because of the way these automakers bundle optional safety features.
The Q70's optional front crash prevention system earns a superior rating in IIHS tests, but the headlights packaged with the autobrake option only earn marginal. The headlights that come standard on other Q70s are rated acceptable, but consumers can't get these headlights with the superior-rated front crash prevention system.
Likewise, the Tucson's acceptable-rated headlights aren't available on the model with a superior rating for autobrake. Instead, poor-rated headlights come with this version.
Autobrake is standard on more models
Manufacturers continue to refine protection for people in small overlap crashes and fine-tune crash avoidance features.
The 2017 Corolla qualifies for a Top Safety Pick+ award with a good rating for occupant protection in a small overlap crash and a superior rating for front crash prevention. Toyota's prior version of the Corolla was rated marginal for small overlap protection, and the small car didn't have an available front crash prevention system.
The 2017 winner's circle includes 21 models with a standard front crash prevention system with automatic braking capabilities. These include the Acura MDX and RLX; Audi A3, A4, and Q7; Genesis G80 and G90; Lexus ES and RX; Mercedes-Benz GLE-Class; Toyota Avalon, Corolla, Prius, RAV4 and Yaris iA; Volkswagen Passat; and Volvo S60, S90, V60, XC60 and XC90. Automakers have voluntarily committed to making autobrake a standard feature on all models by 2022.
IIHS inaugurated Top Safety Pick in the 2006 model year to help consumers zero in on vehicles with the best safety performance without having to sort through a lot of ratings information. The Top Safety Pick+ accolade was introduced in the 2013 model year to recognize vehicles that offer an advanced level of safety. This marks the fourth time that IIHS has strengthened criteria for the plus award.
The Institute releases ratings as it evaluates new models, adjusting the list of winners throughout the year. By fall of 2016, 79 vehicles earned the 2016 plus award and 12 earned Top Safety Pick.
2017 Top Safety Pick+ badge
To qualify for 2017 Top Safety Pick+, a vehicle must earn good ratings in the five crashworthiness tests, an advanced or superior rating for front crash prevention and a good or acceptable headlight rating.
Small cars
Chevrolet Volt
Hyundai Elantra sedan only; built after March 2016
Mazda 3, 4-door sedan | 4-door hatchback
Toyota Corolla
Toyota Prius built after August 2016
Midsize cars
Honda Accord 4-door
Mazda 6
Nissan Altima
Nissan Maxima
Subaru Legacy
Subaru Outback
Toyota Camry
Toyota Prius v
Volkswagen Jetta
Midsize luxury cars
Audi A4
Lexus ES 350
Volvo S60
Volvo V60
Large luxury cars
Genesis G80
Genesis G90
Lexus RC
Small SUVs
Mazda CX-3
Mitsubishi Outlander
Nissan Rogue
Subaru Forester, built after October 2016
Toyota RAV4
Midsize SUVs
Honda Pilot
Hyundai Santa Fe, built after March 2016
Midsize luxury SUVs
Acura MDX
Acura RDX
Audi Q5
Buick Envision
Lexus NX
Lexus RX
Mercedes-Benz GLE-Class
Volvo XC60
Minivan
Chrysler Pacifica, built after August 2016
Large pickup
Honda Ridgeline
To qualify for 2017 Top Safety Pick, a vehicle must earn good ratings in the five crashworthiness tests, as well as an advanced or superior rating for front crash prevention.
Minicars
Mini Cooper Hardtop 2-door
Toyota Yaris iA
Small cars
Acura ILX
Honda Civic 2-door
Honda Civic 4-door
Lexus CT 200h
Nissan Sentra
Subaru Crosstrek
Subaru WRX
Volkswagen Golf 4-door
Volkswagen Golf Alltrack
Volkswagen Golf Sportwagen
Volkswagen GTI 4-door
Midsize cars
Chevrolet Malibu
Chrysler 200
Ford Fusion
Honda Accord 2-door
Hyundai Sonata
Kia Optima
Volkswagen Passat
Midsize luxury cars
Audi A3
BMW 2 series
Lincoln MKZ
Mercedes-Benz C-Class 4-door
Large car
Toyota Avalon
Large luxury cars
Acura RLX
Audi A6
Infiniti Q70, except V8 4-wheel drive models
Volvo S90
Small SUVs
BMW X1
Fiat 500X
Hyundai Tucson
Kia Sportage
Midsize SUVs
GMC Acadia
Hyundai Santa Fe Sport
Kia Sorento
Nissan Murano
Nissan Pathfinder
Midsize luxury SUVs
Cadillac XT5
Infiniti QX60
Lincoln MKX
Volvo XC90
Large SUV
Audi Q7
Minivan
Kia Sedona