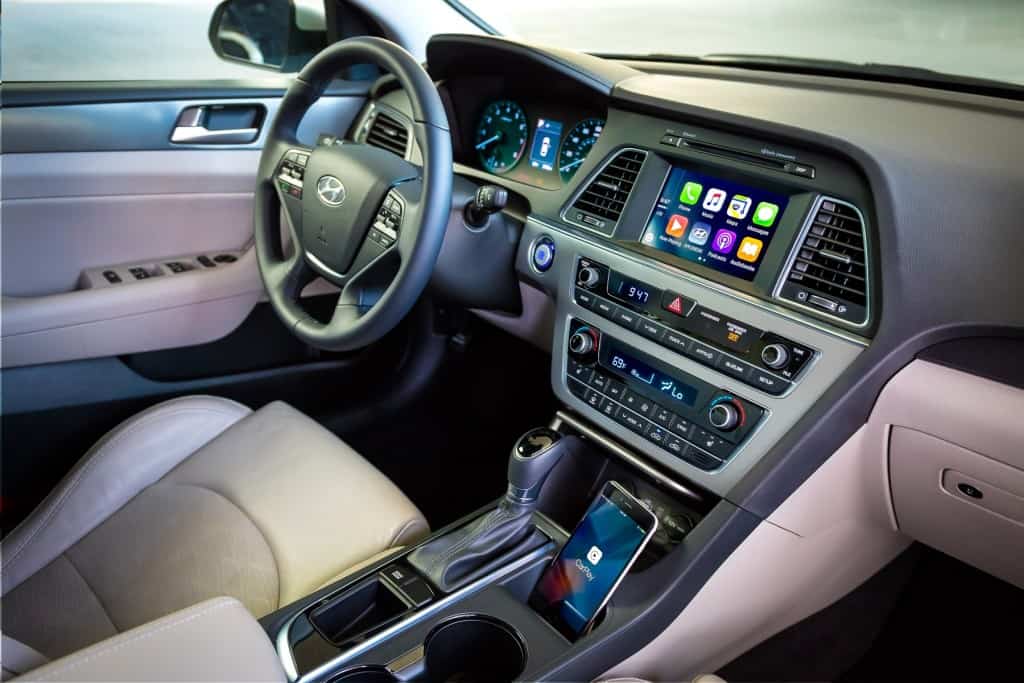 New 2016 Hyundai Sonata non-hybrid models at local Hyundai dealers are now equipped with CarPlay. Sonata 2016 Hybrid and Plug-in Hybrid models will be eligible for CarPlay at a later time.
"CarPlay is a high-tech experience and will completely transform how you drive. It's a smarter and easier way to use an iPhone in a car," said Miles Johnson, Hyundai spokesman "Siri voice recognition is outstanding. The ability to access streaming music apps (Spotify Pandora) is great. Mapping software is always updated."
2016 Sonatas with CarPlay are rolling off the assembly line in Montgomery, Alabama, and arriving at Hyundai dealerships nationwide.
2015 Hyundai Sonata vehicles with navigation, are still eligible for an update for CarPlay integration.
"We are committed to issue and are currently working on it," said Johnson. The update will require a specific version of the navigation maps that will have to be updated.
"When we realized that CarPlay was ready to go, we didn't want to charge the customer," said Miles Johnson, who warned that the integration has been delayed to work out the details
"Hyundai will deliver the map version with the CarPlay support at no additional cost," confirmed Johnson.
Hyundai has set up a website to give contact information for updates about the CarPlay update.
The update will work similar to the Android Auto update, customers will input their VIN number and be able to download the update and take it into the car using a USB drive. This time around, the customer can update it themselves or take the Sonata to the dealer to have the car head unit software updated, says Johnson.
When buying a Hyundai Sonata, you can look on for the CarPlay icon on the headunit touchsreen, Johnson advised.
There will be an announcement about CarPlay support on the 2016 Sonata Hybrid and Plug-in Hybrid at a later date. Hyundai will also have an announcement in the near future related to CarPlay support for existing 2015 Sonatas with navigation, and 2016 Sonatas with Display Audio or navigation that were purchased before they were manufactured with CarPlay.
Hyundai's Display Audio system features a high-resolution seven-inch color touch-screen display optimized sfor smartphone integrations and Blue Link.Display Audio incorporates Hyundai's latest and most innovative in-vehicle technology by offering a simple, multi-use home screen, HD Radio capability, mixed AM, FM and SiriusXM presets, along with Pandora-link integration.
Additional Display Audio Features:
Integration with Apple's Siri-powered "Eyes Free" mode

Functionality allows owners of compatible vehicles to use the voice command button on the steering wheel to ask Siri questions without taking their eyes off the road.
Siri Eyes Free supports making calls, selecting and playing music, composing and reading back text messages, using Maps and getting directions, reading notifications, finding calendar information, and adding reminders, among other functions.

Advanced voice recognition.
Multi-touch screen that supports swipe and wipe gestures.
New home screen with multiple functions.
Hyundai's eight-inch navigation system offers an enhanced display and home screen that shows map and music information, regardless of the music source. The Blue Link Guidance package (three-month trial included) works with Hyundai's on-board navigation system by providing Destination Search, powered by Google, as well as POI Web Search and Download to help you get to your destinations via your connected car. Owners can make the most of Blue Link with the ability to send searched locations to their car's navigation system.
From how Johnson described how well CarPlay works, Hyundai Sonata car owners should find that it is worth the wait.