Magna,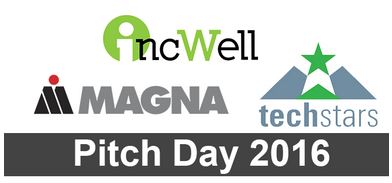 venture capital firm IncWell and mentorship-driven accelerator Techstars, are asking for automotive entries for Pitch Day 2016 at Magna's CES booth on January 7 at CES.
Selected entries will pitch their company, innovation or idea before a panel of judges could help them commercialize their technology.
The panel of judges consists of potential investors, a mobility-focused accelerator program, and Magna.
"This is a win-win situation for all involved.  Start-up companies get to pitch to three key business stakeholders all at once and in turn we get to identify and potentially tap into the next generation of entrepreneurs," said Swamy Kotagiri, Magna's Chief Technology Officer.  "What better place to do a pitch day than CES, a show that fosters innovative thinking and exposes new technology and companies."
To submit your idea for consideration, please go to IncWell's website at:  http://theincwell.net/pitch-us/.  Entries must be received by December 31, 2015, to be considered.
Magna is a leading global automotive supplier. IncWell is a private venture capital fund located in Birmingham, Mich., founded by Tom LaSorda, the former CEO of Chrysler.
Techstars is a global ecosystem that empowers entrepreneurs to bring new technologies to market wherever they choose to live.  Techstars should not be confused the Tech CARS Awards, we will reveal the nominees, next week.