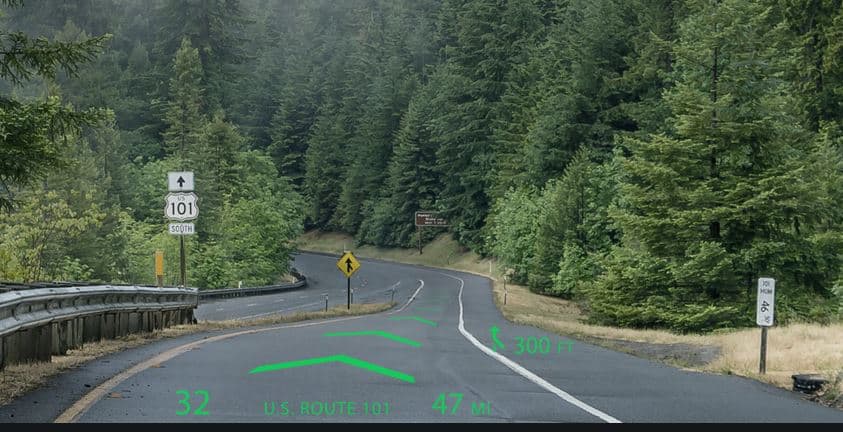 We are starting to see more start-ups entering the Head-Up/Augmented Reality and OBD-II device aftermarket. Last week, we learned about Carloudy an OBD-II device and small chargeable box placed on the dash for HUD capabilities. There has been no word from Navdy, after its spectacular media launch, last year. Now a company in Switzerland is likening their products to technologies "that apply aerospace technology to land navigation" –WayRay. Instead of calling the Navion a HUD they call it "Augmented Reality" and the OBD-II device is called "a wearable for your car."
WayRay Navion is an augmented reality navigation system that projects holographic GPS imagery and driver alerts onto the windshield of a car which the company claims it is a first-of-its-kind for the automobile aftermarket. WayRay Navion is activated by gesture and voice control.
The WayRay Element is an OBD-II device that monitors driver performance, safety and fuel efficiency. Autoyoga is a built-in driving coach that helps develop better driving skills. Users choose a desired goal and follow the step-by-step instructions. There are two Element models one with a Bluetooth connection listed at $95 and a cellular connection model for $159.
Orange Business Services is supplying wireless connectivity and service management across WayRay's entire U.S. fleet. This allows cars employing WayRay Navion and WayRay Element to receive, send, track and display data.
There is no indication on when the devices will go on sale.
Orange Business Services has provided connectivity toTesla Motors, Renault Group and PSA Peugeot Citroën.
WayRay is headquartered in Switzerland with offices in Moscow, San Francisco and China.
Direct competitors to the Element are Zubie (79.95) , Vinli, Mojio and Automatic.
Navion Specs
Internet: 3G/4G
GNSS: high precision GPS+GLONASS
MCU: Quad-core, 1.5 GHz
Dimentions: 6.7 x 4.72 x 3.15 in
Viewing angle: 10 degree
Projection distance: 33 feet
Camera: Full HD 1080p
Control: voice, mobile app, gesture
Bluetouth: 4.0 (LE)
CAN connection by Element
Distinctive feature: focus distance set from 30 feet to infinity
Element Bluetooth
Size: 47mm x 20mm x 42mm
Navigation: GPS/GLONASS
Bluetooth: 2,4GHz
Sensors: Gyroscope, Accelerometer
Element Cellular
Size: 47mm x 20mm x 42mm
Navigation: GPS/GLONASS
Cellular 3G: UMTS/HSPA 850/1900 MHz
Bluetooth: 2,4GHz
Sensors: Gyroscope, Accelerometer