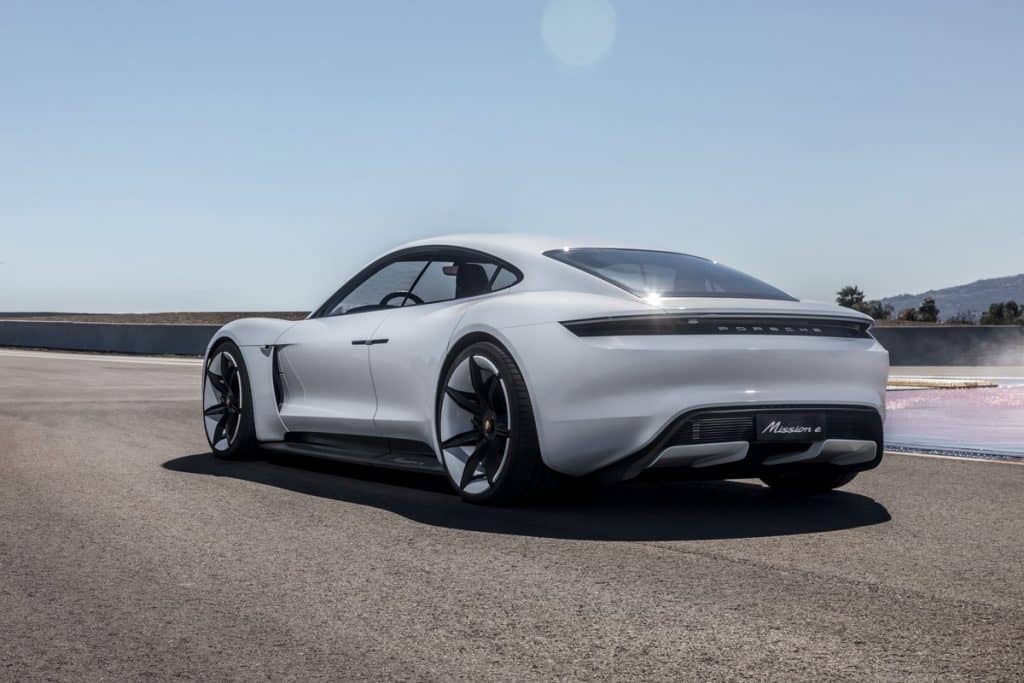 Porche's fully-electric project formerly called "Mission E" has now been given its official name: Taycan. The name can be roughly translated as "lively young horse," referencing the imagery at the heart of the Porsche crest, which has featured a leaping steed since 1952.
Two permanently activated synchronous motors (PSM) generating a system output of over 600 horsepower accelerate the electric sports car to 60 miles per hour in well under 3.5 seconds and to 124 miles per hour (200 km/h) on the track in less than twelve seconds. The Porsche Taycan will also offer a consistent level of power that is unprecedented among electric vehicles: multiple launches in a row will be possible without a loss in performance, and the vehicle's maximum range will be over 300 miles as measured in accordance with the New European Driving Cycle (NEDC).
"Our new electric sports car is strong and dependable; it's a vehicle that can consistently cover long distances and that epitomizes freedom," Oliver Blume, Chairman of the Executive Board of Porsche AG, explains. The Eurasian name also signifies the launch of the first electric sports car with the soul of a Porsche. Porsche announced the name for its first purely electric model as part of the "70 years of Porsche Sports Cars" ceremony.
Porsche plans to invest more than six billion Euros in electromobility by 2022, doubling the investment that the company had originally planned. Of the additional three billion Euros, some 500 million Euros will be used for the development of Taycan variants and derivatives, around one billion Euros for electrification and hybridization of the existing product range, several hundred million for the expansion of production sites, and around 700 million Euros for new technologies, charging infrastructure, and smart mobility.
At the Porsche headquarters in Stuttgart-Zuffenhausen, a new paint shop, dedicated assembly area for the Taycan, and a conveyor bridge for transporting the painted bodies and drive units to the final assembly area all are currently being built. The existing engine plant is being expanded to manufacture electric motors, and a new body shop will also be developed. Investments are also planned for the Weissach Development Center. Production of the Taycan is creating around 1,200 new jobs in Zuffenhausen alone.