AUTO Connected Car News readers know there have been problems with Bluetooth connections and car owners since iOS 8. The good news is that there are some neat new features in iOS 11 such as "Do Not Disturb." However, many drivers are becoming disturbed when their new iPhones or iOS 11 updates don't work with their cars.
Update 7/8/2018:.We have compiled a new list of Bluetooth fixes to try and have more models with problems reported by our readers.
Bluetooth is supposed to be backward compatible and we may never know why so many Bluetooth problems exist between cars and iPhones. The iPhone 8 series uses Bluetooth 5, which is supposed to  create more reliable and efficient connections. The good news is Bluetooth 5 offers longer range, faster speed, and larger broadcast message capacity, as well as improved interoperability and coexistence with other wireless technologies. However, most cars are still in Bluetooth 4 or earlier.
If the Bluetooth problems from iPhone and cars is based on the glitches in the signature during upgrade, the new version of Bluetooth may or may not help with problems. Let's look at the some good news for Bluetooth with iPhones and cars first such as new features and then we'll do some trouble shooting.
Good Bluetooth News
Bluetooth Remembers Where You Parked Your Car
Show Parked Location records when you iPhone disconnects from your car's Bluetooth, and records the location when it is disconnected. Then the feature then marks where you car is parked on a map (when enabled. So if you are wondering around a parking mall or giant stadium looking for your car, you can find on it on the map.  The Show Parked Location feature, works on iPhones running  iOS 10 or later, and an iPhone 6 or newer.
Do Not Disturb or Distract Feature
Another new feature in iOS 11 which is somewhat Bluetooth related is "Do Not Disturb While Driving." By default this setting is set to manual and must be activated before enabled.  When the Do Not Disturb is enabled you don't get messages while driving, text messages receive automatic notification that they're busy and you can set it for call calls not to go through. How the iPhone knows you are driving is that it detects the Bluetooth connection.
There is a way for messages to get through when "Don Not Disturb" is enabled by marking it "urgent" and it will go through. It may not be good idea to tell friends about the urgent feature, everyone has a different view of urgent. Sometimes they think urgent is to let you know that the pizza is needs pepperoni. The feature blocks incoming calls unless the caller is from your favorites list. You can also let the calls come through as long as it set to allow calls or you can set it only allow repeated calls.
Wireless Charging
Another good news for iPhone 8 and iPhone X is the addition of wireless charging. Wireless Qi charging is available in many new model cars and some a few years old. AUTO Connected Car News has a whole list of cars that come with wireless charging the most popular brands include Toyota, Lexus, GM, Chevy, Honda and BMW.
How to Set Do Not Disturb/Bluetooth Settings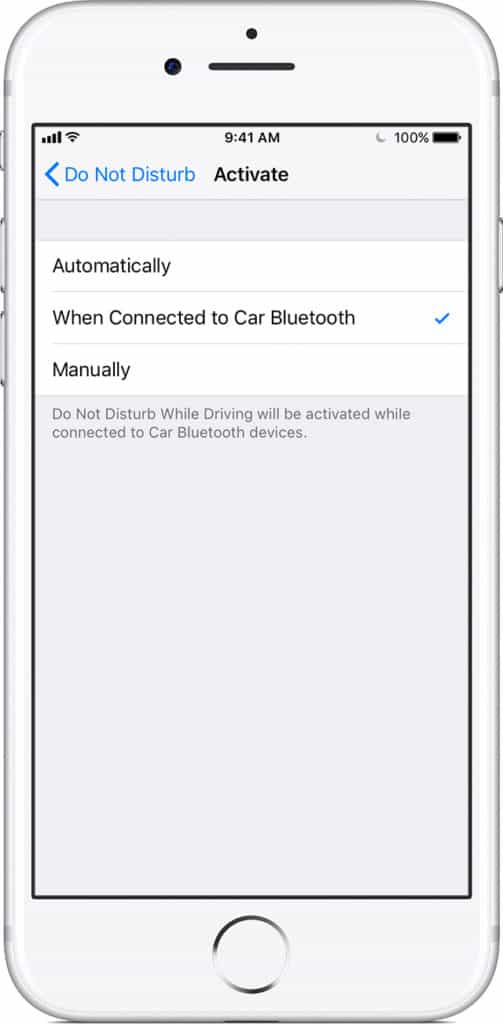 To turn on the feature Open Control Center, then tap
. When Do Not Disturb is on,
appears in the status bar.
Allow calls to go through: Go to Settings > Do Not Disturb. To allow incoming calls from selected groups, tap Allow Calls From. To allow repeated calls to come through for emergency situations, turn on Repeated Calls.
Allow calls and messages from emergency contacts when Do Not Disturb is on. Go to Contacts, select a contact, tap Edit, tap Text Tone or Ringtone, then turn on Emergency Bypass. Or, create a Medical ID and identify an emergency contact. Even if Do Not Disturb is on, calls and messages from your emergency contacts come through.
Schedule quiet hours. Go to Settings > Do Not Disturb, turn on Scheduled, then set the start time and end time for your quiet hours.
Set when to silence iPhone. To set whether Do Not Disturb silences iPhone only when it's locked, or even when it's unlocked, go to Settings > Do Not Disturb.
Hey iPhone I'm Not Driving
There is also an "I'm Not Driving" setting to be used the iPhone while you sitting parked in the car. When Do Not Disturb While Driving is set to turn on automatically, it may become activated when you're a passenger. Tap the Do Not Disturb notification on the Lock screen, then tap I'm Not Driving— or press the Home button, then tap I'm Not Driving.
Easier Disconnect
In iOS 11 and later, when you toggle the Wi-Fi or Bluetooth buttons in Control Center, your device will immediately disconnect from Wi-Fi and Bluetooth accessories but Apple features are still enabled.
Open Control Center and tap 
. The icon will dim and your iPhone will disconnect from any accessory it's connected to, except for Apple Watch, Instant Hotspot, Apple Pencil, and Continuity features, like Handoff.
If Bluetooth is turned off, you won't be able to connect your iOS device to your Bluetooth accessories until:
You turn on Bluetooth in Control Center.
You connect to a Bluetooth accessory in Settings > Bluetooth.
It's 5 AM local time.
You restart your device.
This is a good feature for most people, unless you are driving a 4:00 am in the morning and you forgot to turn on Bluetooth.  If you are having Bluetooth problems always check to see if you shut off Bluetooth accidentally.
Bad Bluetooth Issues with Cars: BMW, Honda, Kia, Ford, Acura, Hyundai, Nissan
We were hoping that Bluetooth issues had stopped with iPhones and cars but it's deja vu all over again. This time we are seeing problems with newer vehicles.
Here are problems we are seeing reported.
Problems with Bluetooth iOS 11 BMW and iPhone after upgrade- voice connections stopping and restarting, no Siri from steering wheel button.
Problems with Blueotooth iOS 11 and Honda- pairing and unpairing Bluetooth did not help voice disconnectes nd Siri malfunctions.
iPhone is Getting Divorce from Car – it keeps fighting and disconnecting.
iOS 2015 Honda CR-V- Bluetooth connection doesn't work at all.
Acura 2015 TLX with Navigation – no Bluetooth connection at all.
2017 Aston Martin DB11 – Bluetooth phone calls not loud enough to hear with iOS 11 and iPhone 8.
2017 Honda CR-V – bad phone call quality after iOS 11 update.
2017 Nissan Rogue, Hyundai, Kia, 2012 BMW, Mazda CX-5 2016, 2014 Fiat – Bluetooth not working after iOS 11 upgrade, no audio music streaming, doesn't connect to phone book.
Sound problems with Ford SYNC 3 Ver. 2.2 -Every time I get in the truck and Bluetooth connects, it raises my ring volume to max.  Ford Sync engineer the new Apple Bluetooth standards in the latest version of Ford Sync per Apple requirements and that's what is causing the problem- they have no control over it. There is no fix on Ford's end- it has to come from Apple.
If you go to the Apple Forums and there is Bluetooth problem the support responses tell the car owner to connect to CarPlay via USB—HUGH?  Drivers love Bluetooth because they don't have to connect.
So far we haven't seen any problems with GM, Toyota, Scion, Mercedes-Benz, Buick, Chevy or Cadillac vehicles. We are wondering what our readers are experiencing.
Solutions for Bluetooth Problems in Cars with iOS 11, iPhone 6, 7, 8 X Plus & More
AUTO Connected Car News has been on the forefront of helping car owners with Bluetooth problems.  We have hundreds of comments and fixes from our readers.  Google search however lists Apple as the best source for solutions which isn't working.
Upgraders Beware
Let's review all the Bluetooth fixes for iOS.  The Bluetooth signature may be lost during upgrading iOS. It may be easier to disconnect and remove all Bluetooth devices before you upgrade and start from scratch and save hours of trouble shooting. Also be sure to update via Wi-Fi or connected to iTunes then there are fewer changes of software uploading glitches.
The Nuke-it Fixes
These fixes remove all the settings from the car and the iPhone to start from scratch. Some have gone as far as disconnected the car battery to clear all the settings in the car, too.
1. Reset All Settings – Go to iPhone  Settings ▸ General  ▸ Reset  ▸ Reset all settings.
2. Unpair Phone and Car Infotainment System Rename Phone – Go to iPhone  Settings ▸  General ▸ About ▸ Name. Change the name of the iPhone and pair with the car infotainment system again.
3. Reset/Restore Network Settings: Restore all network settings of iOS   Go to Settings ▸ General ▸ Reset (at the bottom)▸ Reset Network settings. This method also deletes all Wi-Fi and other network settings!  If you reset you must re-add all your network settings in iOS.
4. Delete and Start All Over: Delete all Bluetooth devices. See full instructions.
5. Pocket ot Purse Accidental Shut-off: Check to see if you shut off Bluetooth accidentally through an icon, or butt reset it by mistake.
Other Fixes:
Disable Handoff on iPhone – launch the Settings app from your Home screen ▸Tap General. ▸Tap Handoff & Suggested Apps ▸Toggle Handoff to Off. This has worked for iPhone users with multiple devices. Handoff tends to confuse the iPhone and draw resources.
Change Bluetooth Settings– Go to General ▸ Accessibility ▸Car Audio Routing ▸ Select "Bluetooth Headset" instead of the default Automatic.
Change Bluetooth to Automatic Go to settings, General->Accessibility->Call Audio Routing and change to automatic.
 Factory Reset & Restore Factory reset  the iPhone and re-install iOS 11 from scratch. Restore apps and more from  iTunes. This cleans up all the settings and connections.
Delete/Reset the Vehicle's Bluetooth Settings – we have reports that by removing the fuse for the infotainment unit for a few seconds and then re-pairing the updated iPhones, it then allows the Bluetooth to work again. A variation on this fix is to disconnect the car's battery for a few seconds to lose the stored data and then re-connect the battery and re-pair the iPhones.

Reset Delete Variation for Cars

1. Delete iPhone device profile from car.
2. Delete Bluetooth link setting from iPhone for car phone.
3. Turn Bluetooth setting to "off"
3. Go to iPhone Settings> General> Reset > select "Reset all network settings."
5. Do a two finger "hard reset" on iPhone.
6. Boot iPhone back up.
7. Turn Bluetooth back on.
8. Re-pair iPhone to car system.
9. Test by making a call and see if it drops.

Play with car dash buttons – just in case you turned something on or off by mistake, go through all the car's menus and change the settings that seem appropriate. Kicking the car won't help but may help you feel better.
Forget device on iPhone  then pair again in Airplane Mode.
Connect through USB or AUX – for playing music  you can connect with the AUX adapter or through USB to play music.
If you have updated to iOS a1 for iPhone 6S/6S+, 7 or iPhone 8 and it fixed or fried your Bluetooth connection or music streaming with your in-car infotainment system, please let us know in the comments below, be sure to note your make, model and year of your vehicle.We also welcome any solutions you have found worked with your car.

You are welcome to sign up for our newsletter for daily news, weekly news or just Bluetooth iOS 8+ – 9- 11 news to keep informed. Note: if you subscribe to email when published, you will get everything and don't have to subscribe to other lists.