In anticipation of the iPhone X launch, consumers are becoming aware of wireless charging. Apple calls wireless charging for Qi wireless charging for the iPhone 8, iPhone 8+ and iPhone X, charging that is truly effortless. If you would like to have effortless smartphone charging in the next car you buy for your iPhone or Android smartphone, you can find all the necessary details here from AUTO Connected Car News along with lists of vehicle models and tips and tricks for wireless charging. We also have included certified devices that you can add to your existing car.
The wireless charging we are discussing in this article is the wireless charging for smartphones including iPhones and Android smartphones, not wireless charging for electric vehicles in which you park the car over a mat or drive over the charger and the electric battery of the car is charged, that is not readily available, yet.  Wireless smartphone charging is much more readily available in popular brand vehicles from Audi, BMW, Cadillac, Chevrolet, Ford, Toyota, Lexus, Honda, Hyundai, Chrysler and Mercedes-Benz. In fact we were surprised to find well over one hundred models from 2014 to 2018 that could be equipped with wireless charging.
When Apple announced wireless charging for the iPhone 8, iPhone 8+ and X, they noted that the company would be selling two Qi compliant wireless charging mats from Belkin and Mophie, and that they will release an Apple-branded AirPower mat for multiple Apple devices next year.
Update 10/30/2017 – We have found several new models that can be equipped with wireless charging. Reportedly you can order the wireless charging option for the Audi A3, A4, A5, Q7 and R8. Wireless charging comes standard on the Volvo XC40 and is available option for Volkswagen Golf and Tiguan.
Why Should I and How Do I Find a Car with Wireless Charging?
Toyota Qi's Early On
Many of our readers may already have a vehicle with wireless charging built-in Toyota has been offering models with Qi wireless charging since 2014/2015 models (see chart for exact models). Toyota expanded just Qi enabled charging to many of its models of hybrids, SUVs and trucks, including the Prius, Tacoma and Land Cruiser.
There have been reports that earlier model Toyota Qi charging areas don't fit iPhone 6 Plus or Seven 7 Plus with additional Qi cases, we have not been able to verify which models fit which phones. We suspect that some older model vehicles will not accommodate newer huge iPhones or smartphones. We suggest you take your iPhone with you to the car dealer or at least know the measurements of your phone, if you want to make sure that your phone will fit in the wireless charging area of your vehicle.
It is no surprise that Lexus, Toyota's luxury brand and Scion, Toyota's youth brand also offer wireless charging. When we compiled our data we couldn't fit all of Lexus and Toyota on the same page for Qi wireless charging, they  started early on and then continue to add models which many 2018 models coming soon with wireless Qi charging. The new 2018 Camry has a very large charging area that can accomdate an iPhone 7 Plus with a case when placed in portrait mode.
Although Toyota sunseted the Scion brand, Qi charging was an option for 2014 ScionXB.
FCA Ford Starts with Adaptable Open Dots…
FCA started offering wireless charging with the 2014 Dodge Dart the wireless charging pads were Open Dots protocol which can be adapted to Qi charging for new iPhone 8, 8+ and iPhone X. Many of the car models come with vouchers for a free case or Qi adapter mat.
Ford Goes on Wireless Expedition
Ford offered a dealer installed wireless charging option for the F-150, Fusion and Edge from 2014-2017 that can be adapted to the Qi standard for iPhone 8 8+ and X. Meanwhile the new 2018 Ford Expedition is using the Qi standard.
2015 GM, Chevrolet, GMC
GM, Buick and Chevrolet began offering wireless charging that is Powermat and Qi capable, starting with 2015 Cadillac, Chevy Tahoe Suburban, Yukon Denali models and 2016 Chevrolet Cruze, Impala, Malibu, Camaro, Silverado and Volt models.  There are also trucks from GMC with wireless charging starting in 2015 and expanding to more models.
In 2015, Chervolet added a cooling fan to some wireless charging areas starting with 2016 models (Malibu, Cruze, Impala, Volt) to cool the charging phone because wireless charging emits heat. In newer models such as the Chevy Volt the wirless charging ares is a pocket where the phone stands vertically in portrait mode to charge. In fact, the GM models Active Phone Cooling may be able to charge at a rate of up to 15 watts for fast charging Android phones.
Apple announced that. The implementations of wireless charging in 2017 and earlier models from Buick, Cadillac, Chevrolet, and GMC do not meet the requirements for Qi certification. Apple reported that models do not work with iPhone 8 and iPhone 8 Plus. However some other Qi charging may work.
Please note that the following models do meet Qi Certification for iPhone 8 or iPhone 8 Plus:
2018 GMC Terrain
2018 GMC Yukon
2018 GMC Sierra
2018 Chevrolet Bolt
2018 Chevrolet Tahoe
2018 Chevrolet Silverado
2018 Chevrolet Suburban
2018 Cadillac Escalade
2018 Buick Enclave
Cadillac was also an early adopter of wireless charging for its Escalade in 2014 model, following in 2015 with sedans and most of its line of Cadillacs through 2018. (Note: we will update the chart later).
Hyundai, Honda & BMW
Other automakers that support wireless charging include Hyundai, Honda and BMW
Hyundai started offering wireless  Qi charging with the 2017 Ioniq and expanded the feature to some Hyundai Sonata, Elantra and Kona models.
Genesis, now a separate brand from Hyundai features wireless charging on the Genesis G90. We found wireless charging also available for the Kia Sportage.
Hyundai's Miles Johnson confirmed that Hyundai vehicles with wireless charging charge at 5 watts and 1 amp. We suspect that most automakers will supply power in that range because they don't want to use up too much power and prevent overheating. The watts are lower lower for Qi and Powemat charging than the Open Dots standard that can be adapted to Qi. Other automakers that support wireless charging include Honda.
The 2016 Honda Civic and Accord in some 2017 offerings have wireless charging with the new Honda Odyssey adding the feature in 2018.
It appears that some 2016 BMW 7 Series were equipped wireless charging option. BMW has grown the wireless charging option for 2017 models throughout its 4, 5, 6, M, X3, X5 and X6 models.
The BMW PR rep, Hector Arellano confirmed the following information about wireless charinging in BMW vehicles:
The iPhone will charge at the rate of 1 Amp and 5 watts.
BMW wireless charging uses the Qi standard.
Unique to BMW models the charging pad will not only charge a smartphon but will charge the BMW display key. The BMW display works as key fog and has an LCD dispaly on it for several functions including door lock/unlock, fuel status, service required, remote start, and remote parking.
The maximum size of the phone the pad can charge varies depending on the location of the pad. In the BMW 5 Series for example (in front of center console) sizes of up to 6 3/8 inches x 3 ¼ inches. An iPhone 8 is 5.45 inches x 2.65 inches. The iPhone 8 Plus is 6.24 x 3.07 inches and should just fit. Meanwhile, the iPhone X is 5.65 inches by 2.79 inches which meands it should also fit on many BMW models.

The new CUV the Volvo XC40 comes with wireless charging.
See our charts for specific car and SUV models that support wireless charging. The charts are in process and contain many of the models we found that could offer wireless smartphone or iPhone charging.  Some lines of vehicles only offer wireless Qi charging on the higher end models and then later bring the technology to to the lower-end economy model. If you really want wireless charging in your next vehicle be sure to check out Toyota and Lexus that appear to offer the most models. There are also quite a few wireless charging mats available from Chevrolet, GMC, Cadillac, Hyundai or BMW.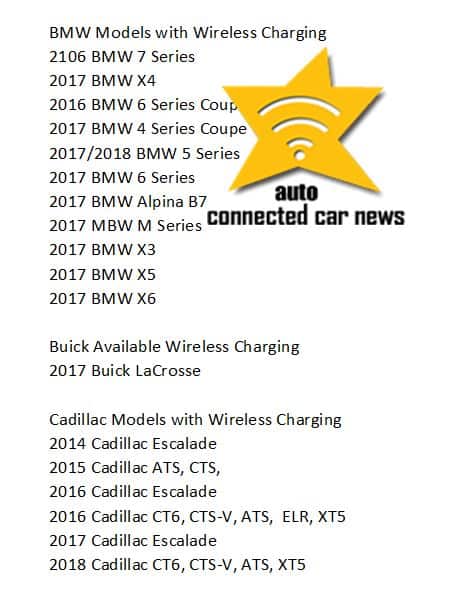 Unfortunately, some older model vehicles were designed before the iPhone and Android phones grew to be very large and depending on the model a new large iPhone may not fit in the charging area designed by the automaker.
Why Do You Want Factory installed Wireless Qi Charging?
Having an original OEM charging area is useful for several reasons:
There are no ugly cords running on your dash which can be pulled out when it is caught on grocery bags, purses or in-vehicle pets.
The unit is certified to meet Qi or Powermat standards.
It is designed specifically for in-car use – so that there is no bumping around which can use disconnection. Cars get hotter and colder than say homes.  Wireless charging devices in vehicles have to be able to withstand diverse temperatures and climate changes.
The wireless charging is neatly designed into vehicle within easy reach of the driver such as in the center console.
You can rest assured that the wireless charging has been tested and works.
Much of the staff at AUTO Connected Car News, formerly worked at Wireless and Mobile News and we are very technically savvy when it comes to smartphones.  In general, when you buy a new iPhone, you do not want to use any accessories that are not certified because, they could void your warranty. The new iPhone 8 pricing starts at $699 and the iPhone 8 Plus starts at $799 and the iPhone X starts at $999 using a cheap non-certified connected device could ruin your phone which will not be protected under warranty. Why ruin your new iPhone by being too cheap to spend $20 more for a certified charger?
When you use wireless charging provided by the vehicle manufacturer, it has been tested and tested and certified. Vibrations such a the iPhone vibration when it is set to vibrate  or bumpy roads could move the phone and disrupt charging. Also the iPhone could get hot, the iPhone will reduce the charging speed if phone gets too hot.
All Apple states on its website is "Compatible wireless charging mats sold separately." Which is where you can get into trouble especially on Amazon we found several wireless car charges listed as compatible with Apple that were not Qi-certified which means use at your own risk. Apple does warn:
"Don't place anything such as  magnetic mounts, coins or metal between iPhone and the charger.  Charging could also damage magnetic strips or RFID chips like those found in some credit cards, security badges, passports, and key fobs."
Risks of iPhone Qi Wireless Charging Incompatibility
Qi is an open, universal charging standard created by the Wireless Power Consortium (WPC). The first smartphones to use the standard launched in 2011, and over 700 products are now produced with Qi. Apple mentions that it sells new wireless charging mats from Mophie and Belkin, which they claim represent the best implementation of the Qi standard. We asked at our local Apple store if we should buy a wireless Qi car charger that is not certified. If you use a charger that damages your iPhone it is considered accidental damage and is not coverage by the original warranty. Accidental damage is covered by Apple Care.
Apple Care costs $129 for iPhone 8, $149 for iPhone 8+ and $199 for iPhone X. AppleCare+ provides repair or replacement coverage, both parts and labor with coverage for up to two incidents of accidental damage, each subject to a service fee of $29 for screen damage, or $99 for any other damage, plus applicable tax. Therefore even with Apple Care buying a $20 Qi car charger that bricks your iPhone is going to cost you more in the long run.
Another reason why you want to buy only a certified device is testing discovered temperatures reaching 96°C / 205°F which could cause 3rd burns when a metal 'foreign object' was present. Also, overheating drains and shortens battery life. Temperatures above 200ºF can melt phone cases and potentially damage surfaces in contact with a uncertified charger or a uncertified smartphone cover or case.
Remember that you can't connect your iPhone to USB for charging or music playing and wireless charge at the same time. Therefore, if you connect to CarPlay while your iPhone is connected to the USB port and don't use wireless CarPlay, the iPhone will not charge on the Qi mat.
The new iPhone 8 and 8 Plus phones use the older 1.1 Qi wireless charging standard developed under the Wireless Power Consortium (WPC) it supports up 7.5W (5V/1.5A) wireless charging. It has been reported that iPhone 8 and 8+ charge at 5 watts and that Apple will produce a software update to increase the speed 7.5 watts.  Apple has designed its own charging pad, called AirPower, that will be available next year. That charging pad will have a large, oblong area allowing up to three devices, including Apple Watch Series 3 and AirPods in their charging case, to power up at the same time.
WARNING WARNING WARNING About iPhones & Wired and Wireless Charging
In general you should only charge an iPhone with the included USB cable and power adapter, or with other third-party "Made for iPhone" cables and power adapters.  In the past a woman in China was was reportedly killed from an electric shock when she answered a call on her iPhone while it was charging with an non-Apple certified device. Using damaged cables or chargers, or charging when moisture is present, can cause fire, electric shock, injury, or damage to iPhone or other property.
Hair Spray + Charging = Kaboooooooom!
Explosive atmospheres charging or using iPhone in any area with a potentially explosive atmosphere where there are flammable chemicals, flammable gas vapors, or particles (s grain, dust, or metal powders), may be hazardous. In other words don't use steel wool, spray hair spray, bug spray, glue foam or explosive chemicals around a charging phone–whether it is in the car or not!
Wireless charging can affect the operation of an implanted pacemaker or other medical devices. If you have one, it is recommended to consult with your doctor before using the wireless charging system.
Here are some wireless charging tips for charging your iPhone 8, 8+ or X with a wireless charger in the car or on a Qi charging pad:
For wireless charging to work he vehicle must be on, in service or accessory.
Be sure to remove everything from the charging area coins, keys, rings, paper clips, or cards—they will get hot.
Wireless charging will not work if there are obstacles to the transfer of power.
Your electronic key fob may affect or pause the charging.
Do not place anything but a device to be charged on the wireless charger.
Don't put heavy objects on the device
Do not bring magnetized objects close to the wireless charger.
Don't charge if there dust, dirt or food on the charger.
Do not spill liquid on the wireless charger.
Do not cover the wireless charger with a cloth or other object while charging.
Do not attach metallic objects, such as aluminum stickers, to the charging area.
Don't put aluminum foil wrappers on the Qi or wireless charger.
Don't put magnetic credit cards on the charger.
Don't place precision instruments such as wrist watches close to the wireless charger, as such objects may malfunction.
Do not leave your iPhone or smartphone in car the heat may damage it.
Other Smartphones that support Wireless Charging
iPhones are not the only smartphones that can be charged wirelessly. The Samsung Galaxy Note 8, Samsung, Galaxy Note 5, Samsung Galaxy S8 Samsung Galaxy S8+ Samsung Galaxy S8 Active Samsung Galaxy S7 Samsung Galaxy S7 edge Samsung Galaxy S7 Active LG G6, Samsung Galaxy S6 (at a slower speed) and some Moto phones with an add-on.
Qi-Certified = Peace of Mind
It is very important that you buy a charger that is Qi-Certified or it may void your phone's warranty. You may be tempted to buy brands that claim they work with Qi, but you could  be sorry if it damages your iPhone.
Currently the only Qi-Certified wireless charging devices on Amazon we could find after checking the official database are:
SCOSCHE Qi Wireless Charging Car Mount and Charger for iPhone X, iPhone 8, iPhone 8 Plus, Samsung Galaxy 8 and Nexus Devices (Window or Dash)
.
iOttie iTap Wireless Qi Fast Charging Magnetic Car Mount & Desk Stand for iPhone X 8/8 Plus, Samsung Galaxy S8, S7/S7 Edge, Note 5 & Qi Enabled Devices
.
iOttie Easy One Touch Wireless Qi Standard Car Mount Charger for for iPhone X, 8/8 Plus, Samsung Galaxy S8, S7/S7 Edge, Note 8 5 & Qi Enabled Devices.
Cup Shaped Car Charger by ZENS – Enables Qi Wireless Charging it fits Most Cup Holders works with Qi Enabled Smartphones such as the new iPhone 8, Samsung Galaxy S6, S7 and more (5″ max screen size)
.
Qi Charginig Phone 7 Receiver Case and Wireless Charger Pad Bundle by ZENS | Effective Wireless Charging for your iPhone with a slim design that is  Qi Certified and Apple MFi Certified
for a case for older model but does not have a car mount.
If you have a Samsung phone with wireless charging, we believe it is too risky to use an off-brand to charge your phone in your there we suggest the Samsung Wireless Charging Vehicle Dock – Black
.
Do you have a car with a built-in wireless charging pad? How does it work for you? Do you like it? Do you have questions for automakers about your wireless charging that have not been answered? You are welcome to share your questions and comments in comments. Have we missed any models? Let us know, we'll be happy to add them to our database. Do you love wireless charging?