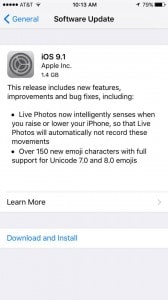 It's deja vu all over again for iPhone owners who upgraded to iOS 9.1 and want all the features to work with in-car infotainment systems. The latest update appears to be causing problems all over the world. In Apple support  forums and in AUTO Connected Car News' comments we continue to get complaints. What is very strange about the situation is that some people who had problems connecting with cars with iOS 9.01 have found that their Bluetooth now works. As always, the "nuke-it fix" of deleting all settings and starting all over again, appears to help some car owners.
Update 11/4/2015– Apple is no longer allowing users to downgrade to iOS 9.0.2.
Although Apple has tried to have fewer problems with each update with longer and larger deployments of beta versions of software, the world of car connections is diverse and complicated.
iOS 9.1 is not devoid of Bluetooth problems for non-car applications such as pairing with Logitech Bluetooth mouse, problems with email attachments and even some iPhone 6 models not working at all over update to 9.1, car connections appear to the most frustrating. Most Bluetooth car questions now in support forums go unanswered or have other car owners with the exact same car say they don't have any problems.
Let's look at some of the reported problems with iOS 9.1 and 9.01 and glitches then look at possible fixes that have worked in the past.
2015 Ford F150 Apple Watch Disconnect -with an Apple watch with the driver and iPhone in my F150 (2015 model), that voice navigation from the Apple Maps App doesn't work and playing any audio from the iPhhone doesn't really work over Bluetooth anymore.
Mercedes C Class MB apps stopped working.
2014 Ford Focus iOS 9.1 Pandora music streaming stopped working.
2015 Chevy impala. No sound with notifications when Bluetooth is on in car with iOS 9.1.
Phone 6S+, iOS 9.1 won't pair properly with a 2014 Subaru Forester. iPhone message says "no SIMM card installed" but intermittently it pairs for music sometimes.
iPhone 6s will not pair to 2008 Lexus RX350 but iPhone 5s works fine both on iOS9.1.
My BMW 535 F11 ( 2012 ) won't show iPhone 6 Plus phonebook and voice control doesn't work.
2012 Skoda Octavia iOS 9.1. no audio through the car.
Ford SYNC Phone 6 with  iOS Version 9.1 (13B143), before update worked. When a song is selected for song on the iPhone, Bluetooth will disconnect. Some times after using the phone – I will hit the "play" button on my car and it disconnects. Disconnects for no reason other.
2016 Mazda CX-5 text respond function doesn't work.
2011 Subaru Outback won't pair with iOS 9.1 iPhone 6S.
'14 Porsche Carrera with the Bose Bluetooth won't connect.
2016 Mazda Cx-5 since iOs 9.1 release, Bluetooth wont connect.
Kia Optima Hybrid 2012, iPhone 6 with iOS 9, Bluetooth won't connect.
 VW olf, 201 – Phone 6s Plus iOS 9.1. Bluetooth doesn't connect.
2013 Hyundai Veloster – Pandora app doesn't work with iOS 9.1.
2015 MB GLA45 AMG. iPhone 6 connected to the Mercedes bluetooth, but disconnects on answering a call.  Mercedes has no work around.
2014 Mercedes e250 coupe- iPhone 6 Plus Bluetooth connection works for voice calls but doesn't for audio music streaming.
2012 VW Pasat phone calls not routing through Bluetooth.
2015 VW Passat plays media, but when a call comes in, it goes directly to the phone, not the car system. Up to iOS 9.02, it was completely fine for both calls and music. But now the sound on calls via bluetooth is just totally distorted.
iOS 9.1, iPhone 6, and 2011 Nissan LEAF  after getting a phone call, Bluetooth audio fails until you go into Settings/Bluetooth and tap on it.
iPhone 6+- iOS 9.1 busted Mazda Connect 9.0 Only the phone would connect and the address book. The audio profile would not connect any longer with 9.1 (all versions) Often had  disconnect phone (not unpair) and reconnect and then most of time it would load the audio profile for playing music.
2015 Chevy Camaro occasionally drops Bluetooth audio connection with iOS 9 iPhone 6S.
The first tips that seem to work best are the following we have culled from over a year with dealing with Bluetooth glitches and iOS 8-9.
One fix that seems to help the most is disabling the "Handoff" feature which seems to clog up the processing.
The "Nuke-it-fix" and its variations of the continue to work for some Bluetooth fixes.  We just received this variation on the "Nuke-it-fix," which resets all the networked settings
In general users found that "nuking" settings, clearing out everything and starting over helps in most cases.
1. Reset All Settings
Go to iPhone  Settings ▸ General  ▸ Reset  ▸ Reset all settings.
2. Unpair Phone and Car Infotainment System Rename Phone
Go to iPhone  Settings ▸ > General ▸ About ▸ Name. Change the name of the iPhone and pair with the car infotainment system again.
3. Restore Network Settings:
Restore all network settings of iOS 9.1.  Go to Settings ▸ General ▸ Reset (at the bottom)▸ Reset Network settings. This method is also deletes all Wi-Fi and other network settings!  If you reset you must re-add all your network settings in iOS.
4. Delete and Start All Over:
Delete all Bluetooth devices on the iPhone.
Deleted the phone from the car's Bluetooth paired device.
Switch car off.
Switch Bluetooth off on iPhone.
Reboot iPhone using home and lock simultaneously.
Turn Bluetooth back on.
Start the car and pair the two to again.
5. Factory Reset & Restore

Factory reset  the iPhone 5s and re-install iOS 9.1 from scratch. Restore apps and more from  iTunes.
6.  Clear Out Everything Even Car Settings
Disconnect car battery to remove all settings from car.
Make a backup of your iPhone/iPod with iCloud backup.
Restore updated iPhone to new.
Once restored it should connect as it should.
Restore apps, calendar, music from  iCloud backup.
7. Reset Delete Variation
1. Delete iPhone device profile from car.
2. Delete Bluetooth link setting from iPhone for car phone.
3. Turn Bluetooth setting to "off"
3. Go to iPhone Settings> General> Reset > select "Reset all network settings."
5. Do a two finger "hard reset" on iPhone.
6. Boot iPhone back up.
7. Turn Bluetooth back on.
8. Re-pair iPhone to car system.
9. Test by making a call and see if it drops.
Another recourse is to contact the company that makes your audio system and or your car dealership.
If you have updated to iOS 9.0-9.1 for iPhone 5/5S/5c 6-6+ 6S/6S+ and it fixed or fried your Bluetooth connection or music streaming with your in-car infotainment system, please let us know in the comments below, be sure to note your make, model and year of your vehicle.We also welcome any solutions you have found worked with your car.

We have comments from readers that there are still Bluetooth problems reported with BMW, Audi, Acura, MINI, GM(Chevy, GMC, Cadillac, Buick), Honda, Kia, Toyota, Volkswagen, Mercedes-Benz, Mazda, Lexus, Fiat, Hyundai, Chrysler, Acura, Mazda and more. The year and model of your car are very important.
Previously, after talking to many automakers we asked Why Bluetooth iOS 8-8.1 & iPhone 6-6+ issues persist in cars? It seemed like the 8.1 update helped with a few new model cars. At first it appeard that there were fewer issues with iOS 9.0 for iPhone 5-6-6S+, however, there seems to more reasons for car owners to use this emoji: :(.
The security update 9.02 also caused glitches for car owners.
Apple's official changelog for iOS 9.1:
Live Photos now intelligently senses when you raise or lower your iPhone, so that Live Photos will automatically not record those movements.
Over 150 new emoji characters with full support for Unicode 7.0 and 8.0 emojis.
Improved stability including CarPlay, Music, Photos, Safari, and Search.
Improved performance while in Multitasking UI.
Fixes an issue that could cause Calendar to become unresponsive in Month view.
Fixes an issue that prevented Game Center from launching for some users.
Resolves an issue that zoomed content of some apps.
Resolves an issue that could cause an incorrect unread mail count for POP mail accounts.
Fixes an issue that prevented users from removing recent contacts from new mail or messages.
Fixes an issue that caused some messages to not appear in Mail search results.
Resolves an issue that left a gray bar in the body of an Audio Message.
Fxes an issue that caused activation errors on some carriers.
Fixes an issue that prevented some apps from updating from the App Store.
You are welcome to sign up for our newsletter for daily news, weekly news or just Bluetooth iOS 8+ – 9+ news to keep informed. Note: if you subscribe to email when published, you will get everything and don't have to subscribe to other lists.
In case you are wondering Zerodium announced one hacking team had successfully created a browser-based jailbreak for iOS 9.1 and iOS 9.2, the latest versions of iOS 9, earning $1 million