The Nissan Rogue at the New York International Auto Show will be outfitted with some very unique concepts – the Rogue Dogue (for canines) the Rogue Warrior Trail Project and Nissan Rogue One Star Wars.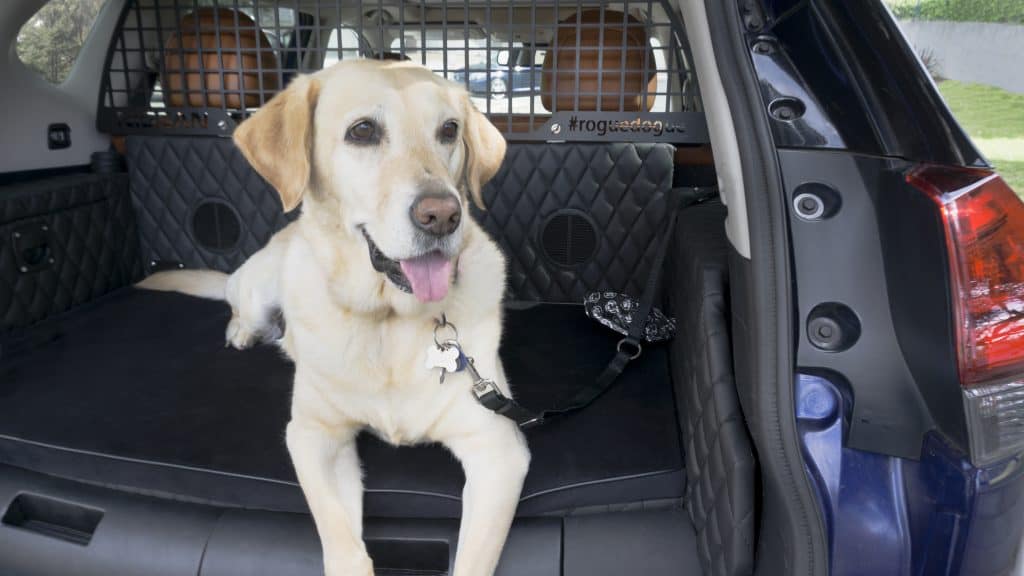 Dog owners agree that their four-footed friends should be as safe and comfortable in a vehicle as their two-footed fellow passengers. Dog owners also rate clip-in harnesses and non-spill water dispensers as the most appealing dog-friendly accessories in a dog friendly vehicle1
The new Nissan "Rogue Dogue" project vehicle takes those ideas to heart — and adds a pack more — just in time for the one-off project's debut at the 2017 New York International Auto Show.
"For all of the dog lovers at Nissan, the Rogue Dogue is so much fun — the equivalent, I guess you could say, of riding with your head out the window if you were a dog," said Michael Bunce, vice president, Product Planning, Nissan North America, Inc. "Of course, we also take pets' safety very seriously, which is why the Rogue Dogue includes secure leash fastening attachments in the second row and rear cargo area — along with numerous other features designed to make family travel with dogs more enjoyable for everyone."
The long list of Rogue Dogue modifications installed in the project vehicle includes:
Secured, removable custom dog bed in the rear cargo area.
Built-in (fold-down) non-spill water dispenser.
Built-in (fold-down) non-spill dog food dispenser.
Slide-away dog ramp for easy access to rear compartment for small or elderly dogs.
360-degree (hoop and hose) dog shower with 10 gallon pressurized water reserve.
Integrated dog drying system with compressed heated air dryer and outside hose attachment.
Heated air vents for rear cargo bed area.
Easy-to-clean custom interior materials.
Modified second-row/cargo area pass-through passageway.
Removable pet partition with Rogue Dogue logo between the second-row and cargo area.
Second-row dog hammock (clips around front and rear headrests).
Raised rear floor in rear compartment housing utility drawer and dog ramp; drawer faces covered in custom easy-clean upholstery.
Side wall mounted poop bag dispenser.
Rear facing passive side view mirror cameras (video sent to hard drive) to capture dog's road trip experiences — head out the window, interaction between dog and other drivers — for later viewing.
Dog first aid kit.
Harness clips mounted in rear compartment.
Rogue Dogue logo key fob.
In the survey of dog owners, the top three most appealing dog-friendly features were found to be a clip-in harness hook (81 percent), a non-spill water dispenser (74 percent) and a slide-away dog ramp (55 percent).
"Everything that we built into the Rogue Dogue project is actually very possible to add to a production Rogue, though you do compromise the available rear cargo area slightly for the ramp, storage compartments and the food and water dispensers," said Dennis McCarthy, owner, Vehicle Effects, Sun Valley, Calif. "But really, next to your family, your dog is your most important cargo, so why not?"
Bunce added: "More than 75 percent of dog owners in the survey said that having optional features specifically designed for their dog's safety and comfort would impact their decision on which vehicle to purchase. So potentially, every dog might have its day — and their custom-equipped Nissan Rogue, too."
The Rogue Dogue is based on a 2017 Rogue SL with the Platinum Reserve Interior Package, featuring premium tan leather-appointed seats with special quilted leather inserts.
For those who go off-off-off-off roading there's Nissan Rogue Warrior Trail Project.Two features dominate the appearance of the Rogue Trail Warrior. First, the exterior design treatment that combines a custom camouflage body wrap, khaki-painted tracks system and military-style yellow glassworks.
And then there are the snow/sand tracks. The DOMINATOR Tracks, from American Track Truck, Inc., are 48 inches long, 30 inches high and 15 inches wide, and they replace the Rogue's regular wheels and tires. The suspension and wheel wells were modified to fit the track system, but otherwise all drivetrain components, including the 2.5-liter DOHC 16-valve inline 4-cylinder Rogue powerplant and Xtronic transmission, are standard factory issue. The engine is rated at 170 horsepower and 175 lb-ft of torque, more than enough for climbing snow banks or sand dunes.
Filling out the Rogue Trail Warrior adventure equipment list are tinted headlights, custom fender flares, ARB Gear Basket, LED lights and a Warn 4K winch.
"This new Rogue Trail Warrior adds a new dimension to family adventures with its snow/sand tracks, gear basket, winch and camo paint," said Michael Bunce, vice president, Product Planning, Nissan North America, Inc. "If you want to stand out from the crowd during a day on the slopes or the beach, this is the vehicle to take."
As a continuation of an extensive collaboration with Lucasfilm Ltd. in support of "Rogue One: A Star Wars Story," Nissan is bringing an immersive "Rogue One: A Star Wars Story"-inspired experience to consumers visiting the Nissan booth at the 2017 New York International Auto Show.
"After hosting an extremely successful "Rogue One: A Star Wars Story" consumer experience at previous auto shows, we felt it absolutely necessary to host an encore experience in New York," said Jeremy Tucker, vice president, Marketing Communications & Media, Nissan North America, Inc. "In response to our alliance with Lucasflim, we've seen a drastic increase in awareness and sales of the 2017 Nissan Rogue. The excitement displayed by consumers visiting these Star Wars-inspired experiences motivates us and drives the Nissan brand forward."
The Nissan Rogue: Rogue One Star Wars Limited Edition is the first-ever full-size production vehicle to include Star Wars-branded elements and will be central to Nissan's New York Auto Show display. Additionally, two custom vehicles: an X-wing-inspired 2017 Nissan Rogue — complete with thrusters, blasters, side mirror Rebel logo projectors and an astromech droid; and an X-wing pilot suit-inspired 2017 Nissan Rogue — wrapped in special orange and white graphics and logos — while not for sale, will be on display. Finally, a massive, inflatable Death Star will hover over the booth, ensuring easy navigation of the convention center so visitors don't miss out on any of the action.
Appearing for the first time at an auto show, the new immersive 360 VR experience titled, 'Battle Test: A Nissan 360-Degree Virtual Reality Experience,' will be available at the Nissan stand. The experience places fans in the center of a simulated battlefield from 'Rogue One: A Star Wars Story,' where they'll be able to experience the optional suite of Nissan Intelligent Safety Shield® Technologies in an immersive environment. Users will experience advanced safety features such as Forward Emergency Braking with Pedestrian Detection* and driving aids such as Blind Spot Warning** and Around View® Monitor with Moving Object Detection***, all within the ultra-realistic experience.
In the Nissan booth, show-goers will have access to a Digital Mirror Experience, which allows up to two people at a time to stand in front of large LED screens and be transformed into stormtroopers or Nissan Rogue-inspired robots. At the end of the interaction, they will receive their photo to save and share as desired.
Leaving the world of virtual reality to actual reality, Star Wars Stormtrooper characters will make a special appearance in the Nissan booth during public hours on April 22 and 23. The exclusive limited-edition Death Trooper helmet replica — only available with the purchase of the 2017 Nissan Rogue: Rogue One Star Wars Limited Edition — will also be onsite.