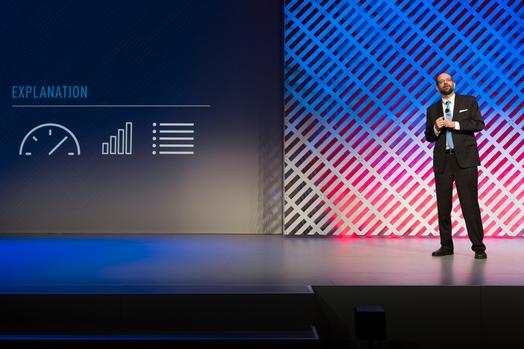 Toyota's new technology in the coming years will include gradually increasing safety features, shared data, connectivity with "OnStar" style services and eventually self-driving functions. Toyota vehicles will be outfitted with data modems to allow for remote functions and emergency calls to first responders. UIEvolution will develop smartphone apps for Toyota vehicles.
Toyota execs explained their self-driving goals of the intelligent car. When the car becomes more intelligent, it can perform higher levels of driver assistance, when needed. Like teammates, the intelligent car and driver are learning from each other.The car becomes more intelligent, it can perform higher levels of driver assist, when needed. Eventually intelligent cars will provide access to mobility for everyone. Dr. Gil Pratt will guide TRI (Toyota Research Institute) to accelerate machine learning, allowing more and more functions to be assigned to the car and when needed to avoid a crash.
Dr. Pratt noted that Toyota research will test to the trillion-mile scale.  First, Toyota will enhance the safety of automobiles with the ultimate goal of creating a car that is incapable of causing a crash, regardless of the skill or condition of the driver. Toyota hopes to increase access to cars to those who otherwise cannot drive, including people with special needs and seniors. Toyota will expand expertise in creating products for outdoor mobility into products for indoor mobility. The goal is to accelerate scientific discovery by applying techniques from artificial intelligence and machine learning particularly in the area of materials science.
Toyota announced its next-generation connected vehicle framework for more convenience and increased data security. Toyota's connected car framework will be based on the installation of a Data Communication Module (DCM) into a broader range of its vehicles starting with model changes in 2017 in the U.S. market. Adding DCM will connect Toyota vehicles to cellular telecommunications networks, expanding the ability to transmit data for products and services.
For vehicles equipped with DCM, Toyota will also provide emergency alerts, activated by airbag deployment during a traffic accident to notify emergency responders.
The Toyota Big Data Center (TBDC) in the Toyota Smart Center will analyze and process data collected by DCM, and use it to deploy services. Toyota will jointly develop standard middleware with UIEvolution for application to Toyota's in-car devices globally.
UIE will develop smartphone apps for smartphones to access vehicle data in a highly secure environment through TBDC and Toyota can offer its customers safer and more secure smartphone-car connection services.
The Toyota Smart Center will be the heart of Toyota's vision for a Smart Mobility Society that connects people, vehicles and communities. The cloud-based computing system collects secure vehicle data, analyzes information from millions of vehicles around the globe and provides customers with personalized services that make life easier.
Toyota will offer next generation connected service systems such as Agent+, which leverages multiple factors including day, time, location and driving history to predict likely destinations and help guide drivers there quickly and efficiently.
Toyota telematics systems such as Agent+, may be coming soon to Toyota vehicles.