It has been a busy week for news about embedded chips and connected car news tips with news from Arynga, Green Hills, Renesas, HARMAN, Panasonic, Samsung Sprient, TomTom, QNX and MTC.
Arynga Rings Up Sale
Intel bought over-the-air update specialized software Arynga for an undisclosed sum. Arynga is an IoT, software company delivering software, firmware, and data management solutions to connected to the automotive market. Arynga's flagship product CarSync is an end to end,platform allowing vehicle Original Equipment Manufacturers (OEMs) and Tier 1 Suppliers the ability to manage the creation and distribution of Over-The-Air (OTA) updates to vehicles, while maintaining constant 2-way communication between the vehicle and back-end server, for constant system monitoring, reporting, and data analytics.
GreenHills for Renesas
Green Hills Software, the largest independent software vendor for the Internet of Things (IoT), today announced the immediate availability of its safe and secure INTEGRITY real-time operating system (RTOS) and INTEGRITY Multivisor virtualization solutions for Renesas' R-Car H3 system-on-chip (SoC), the first member of the third-generation R-Car automotive computing platform.
Green Hills Software delivered the embedded industry's first 64-bit secure virtualization solution last year, a platform that was partially developed with the specific capabilities of the R-Car H3 in mind. This Green Hills platform not only meets all of the ISO 26262 functional safety requirements of today's automotive applications, but is versatile enough to be adapted to a wide range of applications from fully reconfigurable digital instrument clusters, to highly integrated automotive cockpits, to highly specialized ADAS systems (Advanced Driver Assistance Systems) providing the compute and sensor fusion capabilities for the upcoming autonomous vehicle age.
Wow for Wowza for HARMAN
HARMAN, announced today that it has been selected as a key integrator for Wowza Media Systems, streaming technology portfolio. Customers in the broadcast, automotive, government, and enterprise verticals will have access to a proven global, scaled integrator of streaming solutions, and the joint offerings address the exploding demand for complex video and audio streaming capabilities worldwide.
Aupeo + Triton
Panasonic subsidiary Aupeo GmbH announced its collaboration with Triton Digital at the Worldwide Radio Summit in Hollywood, California. Through this collaboration, Panasonic OneConnect is leveraging Triton Digital's advertising platform, Tap OnDemand, to insert targeted ads into the personalized audio messages delivered within the Personal Radio by AUPEO! content delivery service. This integration enables car manufacturers and brand partners to provide drivers with personalized audio messages in and out of the vehicle to support an array of driving and mobility use cases, and will be demonstrated on-site at the Worldwide Radio Summit on both April 14th and April 15th.
The Panasonic-Triton collaboration provides manufacturers with the ability to communicate brand messages, service promotions and other customized content directly to the driver or consumer. The OneConnect platform is designed to keep the drivers informed, entertained and focused on the road ahead, while simultaneously opening up the potential for new interactions and in-vehicle e-commerce opportunities.
Embbed Software Summit Discount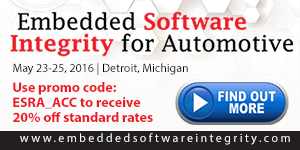 Automotive and embedded software experts with intimate knowledge of the industry's challenges will discuss how to properly develop and test embedded software at the Embedded Software Integrity for Automotive Summit this May 23-25 in Detroit. Leaders from companies such as Delphi, Bosch, GE, Kia, Continental, and more, will work to mitigate the unintended behaviors and failure rates from automotive software and hardware bugs. Use promo/coupon code ESRA_ACC to receive 20% off standard rates.
Hyster-Yale Buys Speedshield
Sprient Ethernet Connections
Spirent Communications  the leading provider of connected car verification systems, announced a new solution to reduce the time and cost needed to develop automotive Ethernet BroadR-Reach systems for connected cars and other vehicles.
As automobiles adopt automotive Ethernet to provide advanced driver assistance systems (ADAS), vehicle-to-X (V2X) communication, infotainment and other 'connected car' features, manufacturers need to ensure these networks are unaffected by electromagnetic interference normally found in vehicles.
The Spirent AING-5000 reduces the time to develop systems that are resilient to interference, by creating and customizing a variety of real automotive noise conditions, which developers can use repeatedly to optimize their designs.
Samsung Foundry Qualifies  ANSYS
Customers of Samsung Foundry and ANSYShave the power to innovate the next generation of electronic devices for high-performance computing, mobile, automotive and IoT applications thanks to Samsung Foundry's qualification of ANSYS solutions. This qualification for the latest generation of chip technologies enables customers to bring their cutting-edge products to market even faster while reducing design costs and risk.
Cutting-edge electronic products require high-performance, reliability and less power. To accomplish this, multiple sub-systems of an electronic product are combined into one or more integrated circuits known as a system on a chip (SOC). For customers to achieve first silicon success, ANSYS and Samsung Foundry collaborated to qualify ANSYS solutions to meet the accuracy and reliability requirements for 14nm and 10nm FinFET, the two latest process technologies.
Luxoft & Symtavision
Luxoft Holding, Inc demonstrated at the recent Embedded World event in Nuremberg the expertise of Symtavision, a Luxoft subsidiary, in the growing area of Advanced Driver Assistance Systems (ADAS) for the automotive industry with software tools and services for real-time system design and development.
Luxoft recently announced that it has acquired Symtavision, a provider of automotive software tools and consulting services for scheduling analysis, architecture optimization, and timing verification. This acquisition expands Luxoft's embedded software automotive offerings as the company seeks to fulfil its targeted end-to-end offering.
According to Symtavision, an emerging leader for timing design and timing verification for embedded real-time systems, the development of ADAS introduces totally new challenges and significantly higher levels of design complexity, making the adoption of effective timing design, analysis and verification tools essential in their design.
MicroConsult Training for Renesas
Renesas Electronics Europe, a premier supplier of advanced semiconductor solutions, and MicroConsult GmbH today announced their agreement to collaborate on the provision of customer training courses for the revolutionary Renesas Synergy™ Platform.
MicroConsult will be offering off-the-shelf three-day training courses, as well as customised training on request.
TomTom PSA
TomTom (TOM2)  announced it collaborated with PSA Group participating in an EU gathering of top politicians in the Dutch capital. TomTom provided HD Maps to enable PSA Group to participate in the self-driving car demonstration in Amsterdam
Aioi Nissay Dowa Insurance Co., Ltd. (AD), Toyota Financial Services Corporation (TFS) and Toyota Motor Corporation (TMC) announced that their respective U.S. subsidiaries established the jointly owned telematics car insurance services company Toyota Insurance Management Solutions USA, LLC (TIMS), on April 1.
In Southern California, near TFS U.S. headquarters, TIMS will support the development of telematics car insurance services for Toyota customers, as well as new experiences aimed at more fully satisfying customers by working in unison with dealers and distributors. TIMS will contribute to the development of insurance offerings that benefit consumers―including so-called 'pay how you drive' insurance, which encourages safer driving. TIMS plans to conduct analysis of big data, and conduct relevant marketing and promotions.
Servomex Uses QNX for Gas Analysis
QNX Software Systems Limited, a subsidiary of BlackBerry Limited, today announced that Servomex Group, a world leader in gas analysis technology, has chosen the QNX Neutrino Realtime OS to power its next generation of gas analyzers.
For 60 years, Servomex gas analyzers have helped control emissions, optimize processes, and ensure operational safety in industries such as electricity generation, oil and gas refining, semiconductor manufacturing, chemical production, and iron and steel production. To power its next generation of analyzers, Servomex needed a high-performance OS that has the flexibility to support an array of market-specific applications and the reliability to be deployed in safety-critical environments.
Connected Car Hackathon Winners by MTC
The Metropolitan Transportation Commission (MTC) awarded prizes to three teams of participants in a two-day Connected Car Hackathon Using real-time data generated by drivers whose automobiles are equipped with Automatic's car adapter and an app, participants explored ideas ranging from carpooling, gamification strategies and addressing parking woes. Prizes were awarded in four categories.
The Grand Prize was awarded to Tripster, a web app that uses historical data collected by Automatic to evaluate a driver's transportation impact over time. Grand Prize winners Sandra Lennie and Joel Pobar, who developed Tripster, received a custom 3-D printed Connected Car Hackathon trophy in addition to $600 in Clipper or FasTrak value and an Automatic car adapter. Tripster also was chosen as the Popular Choice Award winner.
The runner-up submission is a desktop app called parkingBuddy that tells users about the availability of parking in nearby parking garages. The app was developed by Calvin Settachatgul, Nathan Webster and Terri Wong. Jose Pacheco received the third place award for his SMS-based app — Hard_Brake_Notification — that sends drivers a text message with their braking information in order to encourage smart driving.
Discount Code for TU-Automotive Detroit
The TU-Automotive Detroit 2016 (June 8-9, Novi Michigan), conference and exhibition for automotive technology and connected cars is offering a vast program of speakers, topics and trends. AUTO Connected Car readers can get a $100 discount using the code 4312ACCAR.
You are welcome to subscribe to receive email notification of publication of Embedded Chips & Tips, you can also get weekly news summaries or email ASAP (As Soon As Published) for everything. Please note if you have a Hotmail, Outlook.com or Live.Com email address you will not be able to subscribe. Even though we don't ever SPAM our subscribers once a subscriber marks an email address as SPAM we can't ever send to those Microsoft accounts ever again. We have written 5 emails to no avail.