We are coming around the bend to finish up voting for the Tech CARS Awards this Friday, some categories are so close they are only a few votes apart. A new category this year is Most Anticipated New Aftermarket Product Expected in 2016. If you haven't hear of these products, you can read the description below before voting for your favorite.

The category was suggested by startups at the Connected Car Expo. New products generally have a hard time getting exposure because they have been untested or may need capital. The nominees tackle some tough problems for aftermarket devices such as displays, computerized help for driving and a way to prevent drunks  from driving.
This nominee created a sensor that can detect blood alcohol levels for school bus drivers. The company plans to expand to offer the technology for fleets, construction vehicles and for home use.
Upon ignition, a driver places a hand on the biosensor pad in the wheel, which detects alcohol by touch. If alcohol detected exceeds a pre-set limit, the vehicle is immobilized and an instant message is sent to dispatch (or parents). Random retests ensure that the driver maintains sobriety while en route. Advanced biosensors analyze the gases exuded from the skin to non-invasively diagnose the body's condition. Sensors can detect alcohol at the palm of the hand in less than five minutes after initial ingestion.
The company was founded by a father/daughter team Catherine Carroll and John Carroll. It was selected for the Connected Car Expo's top ten startups that are disrupting, influencing, and creating the shape of things to come.
Carloudy HUD
Cognitive AI Technologies Inc., is lunching Carloudy, a wireless, voice-controlled, automotive head-up display (HUD). The Carloudy shows information on the windshield through a new patented technology. HUD displays on new luxury cars are usually only available in packages that cost a thousand dollars or more, this device is priced comparable to the price of a smartphone or GPS unit.
Carloudy connects to smartphones (Android or iPhone) to display directions, shopping, weather, speed, speed limit and maintenance alerts. Carloudy has a working prototype and is ready for full production.
Is a computed based system for safe driving with warning lights. It offers a computer vision-enhanced system  to upgrade any car with connected car features. The company is trying it out in the San Francisco Bay Area
They are working on deployment for consumers, fleets and insurance.
The NAUTO system is a device, network and app. An in-vehicle device collects and processes visual data in a secure cloud, which then produces valuable insights to help drivers operate vehicles more efficiently, effectively and safely.
NAUTO uses precision computer vision technology, GPS, inertial measurements, cameras and proprietary algorithms to produce a real-time multi-dimensional understanding of the area around the car. Visual data is automatically uploaded and combined data from other NAUTO-equipped vehicles in the area.
NAUTO also gives feedback and coaching to help drivers improve their performance. Simultaneously, NAUTO generates information to help municipalities ease congestion and reach their Vision Zero target of eliminating traffic fatalities.
WayRay Navion Augmented Reality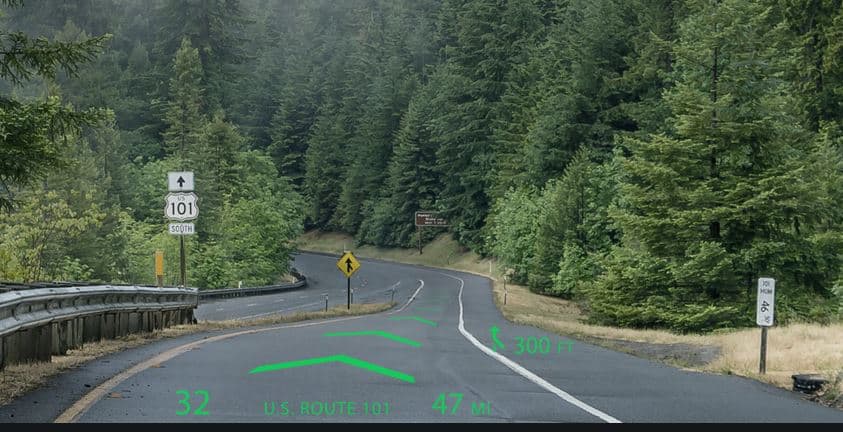 is an augmented reality navigation system that projects holographic GPS imagery and driver alerts onto the windshield of a car which the company claims it is a first-of-its-kind for the automobile aftermarket. WayRay Navion is activate
d by gesture and voice control.
The WayRay Element is an OBD-II device that monitors driver performance, safety and fuel efficiency. Autoyoga is a built-in driving coach that helps develop better driving skills. Users choose a desired goal and follow the step-by-step instruction
s. There are two Element models one with a Bluetooth connection listed at $95 and a cellular connection model for $159.