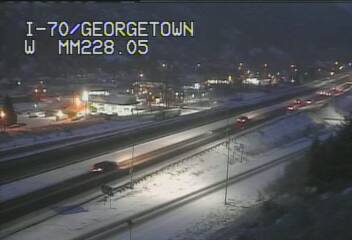 HERE mapping technology and the Colorado Department of Transportation (CDOT) announced the first cellular network-based connected vehicle alert system in North America to help skiers and vacationers in the Colorado mountains.
The partnership will help to keep drivers safe on the I-70. Cars will share safety hazards as they occur using the HERE locations cloud and cellular network. The I-70 Mountain Corridor links Denver to Colorado's ski resorts and mountains. Every year, millions of travelers face extreme weather, high altitude driving and congested traffic.
A connected car equipped with sensor technology detects traffic incidents and road conditions on the I-70 Mountain Corridor. This information is then sent via the cellular network to the HERE Location Cloud and Digital Transportation Infrastructure (DTI) solution, which analyzes, verifies and validates the data with additional location information. The results are then distributed to nearby vehicles, warning drivers immediately. Simultaneously, the results are sent to a traffic management center which can react to upcoming situations in real-time, ensuring safe and efficient driving. All this happens in mere seconds.
The collaboration with HERE is the first industry announced by CDOT following the launch of their RoadX program in October with US Secretary of Transportation Anthony Foxx.
The I-70 Mountain Pilot builds on HERE's work with the Finnish Transport Agency's Nordic Way project, which was the first deployment of HERE DTI in support of C-ITS (Cooperative Intelligent Transport Systems) based on the Location Cloud capabilities in conjunction with cellular networks. With the successful completion of phase one, transportation agencies can see a path to solving many challenges without additional costly roadside infrastructure. HERE is also working with the Dutch government to deploy a similar ITS program in the Netherlands.
CDOT will be seeking approximately 1000 vehicles to participate in the pilot which will begin its first phase during the 2016-2017 winter ski season.
HERE is also helping to alert travelers in Lapland of Reindeer delays.