Gfk published its Connected Car Preview Report to show the road ahead for connected cars. Those who want connected features the most are 'Leading edge consumers'.
The study also showed that people love to drive.  Drivers are the most happy in Germany (68%), followed by Brazil(62%), China(62%), Russia(54%), US(50%) and the UK(43%). The segment that GfK identifies as 'leading edge consumers' (LEC) showed higher numbers rating all connect car concepts as very or extremely appealing, compared to general consumers.
The leading edge consumers are valuable to the automotive industry reports Gfk as a 'hot opportunity' for sales of connected cars and early indicators of where the rest of the market might follow.
Brands expected for connected cars in the U.S. are BMW, Lexus, Google, Honda, Microsoft and Apple.
People Want to be Safe and Entertained
Leading Edge Consumers (LECs) love to drive (98%) own new cars (84%) are male, young employed full time and are decision makers.
For both LECs and general consumers, the most appealing concepts are:
Ultra-safe, a car that makes driving as safe as possible through connectivity with other cars and integrated cameras (96 and 87 percent respectively).
Data tracker, a car that tracks usage, runs diagnostics, check repair costs(91%) and automatically records accident data (79%).
Third place is split, with LECs preferring a car that knows their entertainment preferences (90 percent) and general consumers opting for 'self-sufficient' – a strong but light electric car (73 percent).
Autonomous car shows high levels of appeal, standing at well over three-quarters of LECs (81 percent) and two-thirds of general consumers (66 percent).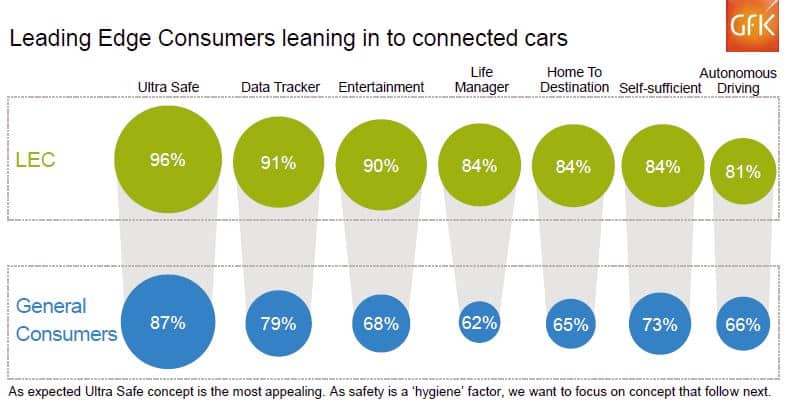 Entertainment and connectivity options scored very highly with LECs
In-car voice recognition having most appeal (86%).
In-car Wi-Fi hotspot and in-car video and event recorders (both 84%).
Point-of-interest search, such as parking spots (83%).
In-car entertainment came last, but still with an impressive 79 percent saying it appeals to them.
General consumers preferences are:
Point of interest search was the most popular facility but still only has 57 percent saying it appeals to them.
In-car voice recognition, in-car Wi-Fi hotspot and in-car video and event recorders, all with 56 percent.
In-car entertainment again came last, with under half showing interest (47 percent).
For all Americans, entertainment was the most wanted feature.
Data was culled from a recent survey across Brazil, Germany, Russia, UK, US and China, GfK asked 5,800 consumers to rate the appeal of different types of connected car concepts.
Click on images to see Gfk infographics.
IBM reported the results of its new Automotive 2025 Global Study, forecasting greater personalized driving experiences by 2025 through connected car tech.
In-car infotainment systems are a pain in the Bluetooth for both car owners and car makers, according to Consumer Reports 2014 Annual Reliability Survey.
See car preview report.