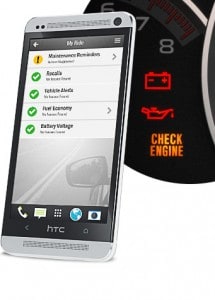 AT&T announced two new ways it is providing connected car services for automakers and AT&T customers. AT&T 4G LTE wireless connectivity will provide connections for Autonet services for automakers. AT&T will also update its Car Connection 2.0 app for the OBDII device the Audivox Car Connection Elite.
Autonet & AT&T Partnership
AT&T will provide 4G LTE connectivity for Autonet services. Autonet currently works with Chrysler Fiat Automobiles, General Motors (Chevy, Buick Cadillac) , Maserati, Subaru and others.
Drivers use Autonet Mobile for remote start remote lock/unlock, teen driver monitoring/controls and Wi-Fi. Autonet Mobile provides over-the-air updates and vehicle diagnostics.
In 2014, AT&T launched the AT&T Drive Studio in Atlanta and automotive development platform, AT&T Drive.
Audivox Car Connection Upgrade
AT&T also announced an update for the OBDII port-connected Audiovox Car Connection Elite, called Car Connection 2.0 and the companion app. Car Connection 2.0 will be available later this month from AT&T.
The Car Connection 2.0 app allow parents to monitor teen drivers and their driving scores. It also helps drivers locate their cars. Drivers can receive notifications to check engine lights, battery status and other functions.
Drivers can also keep records of recent trips including destinations, miles traveled, trip time, and gas mileage.
New safety features added to Car Connection 2.0 include emergency roadside assistance and automatic crash response as well as safe driver features including text blocking, safety zones and driver scoring. The service will also feature stolen vehicle assistance and remote access via the app. These services make the device competitive withe Verizon Vehicle service that uses an OBDII device, a Bluetooth-enabled speaker attached to the visor and a smartphone app.
Car Connection 2.0 users can receive quotes from major insurance providers when they share their driver score for reduced insurance rates.
Customers who already have the Audiovox Car Connection Elite OBDII device can upgrade to Car Connection 2.0 by downloading the app to their smartphone. The Audiovox Car Connection plug-in device costs $99 plus $10 a month for a data plan from AT&T that requires Mobile Share or DataConnect plan.