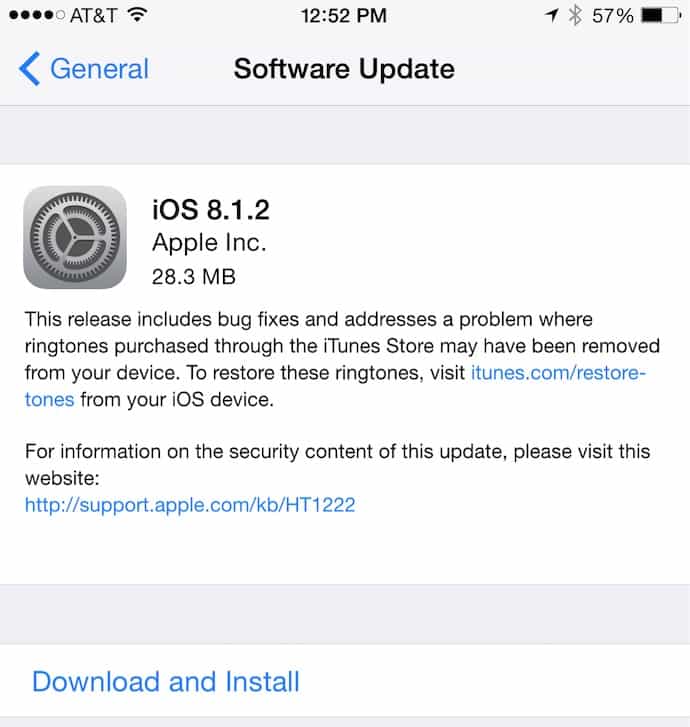 Apple released iOS 8.1.2 for iPhone 4S, 5/5S/5C, 6/6+ and many of our reading are wondering if it finally fixes the massive Bluetooth connection issues with in-car infotainment systems?  We have seen problems with many car models such as BMW, Audi, GM(Chevy, GMC, Cadillac, Buick), Nissan, Mercedes-Benz, Mazda, Lexus, Fiat, Hyundai, Honda, Citroen, Pontiac, Volkswagen, Volvo, Dodge and more. The answer is a definitive maybe…
We have received on comment from a reader
"8.1.2 on iPhone 5 fixed my issue with call history and connecting to Pandora on my 2014 Honda Accord."
We have learned with each update sometimes the update fixes problems with newer model cars. It can clear out all the settings and then allows you to connect Bluetooth automatically.
 If you have updated to iOS 8.1.2 and it fixed or fried your Bluetooth issues with your in-car infotainment system, please let us know in the comments below, be sure to note your make, model and year of your vehicle.
The official Apple statement on what is in the update is:
8.1.2 Release: This release includes bug fixes and addresses a problem where ringtones purchased through the iTunes Store may have been lost.
There are also security features in the update that Apple does not disclose. The update is available over-the-air (OTA) or through iTunes.
iOS 8 for iPhone 4S/5/5C/5S/6/6+ has been plagued with Bluetooth bugs connecting to in-car infotainment systems. There are problems with disconnections, music streaming, contacts, voice calling, USB connections, dialing, speakers, dropping calls and more.
Read a summary of Bluetooth issues and fixes along with the new "audio-only" connection fix. Read the nuke-it fixes.
When we asked reps from Honda, GM and BMW at the Connected Car Expo about the situation they said that they are working on it. GM is offering help through CTEs and phone support.
Our total number of comments about the issue is in the hundreds.
More Bluetooth Fixes Found
Today, we went hunting for more fixes. One involves how you type in the name of your device and the other involves iCloud settings.
Here's one fix we never saw before:
"After deleting all of my old phones from my car's Bluetooth settings, I tried pairing and my phone would read the car as a "1" and once I hit it, the car would still announce that it failed to connect.  At the dealership we discovered if we typed my iPhone's device name (my phone called itself "iPhone") before hitting REGISTER on my car, it worked (not case specific as it was all caps on my car).  Before the new phone, the car automatically read my device and filled the name in.  So, the new step was having to write the device's name in for it.  Not sure if that will solve anyone else's problems, but it worked for my Lexus."
Beside the "Nuke-it" fixes is the clear the car history.
Some ways to clear the car history are unplugging the battery removing the fuse and putting it back.
"I located the fuse box and removed the fuse that powered the Sync radio and put it back in and IT WORKED!!!!"
"The only you need to do is clear the car Bluetooth memory (history connections) in your car. And it will work perfectly."
iCloud Makes Bluetooth Blue – Use iCloud Clear Settings Fix
We have recently seen fixes that blame iCloud setups with this fix:
To resolve the Bluetooth issue, you'll need to first sign in to iCloud and review your devices:
Sign in to iCloud on your iOS devices and Macs with OS X Yosemite .
On one of your devices, tap Settings > Bluetooth and look under My Devices. You'll see all devices that are connected to Bluetooth, but make sure that you see your Apple devices that are signed in to iCloud and are using iOS 8 or OS X Yosemite.
Sign out of your iCloud account from any devices that you don't want to use. To sign out of iCloud on an iOS device, tap Settings > iCloud > Sign Out.
Then, remove any inactive devices from iCloud:
Sign in to iCloud.com.
Select Find My iPhone.
Select any devices that aren't active anymore.
Wait for Find My iPhone to stop trying to find the inactive device.
You should see the option to remove this device from your account. Select it to remove the device.
After following the steps above, restart the device with the issue. Then try to use it with your Bluetooth accessory.
For Cars
Once you are signed into iCloud, go to you car.
Start your car.
Go to Settings>Bluetooth and turn Bluetooth on on your phone.
Ask your Handsfree system for a list of commands. you want to "Pair"
You may have to go"Settings" then "Pair" and then the car may give a pairing code.
The phone should see the car and request a  pairing code. Put the code in the phone then there should be connection.
The comment we found the most profound after fixes that take for hours and remove settings is "HELLO APPLE?  Could you give us a little love here?"
If you are having problems with USB connections, we have learned that uplugging the USB cable and plugging it in again can help.
AUTO Connected Car News is dedicated to getting our readers the news they need. Please subscribe to our email list to get updates.