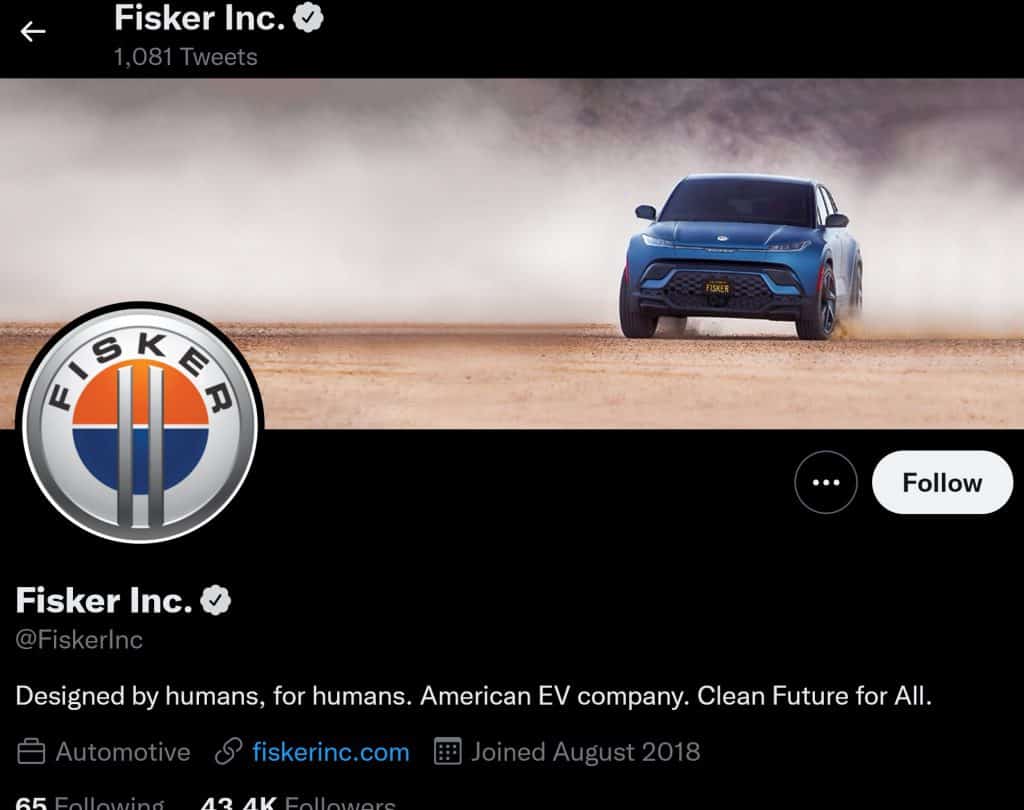 Henrik Fisker, designer and president of Fisker Inc. banned himself off Twitter after Elon Musk purchased Twitter. He wrote on Instagram,
""I believe 100% in free speech. But I do not want my free speech to be actively managed or controlled by a competitor. And I do not want a competitor to determine how my followers experience Fisker as we grow our company."
Fisker previously worked for Tesla. Fisker was sued by Tesla in 2008 for allegedly stealing Tesla technology. Th case was decided in Fisker's favor.
The Fisker Inc. account is still active. Its fate will be reportedly decided by Fisker Inc.
Henrik Fisker continues to post on LinkedIn. He is seen test driving the Fisker Ocean in Austria.
<iframe src="https://www.linkedin.com/embed/feed/update/urn:li:ugcPost:6924704696670597120″ allowfullscreen="" title="Embedded post" width="504″ height="629″ frameborder="0″></iframe>
The Fisker Ocean is currently traveling through Europe following its European reveal at Mobile World Congress in Barcelona and  pop-ups in Berlin and Hamburg.It is at  "Illums Bolighus" in Copenhagen. From April 26th to May 16th 2022.

Fisker will start production of the Fisker Ocean SUV on Nov. 17, 2022, at the carbon-neutral factory of Fisker's manufacturing partner, Magna Steyr, in Graz, Austria. The Fisker Ocean, in Sport trim level, will have an estimated range of 250 miles (EPA test cycle) / 275 miles or 440 kilometers (WLTP test cycle) and feature a sleek, stylish design, as well as innovative automotive technology and a
sustainable interior made from recycled materials.
The Fisker Ocean Extreme will deliver up to an estimated range of 350 miles (EPA) / 390 miles or 630 kilometers (WLTP). Fisker worked extensively with battery supplier CATL, using two different chemistries, to maximize performance and minimize cost for the Fisker Ocean lineup.
The company has exceeded 40,000 initial reservations for the Fisker Ocean SUV. The company has indications that many reservation
holders intend to purchase the Fisker Ocean One launch edition or Fisker Ocean Extreme models, both priced at $68,999* in the US.
As a result, Fisker will open pre-order reservations for purchase of the limited edition Fisker Ocean One SUV to current reservation holders on July 1, 2022. Fisker will manufacture 5,000 limited edition Fisker Ocean One vehicles, commencing in November 2022. Given the elevated
level of interest in the Fisker Ocean One and Fisker Ocean Extreme, Fisker believes it will potentially sell out capacity through most of 2023 with purchase orders of our premium models.
After the limited Fisker Ocean One production run concludes, Fisker will prioritize and manufacture all Fisker Ocean Extreme orders, with any additional capacity being then allocated to Fisker Ocean Ultra SUV and Fisker Ocean Sport SUV. Given the high degree of interest in the
Fisker Ocean SUV premium models, it is likely that Fisker Ocean Sport production will not commence until late 2023, initially at modest volumes, with higher volumes expected in 2024.
In the event of reservation cancellations, some additional customers may be able to secure a build slot for a 2023 Fisker Ocean Extreme, depending on the order in which they place a reservation. Additionally, if Fisker can produce 50,000 or more vehicles in 2023, the company will
explore logistics and supply-chain options to increase deliveries.
At this point in time, Fisker does not plan to raise prices for the Fisker Ocean in 2022 or 2023 but given the current rate of inflation and global market pressures in logistics and commodity costs, Fisker cannot guarantee pricing will remain static for vehicle orders received after the 40,000-reservation number or vehicles produced from 2024 onwards.
It is customary for automakers to have yearly price increases, but as we start production in late 2022, our unique, asset-light
business model should enable us to hold pricing steady through 2023.
All reservation holders will be informed of any price changes when they occur, via updates on our website prior to placing a pre-order and shall be entitled to a full refund of the reservation fee if they choose to not proceed with a pre-order at that time. Currently, customers may place
a reservation for their first Fisker Ocean for $250 and $100 for a second vehicle