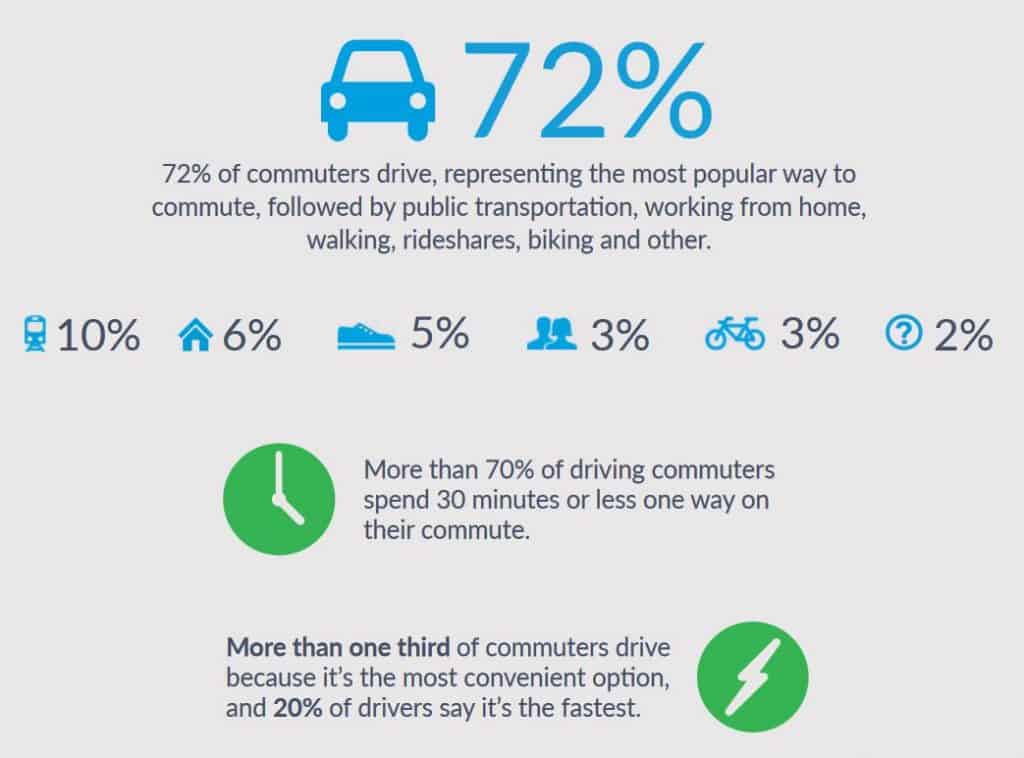 According to the recent CarGurus Commuting Sentiment Survey, driving is the most popular means of commuting in the U.S. Out of 1,877 respondents, 72 percent note that they drive every day, and of those who drive the most popular reasons for doing so are convenience (34 percent) and speed (20 percent).
However, the survey also found that commuting via automobile can bring out the worst in people. 51 percent of drivers admit that their commute causes them to scream curse words they don't normally use and 42 percent confess that they have "flipped someone off." Moreover, commuters tend to blame other drivers for their frustrations: 53 percent of commuters say their top commuting annoyance is other people driving poorly followed by traffic, cost of as, bad weather and other drivers' road rage.
Other survey findings include:
When asked which driving companion would most improve their commute, 41 percent said their partner or significant other.
When asked what they would do if they could get back their commuting time, the top three answers were sleep (51 percent), spend time with family (48 percent) and go to the gym (39 percent).
"For those that regularly drive to and from work, commuting conditions should absolutely be a consideration when car shopping – they can make the difference between regret and enjoyment," said Matt Smith, Senior Editor at CarGurus. "Factors like commuting efficiency, mileage variation, hilliness and weather are all important. In our 'Top Cars For Your Commute' analysis, we took all these factors into account, then looked at vehicle efficiency, horsepower, comfort and even alternative-fuel options to come up with our top car recommendations for specific types of commutes."
Methodology:
The data used to arrive at the recommendations in this 'Top Cars For Your Commute' study came from a variety of sources. CarGurus looked at commuting distance as the average distance from home to work for commuters who work in 84 of the largest US metro areas. The distance for each commute is based on a direct path from home to work and does not consider the road network. The average distance was calculated from the Census Transportation Planning Products, based on the 2006-2010 American Community Survey. The travel and efficiency information were adapted from the Texas A&M Transportation Institute's 2015 Urban Mobility Scorecard. CarGurus considered cities with seven or more days with at least one inch of snowfall per year to have significant annual snowfall. The snowfall data was based on a 20-year average calculated from the National Oceanic and Atmospheric Administration's Global Summary of the Year. CarGurus grouped metro areas with similar characteristics to form its commuting clusters for use in the study, and then its editorial team chose cars with features that fit each group, including one option above a $35,000 MSRP and one below. The survey was fielded amongst 1,877 people aged 18+ who identify as employed individuals or students. The sample was balanced on age, gender, income, and regional factors.
About CarGurus