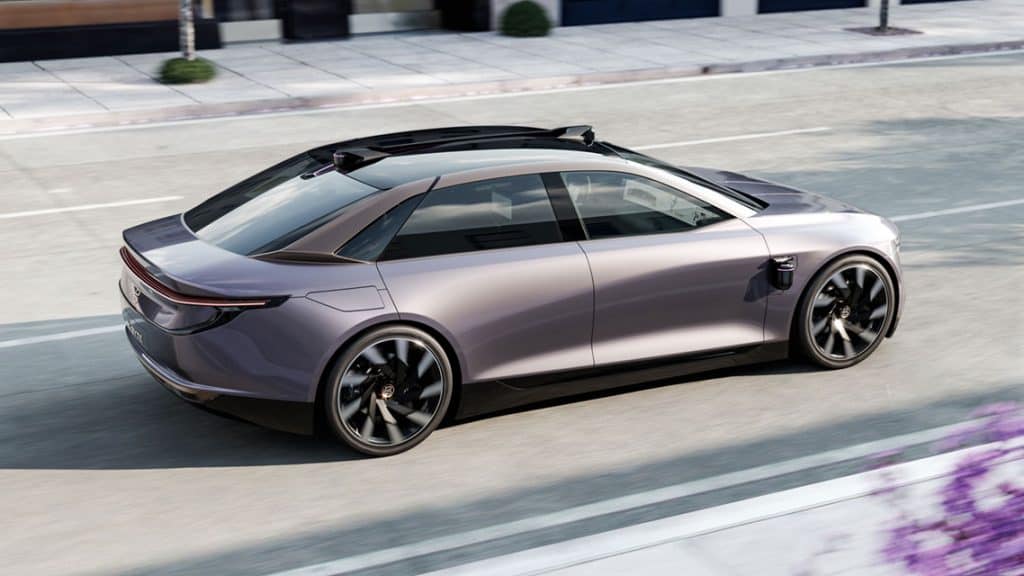 Electric vehicle maker BYTON unveiled its Premium Sedan Concept in Shanghai during a global debut event that showcased the brand's design vision. Called the BYTON K-Byte Concept, the three-box sporty sedan is made for the age of autonomous driving with integrated and retractable sensors that strike a fine balance between aesthetics and real-world practicality.
BYTON has partnered with Aurora, the world's leading autonomous driving technology firm, to develop a Level 4 (L4) autonomous driving program. L4 is defined as a state where the car can operate without human input or oversight but only under specific select conditions. By the end of 2020, the two companies will have a fleet of prototype vehicles with L4 autonomous driving capabilities ready for testing, in preparation for L4-ready mass production and delivery.
Trend-setter: Defining the new aesthetics of autonomous driving
Sensor integration for autonomous driving is front and center within the K-Byte Concept's design aesthetic. With an elegant and slender module on the rooftop, the bow-shaped BYTON LiBow system integrates front and rear lidar sensors to allow for a full-view panoramic scan of the vehicle's surroundings. BYTON's retractable LiGuards side lidar system is located below the side-view cameras. The system will deploy in autonomous driving mode to ensure driving safety and retract automatically during parking maneuvers; moreover, these lidars can all be illuminated for a range of specific purposes, such as signaling pedestrians.
Bodywork and design. BYTON's designers, without any superfluous decoration, have carefully polished each line, although the innovative C-pillar design takes its inspiration from the buttresses seen in architecture, presenting a graceful curve while delivering aerodynamic performance. The windows and sunroof are expanded to emphasize safety while creating a generous greenhouse enabling drivers and passengers to fully enjoy the outside world. The BYTON K-Byte Concept also has an impressive front face, upgraded BYTON Smart Surfaces deployed on both fascia and tail for a stunning echo effect, and a layout of light strips creating a deep three-dimensional visual while giving an enhanced sense of technology being utilized. Immediately above the Smart Surfaces is an integrated taillight that runs through to the tail and drawing comparisons to the horizon.
Digital DNA: A naming strategy that reflects BYTON's smart, connected platforms
The K-Byte Concept underscores BYTON's new product-naming strategy, wherein the company will use the term "Byte" to label its planned series of three products that are built on a shared platform. In addition to the BYTON K-Byte Concept, its SUV previously announced in January 2018 has been named the BYTON M-Byte Concept. The naming strategy is derived from the company's name, which stands for "Bytes on Wheels," symbolizing the digital power of BYTON's offerings and the brand's vision for a connected, mobile life.
"By adopting this naming strategy, BYTON celebrates our brand DNA as a next-generation smart device," said Dr. Carsten Breitfeld, CEO and co-founder, BYTON. "Following from our first model, the BYTON M-Byte Concept, the K-Byte Concept represents a breakthrough in the design of smart connected vehicles. It changes the design language of traditional cars, delivering a perfect blend of elegance, style, luxury, and sportiness, and introducing new design aesthetics in the age of shared mobility and autonomous driving."
BYTON president and co-founder Dr. Daniel Kirchert added: "BYTON's mission is to be a leader in next-generation smart devices. The K-Byte Concept shows that we can deliver our platform in different shapes and with different features to suit different lifestyles. Furthermore, building the car on the same platform as the M-Byte Concept enables us to streamline and scale the production cycle. We are fully confident that we will meet our commitment to deliver the sedan to market in 2021."