CES is over and the reverberations of events at the one of the largest trade shows in the world is a lesson for all of us in the automotive industry.

We will be profiling more news about the events in future articles the most important thing to notice, however, is that the biggest news and best stories are from when something goes really wrong—such as a power outage in the main hall where are the TVs, big screens and technology companies are showing their wares.
I was there right in the middle of the outage.  I first walked through the well-lit South Hall and stopped by the press room that had emergency lighting.  It looked like a classroom where only one set of fluorescent lights was on.  We could see but not very well, reporters were using their phones as lights to read what kind of sandwich were in boxed lunches. The lunch severs were able to scan our badges as we picked up our lunches.  At around 11:45, no one in the press room had information about what was going on.
There were lights in the hall were I sat down to eat my sandwich.  Two journalists from Brazil "Googled" "power outage" to find that the lights were out at some halls at CES and a major hotel.
"I think it may have something to do with the rain," I commented, "All these buildings have flat roofs that don't do well in downpours."
The Brazilians stated that they had gone to Wal-Mart where there were buckets and trash cans every where collecting water.
Although, I had an appointment in the North Hall I assumed that there would be no light, so I went outside.  I didn't know that what once outside, I would not be allowed back in. I saw some people trying to sneak into the North Hall exit doors, some where stopped by security, some weren't.
The good news about the power outage is that no one panicked, everyone stayed calm. There was enough emergency lighting and battery Wi-Fi backup for journalists to continue writing. Most people had smartphones that they either used as flash lights or to text or Tweet. There were no crowds knocking people down like Wal-Mart on Black Friday.
Outside in the Center Pavilion, it was very crowded especially the lines to win Google gifts or eat free Logitech chocolate waffles. Across the street in the Gold lot every thing was working fine.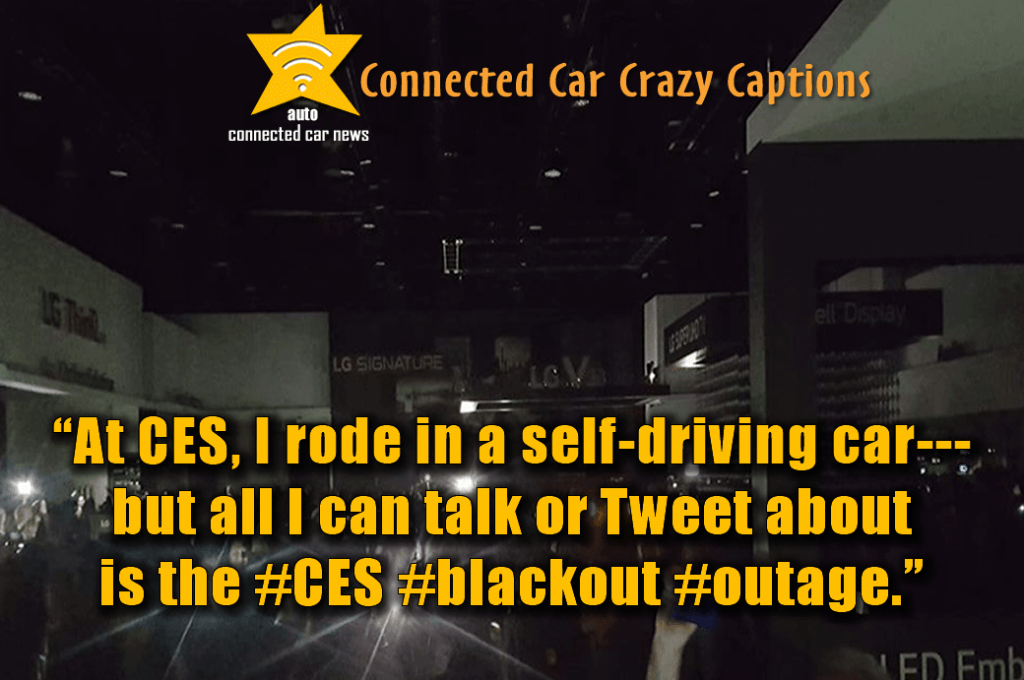 The news was so big my dog sitter texted me that night, "I heard on the news that there was no electrical power at CES."
What did we have to learn from the event? Backup power is very important, rain is not good for electric power and to keep calm. I myself had a very good giggle when I noticed what was going on the biggest electronic show in the world without power—-now that's a powerful statement.
The official statement of CES was:
"Today at approximately 11:15 AM, the Central Hall and South Hall bridge meeting rooms at the Las Vegas Convention Center lost power. Power in the South Hall was restored within minutes, and power has now been fully restored to all areas. A preliminary assessment indicates that condensation from heavy rainfall caused a flashover on one of the facility's transformers. We are grateful to NV Energy for their swift assistance, to our customers and their clients for their patience and to the staff for ensuring the safety and security of all attendees and exhibitors."
Flashover is a high-voltage electric short circuit made through the air between exposed conductors.—

Looking to the future, a fantastic solution would be for an automaker to autonomously drive hundreds of solar-powered Vehicle-to-Grid electric cars and then plug them into the Las Vegas Convention to form a giant backup power supply–now that would be something that would be at the top of every news page!
Would you like to laugh at more Connected Car Crazy Captions?