At this time of year there is a kind of self-driving/flying car that performs the most calculations, with the best gas mileage (bio fuel) and goes for the longest distance in the world. Is it Waymo's fleet of Chrysler Pacificias? GM's Cruise Automation's Chevy Bolts or the Toyota Research Institute's Priuses?
This vehicle has withstood the test of time. It seems to run for over a hundred years without the need for repair or even an oil change. It can self-park with out parking spaces, and performs in extremely hot and cold climates. This vehicle doesn't even need it's tires rotated. The load variance on the vehicle beats out any Amazon drone or UPS truck. It it more fuel efficient than the Tesla big rig truck. There are no LiDAR and multiple sensors necessary. Real-time traffic maps don't make a difference with this special transportation system.
There is also no artificial intelligence needed, just an old guy and a bunch of highly skilled mammals with the secret ingredient of wonder. The best most efficient self-driving, flying car has been known to human kind for centuries and does not require billions of dollars of investments or expensive batteries—- There also very little air pollution except for a little methane from the reindeer which is far less than any gas-powered motor vehicle on the planet.
The best most efficient self-driving/flying autonomous vehicle is Santa's sleigh and the self-guiding reindeer who run on cookies and milk (Santa) or plants and moss (reindeer). There has never been an accident although there was a false claim that Grandma got run over by reindeer. There are also rumors that Santa is planning on retiring but it not true. Santa doesn't need lane watch systems or automatic emergency braking because the reindeer have been providing ADAS systems for years, they know the route so well, even when Santa nods off or eats a cookie they keep on the route and on time with great speeds.
The best connected vehicle deserves it's own caption and our Connected Car Caption appears below.  AUTO Connected Car News wishes you the happiest of holidays and more, please don't forget to vote for the Tech CARS Awards and subscribe to our newsletters.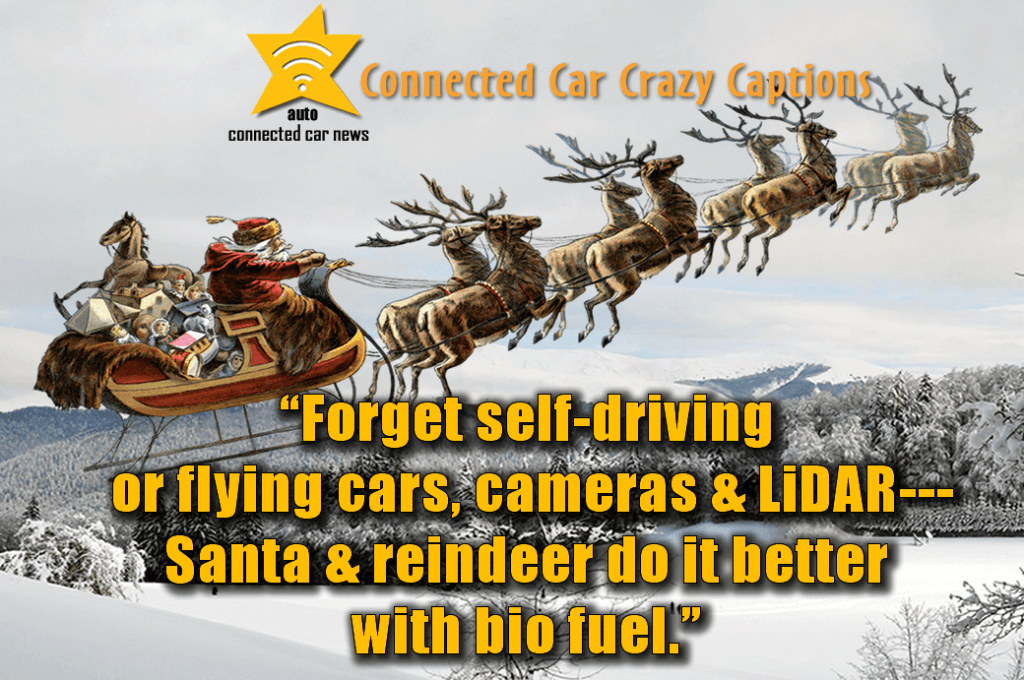 Other recent Connected Car CC: